Dr Hassan Mohi-ud-Din Qadri briefed on the digital encyclopedia project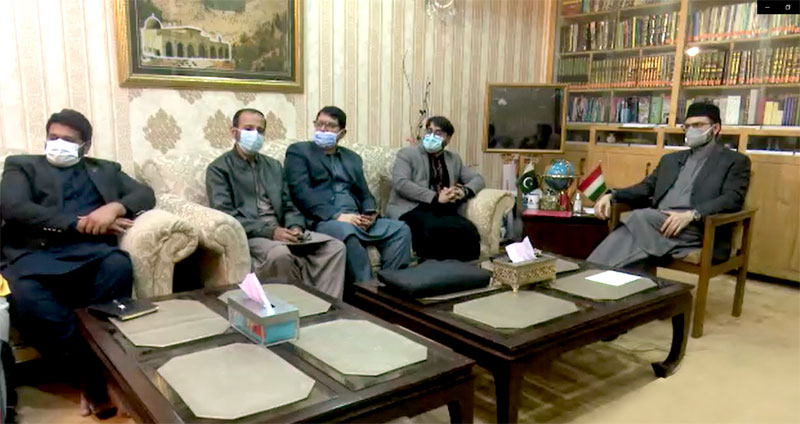 The developing team of Minhaj Digital Encyclopedia (MDE) called on Chairman MQI Supreme Council Dr Hassan Mohi-ud-Din Qadri and briefed him about the digital encyclopedia project.
The briefing was attended by Asif Minhas, Adeel Khan, Muhammad Afzal Gujar, Hafiz Abdur Raoof, Shoaib Nazar, Noorullah Siddiqui, Muhammad Farooq Rana, Abdul Sattar Minhajian, Muhammad Sanaullah and Sabir Hussain.
Talking about the distinctions and characteristics of the project, the developing team told the Chairman Supreme Council that a fast searching option has been made available to the users and researchers in this digital program on the pattern of Google. He was further told that in addition to the five thousand topics of the Quranic Encyclopedia, the speeches and research works of Shaykh-ul-Islam have been included in the first phase. The mobile and web applications will store thousands of addresses and hundreds of books of Shaykh-ul-Islam at one place that is a unique gift for the research scholars, Ulama-e-Karam, professors of universities and teachers of Islamic studies.
The team members informed Dr Hassan Mohi-ud-Din Qadri that Tafseer-ul-Quran, Encyclopedia of Hadith and hundreds of more books will be made available online in the second phase. Search facilities and content will continue to be made available with time. The MDE team said that the Quranic Encyclopedia will be accessible online in terms of the list of sections and chapters. The users will be able to approach the content online initially in Arabic, Urdu and English languages.
However, the facility of other languages will be gradually added as the translation of Dr Qadri's books proceeds. The team shared the happy news that the first phase of the project will be completed in February 2022.
Dr Hassan Mohi-ud-Din Qadri appreciated the entire team working on digitization project and stated that this work could not be done without dedication and commitment. He said that when the project is completed, the precious treasure of knowledge of Shaykh-ul-Islam will be saved for generations to come.