Dr Hussain Mohi-ud-Din Qadri calls for accelerated efforts for an egalitarian society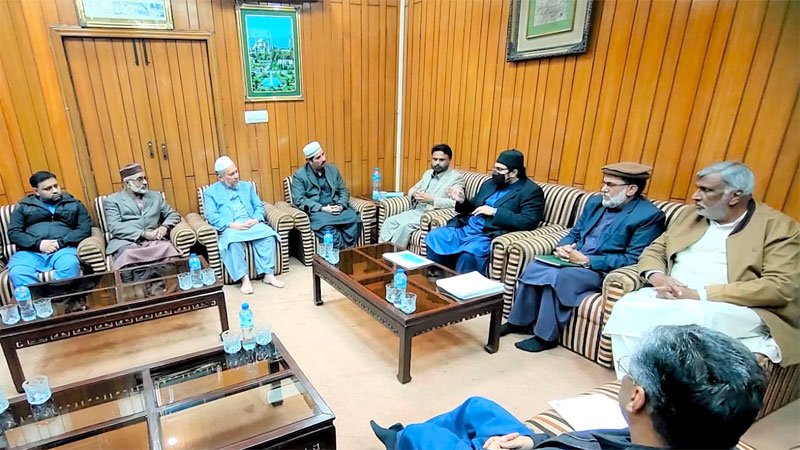 President MQI Dr Hussain Mohi-ud-Din Qadri has said that lawful means of livelihood, zakat, spending in the way of Allah and sacrifice are the pillars of the economic edifice of a society that believes in Islamic values and teachings. He said that all those associated with any branch of economy, be they are traders, businessmen, or affluent sections of society, have a clear and relevant role to play in ensuring the economic prosperity of society.
Dr Hussain Mohi-ud-Din Qadri made these remarks while talking to the office-holders and leaders of Awwmi Tajir Ittehad Pakistan. The delegation consisted of chairman Haji Muhammad Ishaq, central president Altaf Hussain Randhawa, Secretary General Rashid Chaudhry, Muhammad Asif, Naveed Butt, Rana Manzoor and others. Principal Tehfeez-ul-Quran (Aghosh Complex) Muhammad Abbas Naqshbandi, Nasir Iqbal Advocate and others were also present on the occasion.
Approving the formation of the Development Council of Department of Tehfeez-ul-Quran, Dr Hussain Mohi-ud-Din Qadri tasked Altaf Hussain Randhawa with the responsibility of the coordination, whereas Haji Muhammad Ishaq, Rashid Chaudhry, Naveed Butt, Muhammad Asif were appointed as members of the Council.
In his talk, Dr Hussain Mohi-ud-Din Qadri further said that Shaykh-ul-Islam Dr Muhammad Tahir-u-Qadri has initiated welfare projects across the country such as Aagosh Orphan Care Home, hundreds of schools, dozens of colleges, and a university of international standards. He said that the philosophy behind the establishment of MQI is that the feelings of empathy and compassion are created among people for their fellow human beings.
President MQI said that Allah's creations are like His family and those who help the suffering humanity and reduce their hardships are the best people of society and deserving of our gratitude. He said that the Holy Prophet (pbuh) has described such people as friends of Allah. He said that the beloved Prophet (pbuh) would always take care of the needy, adding that every believer should keep the teachings of the Prophet (pbuh) uppermost in their mind in their effort to establish a welfare society.