Gosha-e-Durood: Monthly spiritual gathering held at the central secretariat - January 2022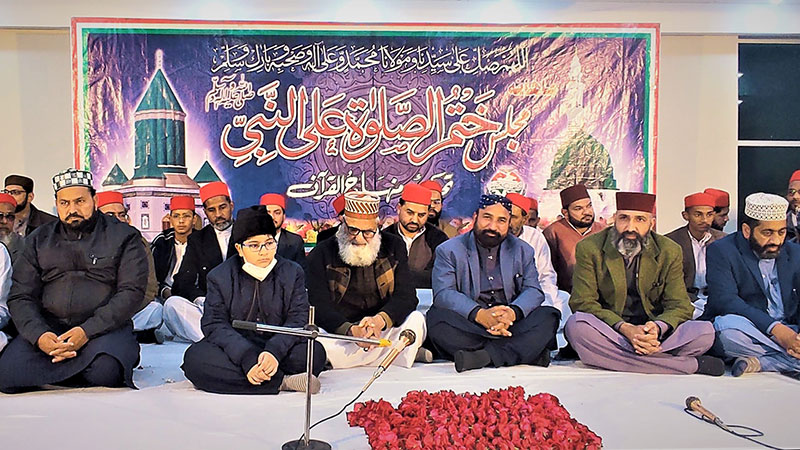 The monthly spiritual gathering (Majlis Khatam-us-Salat Alan-Nabi ﷺ) of Gosha-e-Durood was held at the central secretariat under the banner of Minhaj-ul-Quran International (MQI). Quran Khawani was also arranged for the departed soul of the beloved daughter of spiritual patron of MQI, Huzoor Qudwat-ul-Awliya' Sayyiduna Tahir Ala-ud-Din al-Qadri al-Gillani (R.A.).
The proceedings of the gathering got underway with the recitation of the Holy Quran by Qari Noor Muhammad Chishti. Zaheer Bilali Brothers, Zain-ul-Abaideen Wattoo and others had the honour to recite Naat in their melodious voices. Shaykh Hamid Mustafa al-Qadri also attended the spiritual gathering.
Addressing the ceremony, Allama Minhaj-ud-Din Qadri, central Naib Nazim Training, MQI, said that the teachings of the Holy Prophet (PBUH) tell us how crucial the role of justice and rule of law is in the establishment of peaceful society. He said that people deserve access to basic necessities of life on the basis of equality including peace and tranquility. He said that the Holy Prophet's (PBUH) blessed life offers us the path for the establishment of harmonious, equal society based on the principles of brotherhood. He asked the people to place 'Uswa-e-Hasna' at the right, left and center of their day-to-day activities to live a life of purpose.
Allama Rana Muhammad Idrees, GM Malik, Jawwad Hamid, Rana Nafees Hussain, Ghulam Murtaza Alvi, Sahibzada Zaheer Naqshbandi, Allama Hassan Jamati, Ahmad Waheed and other central, provincial and district leaders attended the ceremony. A large number of people and workers were also present on the occasion. The gathering came to an end with special prayer for peace, and riddance from Covid-19.