Training of teachers essential for effective teaching: Chairman Supreme Council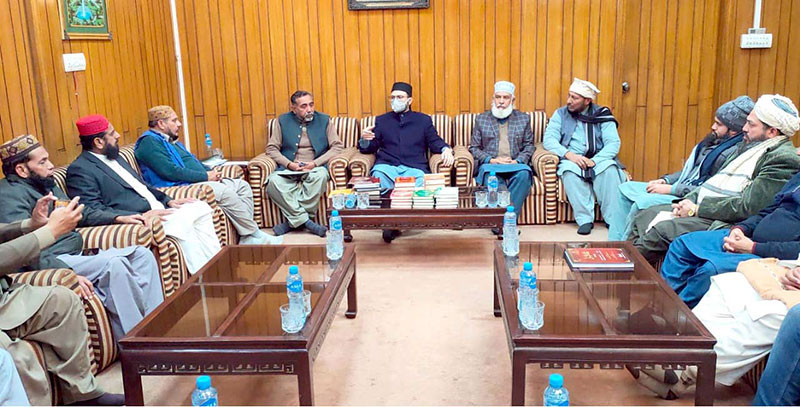 A delegation of Anjuman-e-Asaatiza Pakistan (Teachers Association) led by Professor Raza Hussain Sial called on Chairman MQI Supreme Council Dr Hassan Mohi-ud-Din Qadri at the Central Secretariat of MQI.
Speaking on the occasion Chairman Supreme Council said that teachers are the educator of humanity and their profession is structured on the prophetic practice. He said that without professional teachers, the dream of an educated Pakistan cannot be realised.
Dr Hassan Mohi-ud-Din Qadri that the Directorate of Training of MQI is ready to conduct refresher courses for the teachers. He said knowledge becomes part of personality only through the means of training. He said that Shaykh-ul-Islam Dr Muhammad Tahir-ul-Qadri has termed education and training essential for each other, adding that the training of teachers is always given priority in the educational institutions of MQI.
Dr Hassan Mohi-ud-Din Qadri said that teachers are are a role model not only for their students but also for the whole society. He said that meaningful education is not possible without exemplary role of teachers. He asked the teachers to rid students of extremist tendencies, expand their thinking horizon and beautify their character with values such as morality, mannerism, piety and tolerance.
Professor Raza Hussain Sial, President of Anjuman-e-Asaatiza, said on the occasion that it is for the first time that we are visiting the central secretariat of MQI. He said that his colleagues have been deeply impressed by the higher standards of training and education imparted at the MQI institutions. He said that the services of Minhaj-ul-Quran International are praiseworthy in terms of promoting quality education and increasing the literacy rate in the country. He said that we will definitely benefit from the Directorate of Training because we are of the view that without equipping ourselves with modern teaching tools we cannot deliver on the responsibility of effective teaching.
Secretary General MQI Khurram Nawaz Gandapur, and Syed Mahmood-ul-Hassan Shah were present on the occasion, whereas the delegation consisted of Prof Raza Hussain Sial, Shahid Masood, Sheikh Abdur Razzaq, Malik Nasir Abbas Qadri, Muhammad Yahya, Mohammad Hassan Raza Qadri, Hafiz Muhammad Suelman Tonsavi, Allama Naeem Naurani, Muhammad Arshad Kaif, Rasheed Ahmad Bhatti, Muhammad Anwar Noori and Muhammad Aslam.