Farid-e-Millat Dr Farid-ud-Din Qadri awarded gold medal in recognition of his services for freedom
Dr Hussain Moin-ud-Din Qadri is receiving a gold medal from President Dr Arif Alvi in recognition of Farid-e-Millat Dr Farid-ud-Din's services during the independence movement.
Farid-e-Millat Dr Farid-ud-Din Qadri (R.A), the father of Shaykh-ul-Islam Dr Muhammad Tahir-ul-Qadri, has been given a gold medal posthumously in recognition of his extraordinary services that he rendered during the freedom movement under the patronage of Dr Allama Muhammad Iqbal and the leadership of Quaid-i-Azam Muhammad Ali Jinnah.
Dr Arif Alvi, President of the Islamic Republic of Pakistan, gave the medal in a special ceremony held under the banner of Tehreek-i-Pakistan Workers Trust. Dr Hussain Mohi-ud-Din Qadri, President MQI and the grandson of Dr Farid-ud-Din Qadri received the gold medal.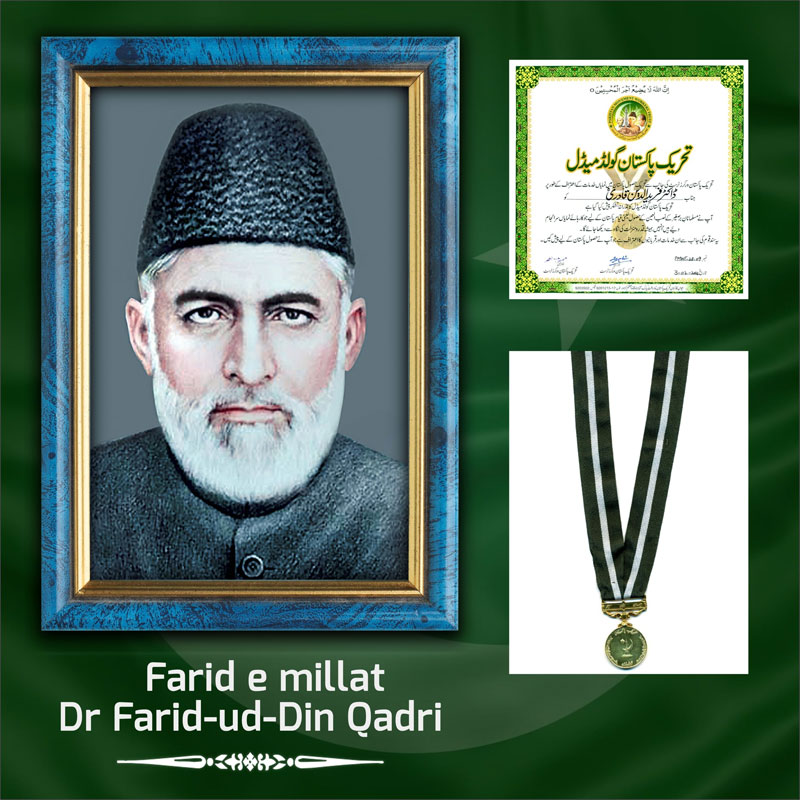 It is important to mention that Hazrat Farid-e-Millat Dr Farid-ud-Din Qadri (R.A) took an active part in the historic struggle for the establishment of Pakistan under the inspirational leadership of the Quaid-i-Azam. Right from his student days, he remained at the forefront of the freedom movement and played a leading role in organizing the students to work for the realisation of the ideals of Muslims of the sub-continent.
Along with the gold medal was also a certificate that recognized the exemplary and valuable services of Dr Farid-ud-Din Qadri. As part of the tributes offered to Dr Farid-ud-Din Qadri for his contributions, Pakistan Workers Trust termed the the gold medal as a sign of gratitude to him. It said that the services rendered by Dr Farid-ud-Din Qadri during the freedom movement will always be held in high esteem and continue to inspire the succeeding generations.