Shaykh-ul-Islam Dr Muhammad Tahir-ul-Qadri lauds MWF for relief operations in snow-capped region of Azad Kashmir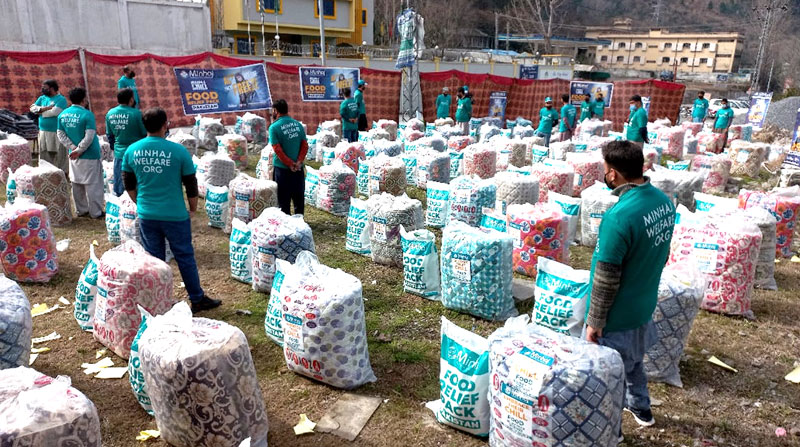 Shaykh-ul-Islam Dr Muhammad Tahir-ul-Qadri has congratulated Minhaj Welfare Foundation (MWF) on the distribution of winter package among deserving families in Kundal Shahi valley of Azad Kashmir. He said that the volunteers of Minhaj Welfare Foundation worked with passion and dedication to help the suffering humanity in the freezing cold. He prayed to Allah Almighty to bless the volunteers with rewards and the passion for more public service. The heavy snowfall enveloped the Neelum valley for three consecutive days. The MWF workers did not allow the extreme weather conditions to stand in the way of their mission to serve humanity. They distributed special winter package consisting of warm clothes, food ration, quilts, socks and gloves.
Talking about the relief operations, Director MWF Syed Amjad Ali Shah said that we are indebted to Allah Almighty Who enabled us to deliver assistance to the deserving at their doorstep during the extremely harsh winter. He said that there is an organised system under which the relief activities of MWF take place.
Throwing light on the process, MWF Director said that first of all, special teams prepare a list of the deserving people through surveys. Then the relief package is distributed among them at a centre close to the affected areas so that people don't have to travel much to have the relief goods. He said that human compassion, organisation and transparency are the hallmarks of Minhaj Welfare Foundation. He appealed to the affluent sections of society to come forward and be a source of help to those in need.
Syed Amjad Ali Shah Bukhari sad that given the ongoing chronic conditions in the country, Minhaj Welfare Foundation has continued its operations uninterruptedly by keeping coronavirus in view and complying with the health guidelines. He further said that Shaykh-ul-Islam Dr Muhammad Tahir-ul-Qadri is that distinguished scholarly personality of the Islamic world who has combined the service to religion with service to humanity on the platform of Minhaj-ul-Quran. He said that the relief activities of Minaj Welfare Foundation have complete support and endorsement of MWF UK. He said that people have given countless prayers to Minhaj-ul-Quran International and Dr Tahir-ul-Qadri for coming to their rescue at the time of huge crisis, adding that these prayers are a source of encouragement and consistency.