Quaid Day ceremony held under the banner of Minhaj Internet Bureau & IT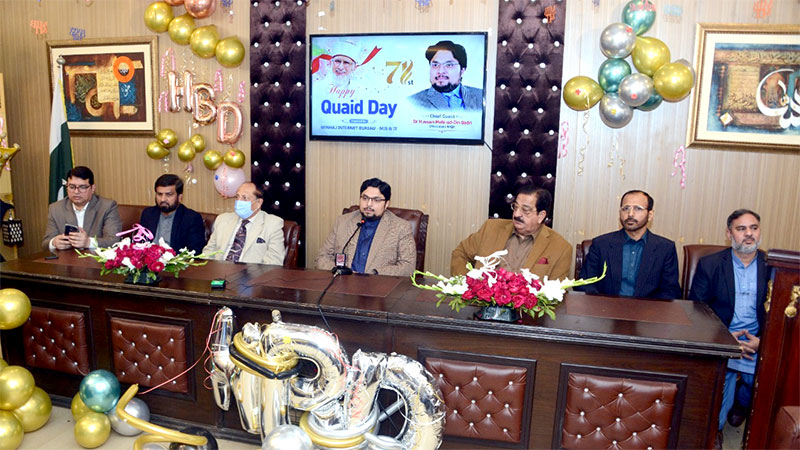 Addressing a Quaid Day ceremony held under the banner of Minhaj Internet Bureau (MIB) and IT in the conference hall, MQI President Dr Hussain Mohi-ud-Din Qadri said that the sincerity of intention is the guarantee of success in whatever we do in life. He said there are many blessings in staying connected with the mission with utmost sincerity and steadfastness. He said that MQI has always taken an initiative in the use of the internet and modern information technology and presented the the Islamic message of peace, interfaith dialogue and harmony on the directions of Shaykh-ul-Islam Dr Muhammad Tahir-ul-Qadri.
A new documentary titled "Shaykh-ul-Islam's vision and the use of modern means of communication in the propagation of Islam" prepared by Minhaj Internet Bureau was also shown in the ceremony. Dr Hussain Mohi-ud-Din Qadri congratulated the entire team of the MIB on effectively presenting the message of MQI. He lauded the expertise and professionalism of the MIB in in promoting Shaykh-ul-Islam's thought and ideology in the cyberspace.
The ceremony was attended by Secretary Genral MQI Khurram Nawaz Gandapur, Brig. (r ) Iqbal Ahmad Khan, Noorullah Siddiqui, Abdul Sattar Minhajian, Muhammad Sanaullah, Jawwad Hamid, Raja Zahid Mahmood, GM Malik, Rana Muhammad Fayyaz, Syed Amjad Ali Shah, Syed Zafar Ali Kanpuri, Sabir Hussain Bhatti and all the team members of MIB and IT.
Earlier in the program Director MIB Abdul Sattar Minhajian presented the welcome address in which he shared the performance of the Bureau in light of modern-day challenges in the field of communication and information technology. Sanaullah Tahir conducted the proceedings of the event where as Secretary General MQI Khurram Nawaz Gandapur delivered the concluding remarks. The cake of Shaykh-ul-Islam's 71st birthday was cut in the end and the ceremony came to an end with Dua the long life and good health of Shaykh-ul-Islam.