Minhaj University Lahore holds Founder's Day ceremony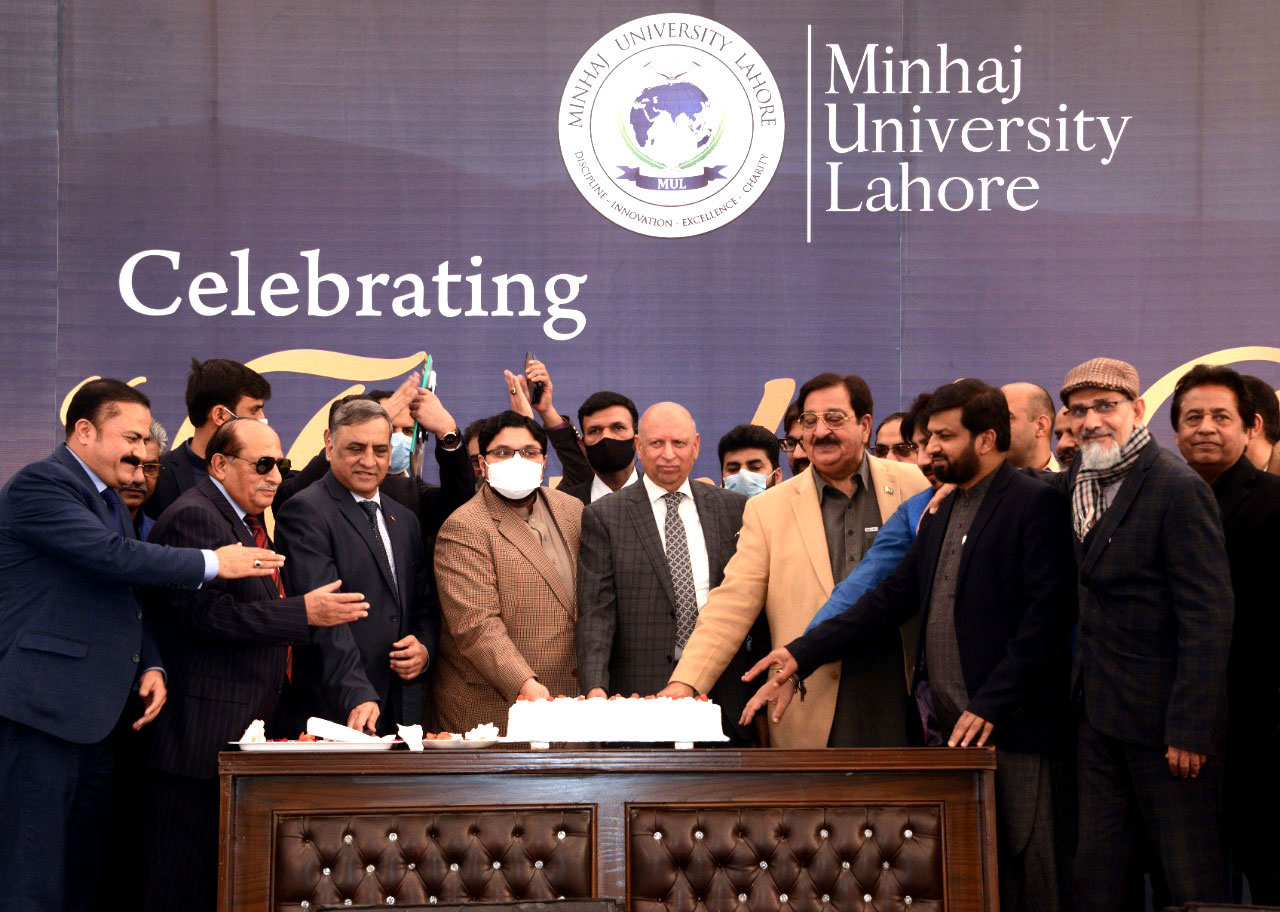 A Founder's Day ceremony was held under the banner of Minhaj University Lahore (MUL) in connection with the 71st birthday celebrations of Shaykh ul Islam Dr Muhammad Tahir-ul-Qadri, who is also founding Chairman of Board of Governors of MUL.
Addressing the ceremony Governor Punjab Ch Muhammad Sarwar said that after the terrorist attacks of 7/11, the situation for Muslims became very tough in Europe. He said that Dr Tahir-ul-Qadri gave his historic religious edict against terrorism, and extremism and proved that Islam is the protector of humanity and doesn't have anything to do with extremism. He said that this Fatwa of Dr Tahir-ul-Qadri gave a lot of confidence to Muslims across the Western world. Not just that, Dr Tahir-ul-Qadri established many institutions including Minhaj University Lahore for the education and training of the youth where hundreds of thousands of daughters and sons of Pakistan are getting quality but affordable education.

Governor Punjab said that the biggest service of Dr Tahir-ul-Qadri is that he set up Minhaj-ul-Quran Islamic Cultural Centres for the protection of the character and faith of Muslim youth living in the West. He said that the future generations will continue to benefit from his immense work. He said that he is is greatly proud of his friendship with Dr Tahir-ul-Qadri, adding that this friendship has been intact for the last thirty years.
Governor Punjab Chaudhry Muhammad Sarwar cut the cake of Dr Tahir-ul-Qadri 71st birthday along with Dr Hussain Mohi-ud-Din Qadri, Khurram Nawaz Gandapur, Dr Sajid Mehmood Shahzad, Syed Noor, Brig. (retired) Iqbal Ahmed Khan and Barrister Amir Hassan and also prayed for the good health and long life of Dr Qadri.
Deputy Chairman BoG of Minhaj University Lahore, Dr Hussain Mohi-ud-Din Qadri presided over the ceremony. In his keynote address, he threw light on the services of Dr Tahir-ul-Qadri for the promotion of knowledge and peace in the world. Vice Chancellor MUL Prof Dr Sajid Mehmood Shahzad also spoke in the ceremony and paid rich tributes to Dr Tahir-ul-Qadri for his great scholarly and religious contributions.
Internationally known classical singer Ustad Hamid Ali Khan, film director and producer Syed Noor, renowned comedian Honey Albela and Iftikhar Thakur, Nabeel Gabol, and Azhar Rangeela attended the Founder's Day ceremony and congratulated Dr Qadri on his birthday. Renowned violin player Raees Ahmad Khan created an atmosphere of great spiritual ecstasy by playing the beat of Tajdar-e-Haram. Famous Sufi and classical singer Wahdat Rameez also recited Hamd, Naat, and Sufi kalam in the ceremony.
A special fee discount was announced for the students who have got admission to MUL in the spring session as a mark of happiness over the birthday of the Chairman of BoG of the University. A draw for Umrah was also held for the teaching, non-teaching staff of MUL as well as that of Minhaj Education Society on the occasion in which Mamoona Kanwal, Hina Shahzadi, Shahryar Muhammad and Gohar Rasheed Butt won the draw and were selected for the Umrah tickets. MUL faculty members namely Dr Mumtaz-ul-Hassan Barvi, Dr Nadia Jabeen and Dr Ijaz Aslam got ward of research excellence, best research in science and technology, and best research social sciences respectively, whereas Waqas Sheikh got the best teacher award. Deputy Chairman BoG Dr Hussain Mohi-ud-Din Qadri congratulated all the award winners and hoped that they would continue the good work and inspire others with their knowledge. More than 20 students were given scholarship on Dr Tahir-ul-Qadri merit scholarship.
In addition to GM Malik, Noorullah Siddiqui, Syed Amjad Ali Shah, Jawwad Hamid, Rana Fayyaz Ahmad, Muhammad Abbas Naqshbandi, Col (r ) Mubashir Iqbal, Abdur Rahman Maqsood, Rashid Kalyami, Qazi Faiz-ul-Islam, Shahzad Rasool, Haji Ishaq, Sohail Raza, Altaf Hussain Randhawa, Abid Bashir, Naeem-ud-Din Chaudhry Advocate, faculty members, management staff and a large number of students attended the ceremony.