Knowledge changes destinies of the nations: Dr Hussain Mohi-ud-Din Qadri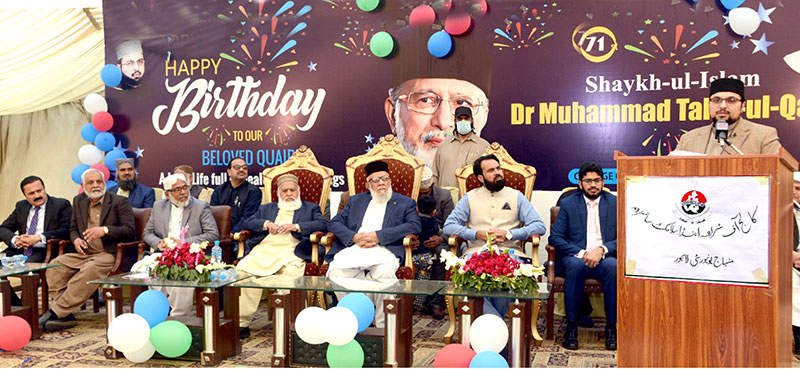 President Minhaj-ul-Quran International Dr Hussain Mohi-ud-Din Qadri has said that making an effort to acquire knowledge and using this knowledge for the welfare of humanity is the practice of the prophets. He said that knowledge changes the destinies of the nations and beautifies their character.
Dr Husain Mohi-ud-Din Qadri made these remarks while addressing a prayer ceremony held in connection with the Quaid Day celebrations under the banner of COSIS.
President MQI said that Allah Almighty has promised to elevate the status of the scholars and knowledgeable people. He said that all Sufis and Awliya devoted their lives to the acquisition of knowledge, adding that both gnosis of Allah and piety are also acquired through learning. He said that Allah Almighty has ordained the believers to pray about following the path of those who are his chosen people. He said that these blessed people are people with knowledge who sift fact from fiction, uphold the banner of truth and guide humanity on to the right path.
Dr Hussain Mohi-ud-Din Qadri said that Shaykh ul Islam Dr Muhammad Tahir-ul-Qadri has loved book reading all is life and spends most of his time in reading. He said it is for this reason that whenever any intellectual crisis envelops the Muslim community, he is the foremost on the list of those who are are looked up to and are capable of offering guidance out of the stalemate. He said that the company of religious scholars and knowledgeable people is also instrumental in increasing one's knowledge and beautifying one's character. Hazrat Data Ali Hajveri states that knowledge is such an attribute that makes the unwise wise. He said that whenever one works hard for the acquisition of knowledge, Allah's help and support also comes. He said that the time of youth is the ripe time of acquisition of knowledge, adding that every moment in this phase of life should be spent in book reading. He said that such dedication and hard work will bear fruit.
Mutfi Abdul Qayyum Khan Hazarvi, Prof Nawaz Zafar, Dr Mumtaz-ul-Hassan Barvi, Prof Dr Muhammad Akram Rana, Syed Amjad Ali Shah, Dr Khurram Shahzad, Jawwad Hamid, Safdar Ali Mohsin, teachers and students of COSIS attended the ceremony. The cake of Shaykh-ul-Islam's birthday was cut at the end of the program followed by Dua for the good health and long life of Shaykh-ul-Islam.