Inter-collegiate competition kicks off with Husn-e-Qirat & Arabic speech contests

A week-long inter-collegiate competition kicked off with Husn-e-Qirat and Arabic speech competitions under the banner of College of Shariah and Islamic Sciences, Minhaj University Lahore. More than 50 male and female students belonging to over 25 colleges, universities and educational institutions from across Pakistan took part in the Husn-e-Qirat and Arabic speech competition.
According to the results, Hafiz Khalil Amjad from Government College Lahore University, Qari Abdus Samad from Minhaj University Lahore and Muzzammil Ahmad from Tehfeez-ul-Quran Institute got first, second and third positions respectively in the Qirat competition. Likewise, in the Arabic speech contests, Hafiz Muhammad Talha Masroor from COSIS, Hadiqa Batool from Minhaj College for Women, and Ata-ul-Mustafa Tahir from Minhaj University Lahore were ranked first, second and third respectively.
The contestants recited the verses from the Glorious Quran in their beautiful voices in line with the technical rules and regulations of the recitation. They enlightened the hearts of the audience with their mesmerizing recitations. The inter-collegiate competitions will continue from March 14 to March 17.
Khalifa of the shrine of Data sahib Ahmad Asim Saleem, renowned Qari Muhammad Rafique Naqshbandi, Raja Zahid Mahmood, Pervez Makhfi, Prof Dr Khursheed Ahmad from Government College University Lahore and others attended the inaugural ceremony.
Ahmad Asim Saleem thanked the Principal COSIS for inviting him to the blessed ceremony. He advised the students to adopt the habit of reciting the Holy Quran in line with the technical rules and requirements.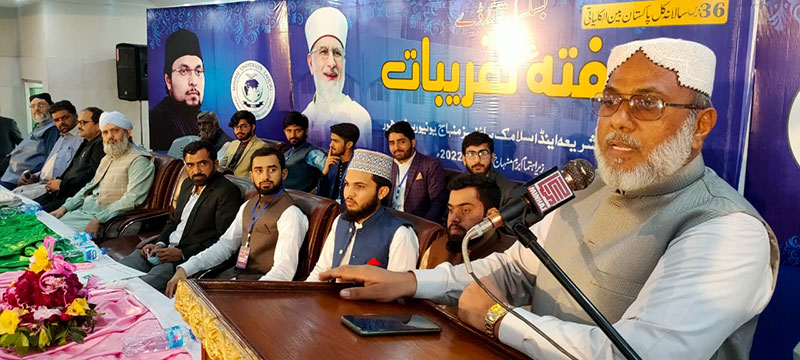 Dr Mumtaz-ul-Hassan Barvi, Principal COSIS, thanked all the guests, students, and teachers. He said that the purpose of co-curricular activities is personality development, character building, and moral training of the students. He said that we should make our lives compliant to the teachings of the Holy Quran, adding that the Holy Book is the Book of Wisdom. He said that the Glorious Quran can change our lives and therefore we should seek guidance from it.
Those who attended the inaugural ceremony included Dr Muhammad Akram Rana, Dr Shabbir Ahmad Jami, Dr Shafaqat Ali Baghdadi, Sidra Karamat, Dr Mumtaz Ahmad Sadeedi, Mohibullah Azhar, Sabir Hussain Naqshbandi, Shahzad Rasool, Jawwad Hamid, Abid Bashir etc. The honorable guests gave away prizes, medals and shields to the winning students.