Minhaj University announces special fee discounts for Christian students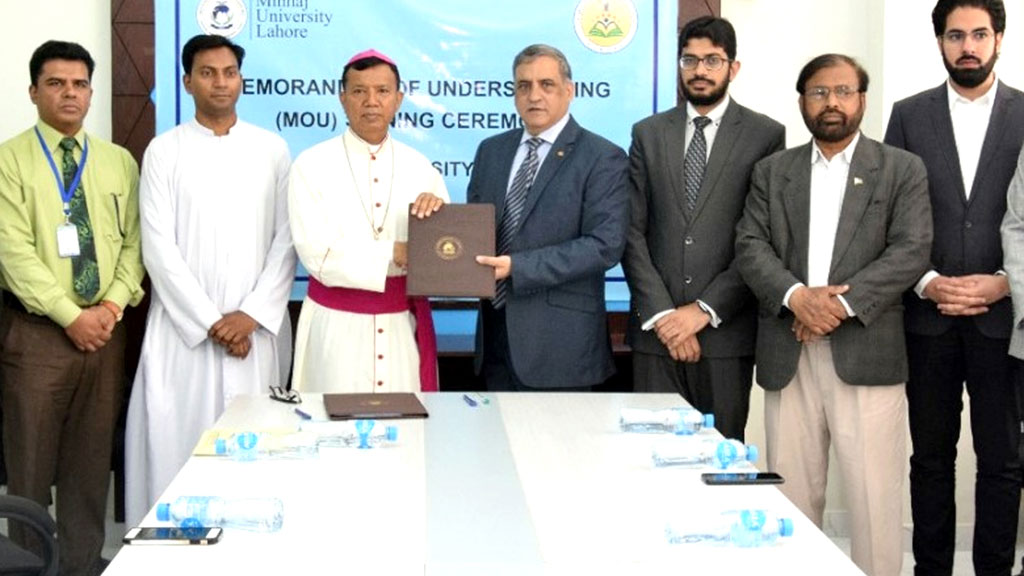 An MoU signing ceremony was held yesterday under the banner of Minhaj University Lahore (MUL) and Catholic Board of Education Lahore. Held in the Ibn-e-Sina Meeting Hall of Minhaj University Lahore, VC Prof Dr Sajid Mahmood Shahzad, and Chairman Catholic Board of Education Lahore Sebastian Francis signed the MoU on behalf of their respective sides.
According to the Memorandum of Understanding, all deserving Christian students studying at 350 schools managed by Catholic Board of Education will get a special discount in their fees on their admission to the degree programs of Minhaj University Lahore.
Speaking to the participants of the ceremony, MUL Vice Chancellor Prof Dr Sajid Mahmood Shahzad said that Shaykh-ul-Islam Dr Muhammad Tahir-ul-Qadri has always emphasized the idea of interfaith dialogue and harmony. He said that respect for all religions is the core of his thoughts and ideology. He said that building on the same mission, Dr Hussain Mohi-ud-Din Qadri, Deputy Chairman BoG, founded the Department of Religions and Philosophy at MUL for the students belonging to all religions where they are getting education of their respective religion.
The VC further said that Minhaj University is acting upon the motto of 'education for all'. He said that the provision of quality education and research opportunities to the deprived sections of society is among the foremost priorities of the University. He said that we have signed an MoU with the Catholic Board of Education under which its deserving Christian students will get special discounts in fees when they get admissions in the degree programs at MUL.
Archbishop Sebastian Francis, while speaking on the occasion, thanked Minhaj University Lahore for the MoU. He lauded the services of Shaykh-ul-Islam Dr Muhammad Tahir-ul-Qadri for the promotion of interfaith dialogue, harmony and peace. He said that we are proud of having signed the MoU that will provide significant financial support to the Christian community students, enabling them to get higher education.
The MoU signing ceremony was attended by CEO National Catholic Education Commission Aashir Javed, Executive Secretary Catholic Board of Education Ijaz Yousaf Bhatti, Director Interfaith Relations MQI Sohail Raza, Registrar MUL Dr Khurram Shahzad, Director International Linkages Dr Muhammad Asif Ameen, Director Academics Dr Bilal Zafar, and lecturer peace and counter-terrorism Muhammad Qasim Khan.