Dr Hassan Mohi-ud-Din Qadri speaks to MQI leaders on return from European tour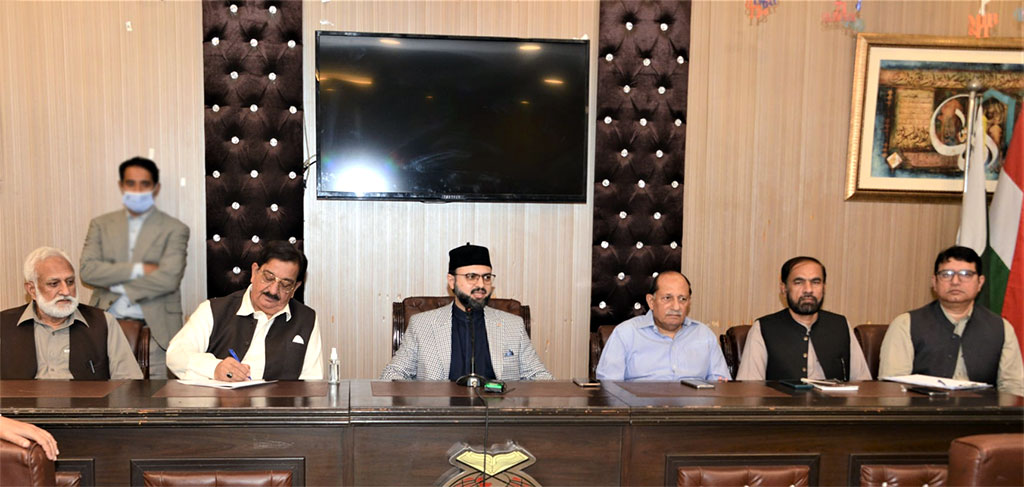 Chairman MQI Supreme Council Dr Hassan Mohi-ud-Din Qadri has reached Pakistan after completion of his organizational tour of the UK and Europe. On return, he met with the heads of various departments and office-holders of MQI's forums at the central secretariat. Brig. (r) Iqbal Ahmad Khan, Khurram Nawaz Gandapur, directors, and office-bearers of various departments attended the meeting.
Speaking on the occasion, Dr Hassan Mohi-ud-Din Qadri said that Islamic Centers set by MQI across Europe are rendering a great service to Islam and the Pakistani community. He said that the number of these centers is increasing. He said that these centers not only provide a venue for interaction among the members of the community but are also promoting peace, interfaith dialogue and harmony.
Chairman Supreme Council congratulated the European chapters of MQI on making excellent arrangements for the conferences and interactions with the community members. He said that he was greatly moved by the devotion and commitment of the overseas Pakistanis for the mission of MQI, adding that he is convinced that the future of our succeeding generations in terms of their Iman and ideological direction is safe.
Dr Hassan Mohi-ud-Din Qadri said that the professionals and the members of the Pakistani community were interested in learning about the State of Madina during the conferences and seminars he addressed in various countries. He said that MQI has been serving humanity by building bridges among various segments of society. He said that the Minhaj Dialogue Forum has carved out a name for itself in Europe, which is bringing representatives of various walks of life together for a positive engagement on issues of mutual interest. He said that the Forum is playing a leading role in forging unity in the ranks of Muslims.
Dr Hassan Mohi-ud-Din Qadri further informed that due to modern Islamic approach of Shaykh-ul-Islam Dr Muhammad Tahir-ul-Qadri, professionals and the members of Pakistani community are joining MQI in large numbers. He said that the youth associated with MQI are focusing on getting religious education as well as one in contemporary sciences. He said that the educational institutions set up by MQI are promoting religious education, which is a matter of great pride.
Chairman Supreme Council advised the participants to be regular in the performance of their prayers, adding that they should not show any laxity in this regard. He said that the protection of one's Iman and belief is dependent on the performance of Namaz.