Stay away from political fights of others, Dr Tahir-ul-Qadri directs MQI workers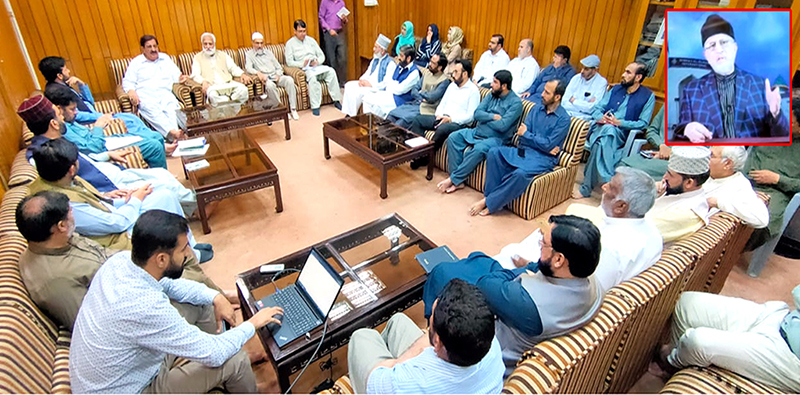 MQI founding-leader and patron-in-chief Shaykh-ul-Islam Dr Muhammad Tahir-ul-Qadri has issued a policy guideline for the workers and leaders of MQI in view of the ongoing political situation in the country. He has asked the workers and social media activists associated with MQI not to become part of any political fight and stay away from the political wrangling.
While giving his directions in a video link, Dr Tahir-ul-Qadri said that on the one hand, those people have come to power who played a role in the killing of our workers in Model Town. And there are others ousted from power on the other hand who did not extend any cooperation whatsoever for the provision of justice for the martyred workers. They did not bother to ask about our well-being. He said that justice for the martyrs of Model Town is part of our faith, and a principle which we cannot budge an inch from. He said that the legal struggle will continue to be waged for justice till the last breath, adding that we will keep knocking on the doors of judiciary.
Shaykh-ul-Islam Dr Muhammad Tahir-ul-Qadri said that Imran Khan was with us in our demand of seeking justice for the martyrs of Model Town before coming to power. He remained part of the movement for justice and occasionally took part in protests. He, however, added in the same breath that on coming to power, he totally forgot or feigned to forget the Model Town tragedy as if it had not happened.
Dr Qadri said that the MQI central leader Khurram Nawaz Gandapur held several meetings with the PTI government ministers along with the delegations. We did not ask them anything other than justice. The government officials, in return, only doled out promises but did nothing in practical terms. He made it clear to the workers of all forums of MQI that we would not become part of any political fight of others.
Shaykh-ul-Islam Dr Tahir-ul-Qadri further said that he had stated at the time of retiring from active politics in 2018 that even if 100 elections were held under the present system, no change would come about. He said that when one assumes power under this system, everything one surveys from the high above looks perfectly fine. However, when one is ousted from power, one asks as to why one was sent home. He asked the workers to focus on their welfare, organizational, education matters and pray for the protection and safety of Pakistan and its workers.