Dr Hassan Mohi-ud-Din Qadri asks youth to join the company of the pious people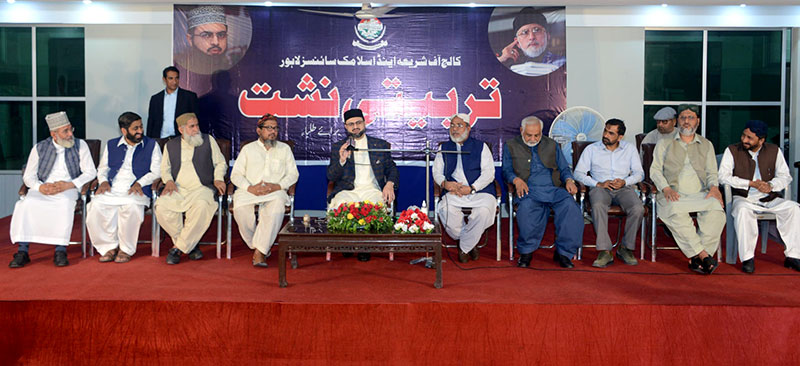 Chairman MQI Supreme Council Dr Hassan Mohi-ud-Din Qadri has said that the best use of time during the student days is to be fully immersed in the acquisition of knowledge. He said that these precious moments of life would not return again. He said that this phase of life determines our future. He said that the hard work done in this period not only benefits the seekers of knowledge throughout their life but the future generations also use its blessings and rewards. He asked the youth to join the company of knowledgeable people, adding that such a pious company builds our character.
Dr Hassan Mohi-ud-Din Qadri made these remarks while addressing an intellectual sitting with the students of College of Shariah and Islamic Sciences. Those present on the occasion included Dr Mumtaz-ul-Hassan Barvi, Allama Mohibullah Azhar, Prof Mumtaz Sadeedi, Prof Ghulam Shabbir Jami, Prof Najeeb Malik, Allama Ghulam Murtaza Alvi, Prof Sabir Hussain Naqshbandi, Prof Ilyas Azami, Prof Masood Mujahid, Allama Sajid Al-Azhari, Allama Rana Akram, the staff members as well as the students of COSIS.
Dr Hassan Mohi-ud-Din Qadri said that education is not productive without being complemented by training. He said that MQI is reviving the scholarly culture of our forefathers. He said there was a convergence between religious scholars, Sufis and Awliya-e-Allah that they would spend most of their time in the company of the pious and knowledgeable people. He said that the kind of company one has impacts the thinking and conduct of the people who are part of it. He said that we should join the company of God-fearing people.
Chairman MQI Supreme Council said that Shaykh-ul-Islam Dr Muhammad Tahir-ul-Qadri has set up countless institutions of learning which are at the forefront of efforts to build character of the youth. He said that it is through education and training that a peaceful society having the prophetic teachings as its identity can come into being. He advised the students to value time, stating that time is such a wealth, which one wasted, can never return. He said one can acquire the lost worldly possession but not the wasted time.