Allah Almighty values intention more than apparent actions: Shaykh-ul-Islam Dr Muhammad Tahir-ul-Qadri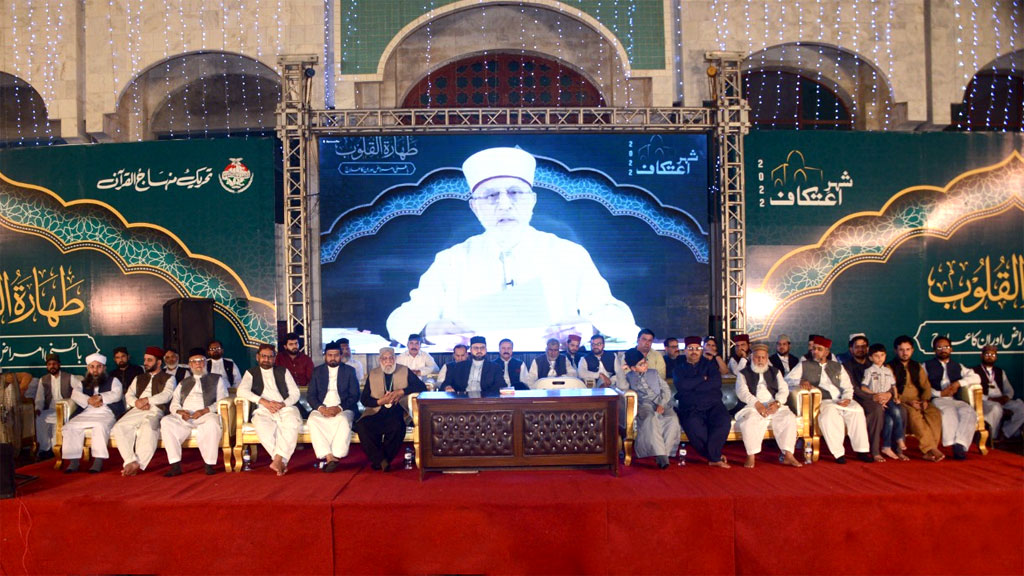 In an ongoing lecture series on the topic of 'Taharat al-Qulub' (purification of the heart), MQI patron-in-chief and founding-leader Shaykh-ul-Islam Dr Muhammad Tahir-ul-Qadri continued with his talk on the spiritual ailments and their cure. He said that the sins a man commits relate to both his outer and inner selves. He said that Allah Almighty considers the sins of the inner self first of all, not the apparent actions. He takes the intention and the state of heart into account, adding that it is for this reason that there is an immense reward for the intention of doing a noble deed.
Shaykh-ul-Islam Dr Muhammad Tahir-ul-Qadri said that if one's heart gets reformed, it would always remain in a state of obedience. The intention, he said, reaches Allah Almighty before the action. According to Hadith, there is no migration after the conquest of Makkah, however, struggling to do good deeds and intending to do that act is still there. He said that the intention without a follow-up action is still an act of worship and the action without an intention does not fetch any reward.
Dr Tahir-ul-Qadri quoted a Hadith and said that the best act is to have true and pious intention, adding that it is how people used to learn about the importance of intention in the earlier times the way we learn about doing something today. He asked the people to always take care of their heart and focus on the state it is in; and to look whether it has sincerity or it is a victim of hypocrisy.
Shaykh-ul-Islam said that the intention becomes true only when it is directed at winning the pleasure of Allah. What we say is reformed through action and the action in turn is improved through intention, which is dependent on sincerity of purpose. He said that the state of heart continues to change all the time, stating that it should be embedded in cleanliness and purification.
Dr Qadri said that there are four stages involved in the process of the purification of the heart. He said that when a human heart suffers from some mal-intention, the notions that a man has change drastically and consequently his actions reflect the disorder of the mind. He said that the roots of confusion and doubts will have to be uprooted to cure the ailment of the heart, otherwise it undermines and weakens the root of conviction.