Service to suffering humanity core message of Islam: Khurram Nawaz Gandapur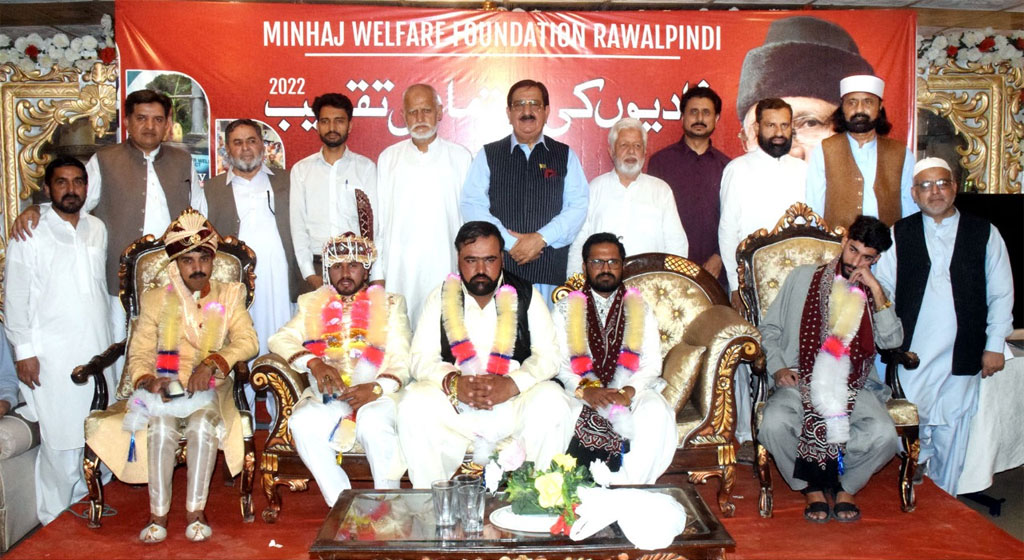 MQI Secretary General Khurram Nawaz Gandapur attended the collective marriage ceremony held under the banner of Minhaj Welfare Foundation Rawalpindi. Speaking on the occasion, he said that it has become difficult, rather impossible, for the people to marry off their daughters because of the increasing cost of living. He said that those who take part in welfare activities and help the poor are the blessed people. He said that Allah Almighty will ask people with resources about the spending and whether they helped those in need or not. He said that those who have the resources but do nothing to reduce people's sufferings will be held to account on the Day of Judgment. He said that the Sunnah of Nikah needs to be spread to make society civilized and pious.
Khurram Nawaz Gandapur said that more than 5000 marriages have been arranged under the banner of Minhaj Welfare Foundation in Lahore, Khanewal, Wah Cantt, Khanqah Dogran, and Rawalpindi. He said that the mass marriage ceremony has become a flagship project of Minhaj-ul-Quran International (MQI), which is held regularly.
District MQI leaders, Mirza Asif, Furqan Yousaf, Sardar Naseem, Allama Saqib Nauman, Raja Amir Javed, Kamran Mateen, Ahmad Awan, and Raja Ibrahim welcomed the bridegrooms with the rose petals. Khurram Nawaz Gandapur presented gifts to the couples on behalf of Shaykh-ul-Islam Dr Muhammad Tahir-ul-Qadri. A documentary was played on the occasion that showed the services of MWF in the realm of welfare. Renowned religious scholar Allama Hassan Raza Saqibi, MQI leaders Anaar Khan Gondal, Azhar Mahmood Awan, Saleem Dewana, and Allama Arshad Mustafavi also spoke on the occasion.
The guests were entertained with delicious food. The district leaders of MWL Rawalpindi, Rabia Mazhar Asia Kareem, Naheed Mazhar, Ayesha Nadeem, and others saw off all the brides with respect. Every bride was given household stuff of Rs. 0.2 million.