Syed Noor & Saima Noor visit Aghosh Orphan Care Home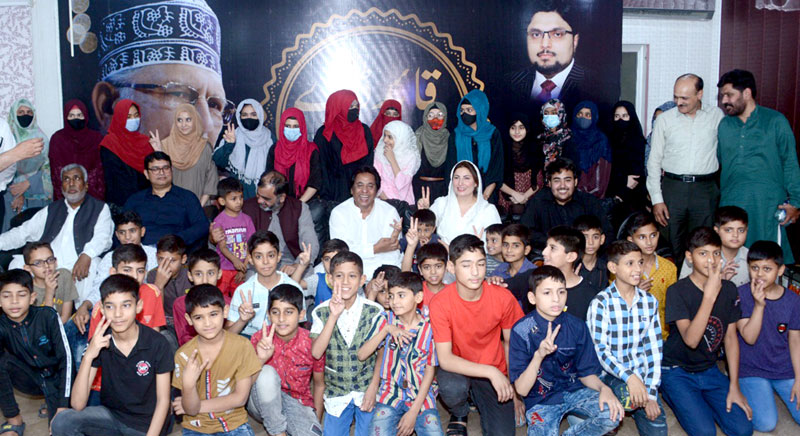 Distinguished director, writer and filmmaker Syed Noor visited Aghosh Orphan Care Home along with his wife Saima Noor, a famous actor in her own right and spent the entire day with the orphan children. Both husband and wife sat with the children for lunch. Saima Noor mixed up with the innocent children and showed amazing love for them.
On reaching Orphan Care Home, the guests were received by Director Col. ( r ) Mubashir Iqbal, Noorullah Siddiqui, Imran Zafar, Shahzad Rasool, Haji Muhammad Ishaq, Abdul Hafeez Chaudhry, Shabbir Ahmad, and Tayyab Zia.
Saima Noor took three and a half year old Umar Khan in her arms and loved him. Her eyes welled up. Speaking on the occasion, she said that providing help and support to the orphan children is an act of great worship and the best illustration of human service. She paid rich tributes to Shaykh-ul-Islam Dr Muhammad Tahir-ul-Qadri on his initiative of Aghosh Care Home for the orphan children.
In his briefing, Director Aghosh Care Home, Col. (r ) Mubashir Iqbal said that Dr Tahir-ul-Qadri set up this institute in the wake of devastation of the 2005 earthquake that struck AJK, KP and parts of Pakistan. He said that children between the ages of 5 and 7 were left orphaned, adding that those very children got their education and have dignified jobs today. He further said that an orphan child recently got a commission in the Pakistan Army and is serving the nation as a Captain.
Col. (r ) Mubahsar further said that Orphan Care Home is like a home for the poor girls where they are married off. Syed Noor and Saima Noor visited various departments and residential areas of Aghosh Orphan Care Home.
In his remarks on the occasion, Syed Noor said that he is feeling close to Allah on getting to Aghosh Orphan Care Home. He said that whatever Dr Tahir-ul-Qadri has set his mind to, that thing has turned out to be an example. He said that he felt greatly elated at the quality of facilities and care being provided to the orphan children. He said that being an orphan is no deprivation, because our beloved Prophet (pbuh) was also an orphan. He (pbuh) gave protection to entire humanity and is a prophet of mercy for the entire mankind. Syed Noor and Saima Noor got their photo taken with the orphan children.
Both the husband and wife also visited Minhaj University Lahore where they were received by Vice-Chancellor MUL Dr Sajid Mahmood Shahzad. The VC briefed them about various programs and departments of the university. Syed Noor and Saima Noor also came to the central secretariat of MQI where they spent some time at Gosha-e-Durood.
Brig. (r ) Iqbal Ahmad Khan, Jawwad Hamid, and Abid Bashir warmly welcomed the celebrity couple on their arrival at the secretariat. They also held a meeting with Chairman MQI Supreme Council Dr Hassan Mohi-ud-Din Qadri. In his chat with Dr Hassan, Syed Noor said that Minhaj-ul-Quran and Dr Tahir-ul-Qadri are doing a great duty of building character of the youth. They prayed to Allah Almighty for the success of MQI.