MQI Supreme Council meets to discuss important issues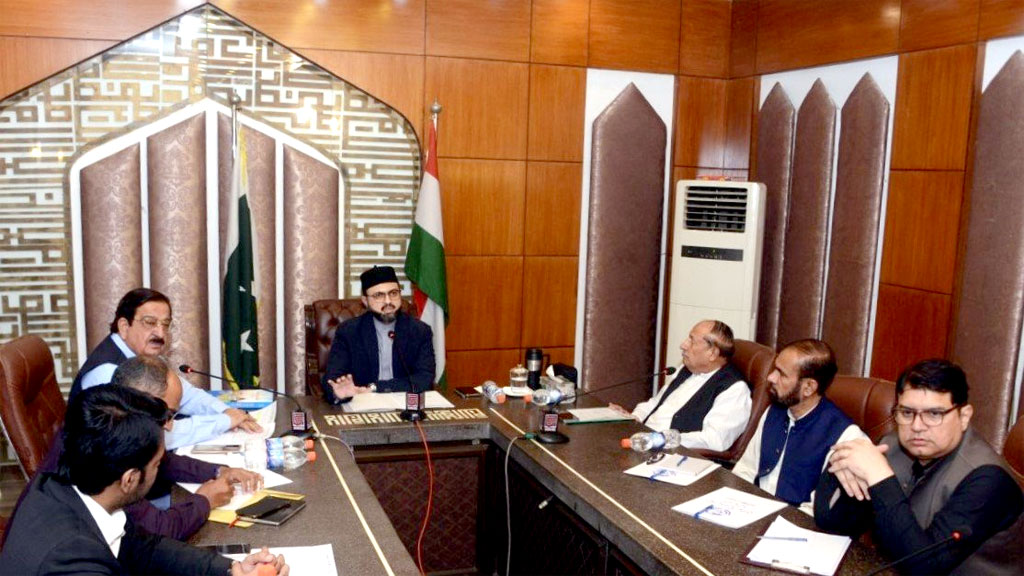 An important meeting of the MQI Supreme Council was held here at the central secretariat on June 22, 2022. Chairman Supreme Council Dr Hassan Mohi-ud-Din Qadri presided over the meeting, whereas Secretary Supreme Council Khurram Nawaz Gandapur, Brig. (r ) Iqbal Ahmad Khan, Dr Rafique Najam, Dr Farah Naz, Muhammad Farooq Rana, Noorullah Siddiqui, and Abdur Rehman were in attendance.
Dr Ghazala Hassan Qadri, Dr Maya Naz, Dr Shahida Naumani, Qazi Zahid Hussain, Syed Ali Abbas Bukhari, Zille Hassan, Ghulam Murtaza Murtazai, Allama Rana Muhammad Idrees Qadri, Ali Imran, Syed Mahmood Shah, Faisal Mash'hadi, and Haji Muhammad Khan joined the meeting virtually.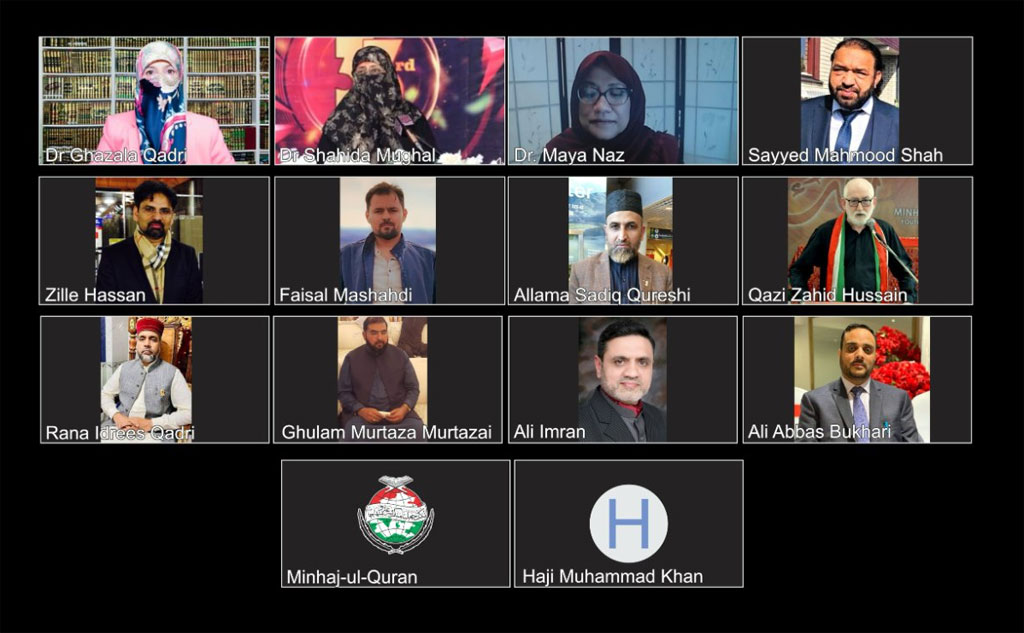 Khurram Nawaz Gandapur briefed the participants about the decisions taken in the last Shura meeting and the critical views expressed by the members. He also informed the Supreme Council about the targets of Vision 2025 and the progress on them so far. He said that it is a matter of great satisfaction that the central leadership undertook 907 visits for the promotion of Dawah activities and the organizational consolidation, adding that these visits breathed a new life into the local chapters of MQI, leading to a surge in the membership.
Khurram Nawaz Gandapur also took the participants of the meeting into confidence about important projects such as membership drive, reorganization campaign, Nizam-ul-Madaris Pakistan, Fehm-e-Deen projects, extension of COSIS hostels, Minhaj production house, photography section, Jamy Shaykh-ul-Islam, construction, expansion and decoration of Jamy al-Minhaj Baghdad Town, Orphan Care City and new administration block, press building and other infrastructure-related projects of Minhaj University Lahore.
Secretary Supreme Council also briefed the Council members about Minhaj Islamic Encyclopedia (search engine app) and told that a new department is being set up with reference to software development and e-marketing. He also gave a detailing briefing about the designing of mobile apps of Monthly Minhaj-ul-Quran and Dukhtaran-e-Islam and the preparation of introductory literature of MQI.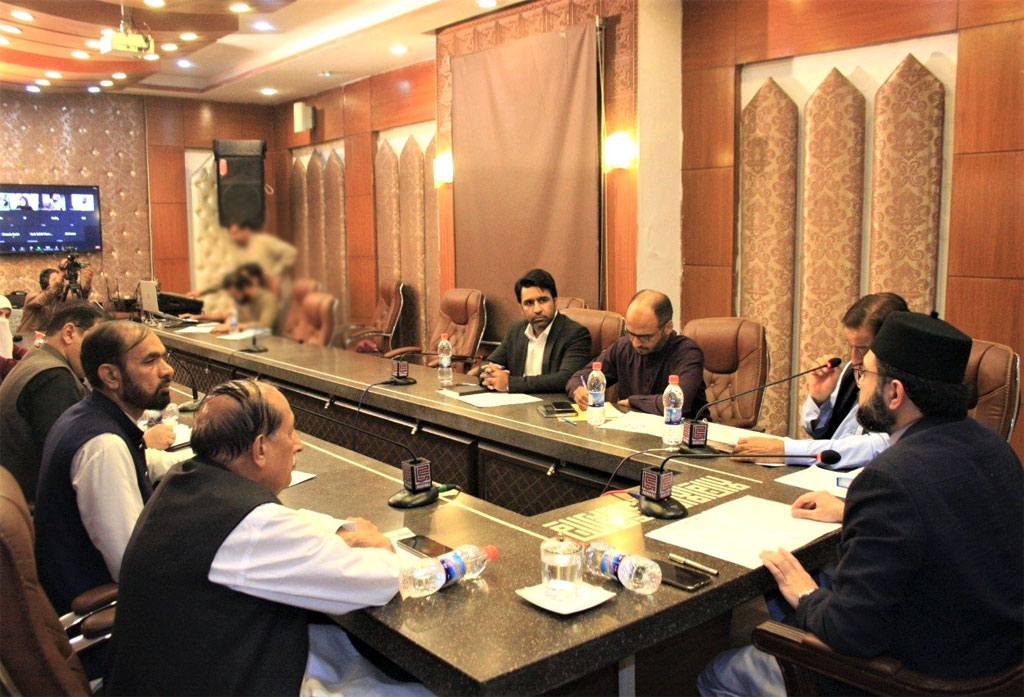 Chairman Supreme Council Dr Hassan Mohi-ud-Din Qadri congratulated the relevant forums and teams who worked hard day in and day out for the successful conduct of MQI's mega event Mawlid-un-Nabi (pbuh) Conference at Minar-e-Pakistan, the Quaid Day ceremonies. He also felicitated Brig. (r ) Iqbal Ahmad Khan, Jawwad Hamid and their teams on excellent arrangements for Itikaf City 2022. He said that the network of Minhaj TV is being extended to other countries and modern production houses will be set up in these countries for this purpose.
Dr Hassan Mohi-ud-Din Qadri also congratulated the administrative team of Nizam-ul-Madaris Pakistan on excellent performance, stating that it is encouraging that a teacher training program has been initiated to prepare the teachers for teaching responsibilities in line with the modern requirements. He said that after the religious seminaries got accredited with Nizam-ul-Madaris Pakistan, the real challenge was to conduct the fool-proof examination at a mass scale, a task for which Nizam-ul-Madaris Pakistan introduced online monitoring system. He said that the preparation of syllabi and its enforcement in the shortest possible time is a great achievement of Nizam-ul-Madaris Pakistan.
The Supreme Council also lauded PAT's effective role with respect to membership and Fehm-e-Deen projects. Dr Hassan Mohi-ud-Din Qadri congratulated the team of Fehm-e-Deen project on achieving the milestone of registering one lac associates and 16 thousand workers through software. He further said that the work is also underway to connect the aims and objectives of Vision 2025 with the software.
The members of the Supreme Council paid rich tributes to Shaykh-ul-Islam Dr Muhammad Tahir-ul-Qadri for his patronage and guidance to Nizam-ul-Madaris Pakistan in latter's efforts to prepare syllabi.
The Supreme Council also conveyed its profound felicitations to Shaykh-ul-Islam Dr Muhammad Tahir-ul-Qadri, Dr Hassan Mohi-ud-Din Qadri and Dr Hussain Mohi-ud-Din Qadri on the award of gold medal to Hazrat Farid-e-Millat Dr Farid-ud-Din Qadri (R.A) post-humously in recognition for his role in the freedom struggle. The Council termed this a matter of great honour for every member, worker and associate of MQI.
The Supreme Council also congratulated Shaykh-ul-Islam Dr Muhammad Tahir-ul-Qadri on the presentation of a unique vision of setting up 25,000 centers of knowledge. The Council said that the work on preparing 100 model mothers, 100 model households, 100 model mosques, 100 model teachers and 100 model Madaris will lead to revolutionary and positive changes in society.
Chairman MQI Supreme Council felicitated the Green Professional Forum (GPF) team on designing app and search engine of Minhaj Islamic Encyclopedia project. He also lauded the role and support of Dr Farah Naz, Dr Maya Naz and Muhammad Farooq Rana they extended for the completion of pictorial gallery project. The exemplary services being rendered by FMRi in the context of books and research projects were also greatly appreciated on the occasion.
Dr Hassan Mohi-ud-Din Qadri informed the Supreme Council about the construction and decoration of the Islamic centers in Australia, Denmark, Germany and France. In reply to a question, he said that Minhajians are the inheritor and protector of the ideology and thought of Shaykh-ul-Islam. He said that Minhajians is a foundational forum that has a great role to play in the promotion of Dr Tahir-ul-Qadri's teachings and work. He said that their databank is also being prepared. He said that the introductory literature of MQI will be translated in various languages of the world.
Dr Hassan Mohi-ud-Din Qadri thanked all the participants for their time and suggestions. The meeting came to an end with Dua of Syed Mahmood Shah.