Monthly spiritual gathering & 'Urs' ceremony of Huzoor Qudwat-ul-Awliya held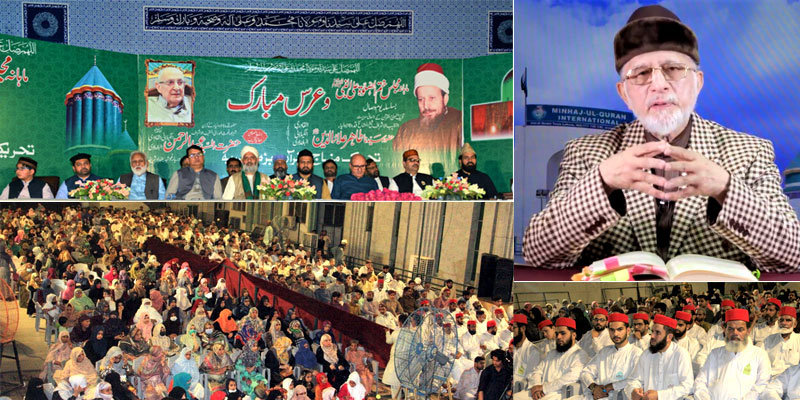 A joint meeting of monthly spiritual gathering of Gosha-e-Durood and 'Urs' ceremony of Huzoor Qudwat-ul-Awliya' Sayyiduna Tahir Ala-ud-Din al-Qadri al-Gillani (R.A.) was held at the central secretariat.
In his keynote speech on the occasion, Shaykh-ul-Islam Dr Muhammad Tahir-ul-Qadri said that Huzoor Pir Sahib was personification of piety and purification of heart. He would always remain busy in remembrance of Allah and spent his life in His obedience. When he spoke he spoke for Allah and when he kept quiet, he did it for the sake of Allah Almighty.
Shaykh-ul-Islam said that Huzoor Qudwat-ul-Awliya' would also give a special consideration to the fact that each of his deed in life would be for the pleasure of Allah alone. He said that he spent a long time in the blessed company of Pir Sahib and found his talk and silence in consonance with the obedience and pleasure of Allah Almighty.
The monthly spiritual meeting was told that the number of durood, greetings and salutations sent on the Holy Prophet (PBUH) was more 15 billion and 15 lac, thus contribution to the total number of Durood that now stands at more than 5 trillion, 23 billion, 628 million.
Earlier the proceedings of the joint sitting got underway with the recitation of the Holy Quran by Qari Muhammad Rafique Naqashbandi, and Qari Syed Khalid Hameed Kazmi. Safdar Ali Mohsin conducted the proceedings as the master of the ceremony. Renowned Naat khawan Mutafa Akhtar Hussain Qureshi, Al-Haj Sarwar Hussain Naqashbandi, Zaheer Abbas Bilali Brothers, Minhaj Naat Council Samanabad and Mohiuddin Brothers had the honour to recite Naat in the honour of the Holy Prophet (PBUH).
Those who attended the gathering among others included Aslam Tareen, Sajjada-e-Nasheen of the shrine of Daata Gunj Baksh Sahibzada Ahmad Asim Saleem Chaudhry Hajveri, Raja Zahid Mahmood, Noorullah Siddiqui, Muhammad Jawwad Hamid, Syed Altaf Hussain Shah Gilani, Sahibzada Hamid Mustafa al-Qadri, Hafiz Ghulam Farid, Sheikh Ahmad Nauman, Sheikh Farhan Aziz, Altaf Randhawa, Sanaullah IT Manager, Haji Manzoor Hussain, Hafizullah Javed, Sardar Umar Daraz Qadri, Allama Zaheer Ahmad Naqashbandi, Allama Jamil Ahmad Zahid Qadri, Allama Ishfaq, Minhaj ud Din Qadri, Allama Fayyaz Bashir Qadri, Mudassar Rasool Noori, Sidra Karamat, and Sufi Ghulam Farid.
A large number of people representing different walks of life including the workers, associates and leaders of various forums of MQI, management committee members of Gosha-e-Durood, teachers and students of COSIS and Minhaj College for Women also attended the joint spiritual gathering and Urs ceremony.