Dr Hussain Mohi-ud-Din Qadri's new book "Importance of Time" published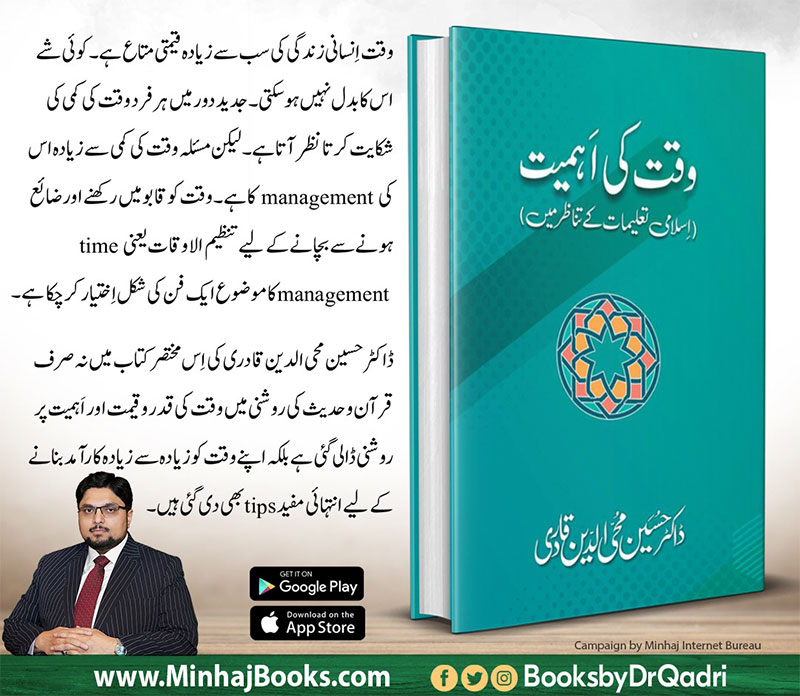 'Importance of Time', a new publication of Dr Hussain Mohi-ud-Din Qadri, Deputy Chairman Board of Governors of MUL and President MQI has been published. Useful information has been compiled in this book on time management and timeframe in the light of the teachings of the Holy Quran and Sunnah. The youth can read this book to bring about positive changes in the way they live their life and plan their professional careers.
Dr Hussain Mohi-ud-Din Qadri, while commenting on the book, has said that today's youth is faced with multiple challenges and the key among these is the time management including how to work out timeframe for personal and professional assignments. He said that without learning the skill to manage time, no big achievement can be made. He said that all tools and resources can be used for progress only when time is considered a resource and used most efficiently.
Dr Hussain Mohi-ud-Din Qadri said that time is the most important and rare commodity that needs to be spent most judiciously. He said that Allah Almighty has highlighted the importance of time management in the Holy Quran. He said that time has been divided into a day and night wherein one goes on searching for livelihood during the day and takes rest at night.
President MQI said that Allah has also fixed time for the worship and said in the Holy Quran that whatever is there between earth and heaven was created in six days. The idea being that the whole universe came into being as part of a time management plan. He said that our days of birth and death have also been pre-dated and there could not be a delay of even a single moment in them.
He asked the youth to read the book to brush up their skill on time management, adding that the reading will help them get rid of procrastination and become regular in their routine activities.