Life of Hazrat Usman Ghani (R.A) is a beacon of light for Muslim rulers: Minhaj ul Quran Ulama Council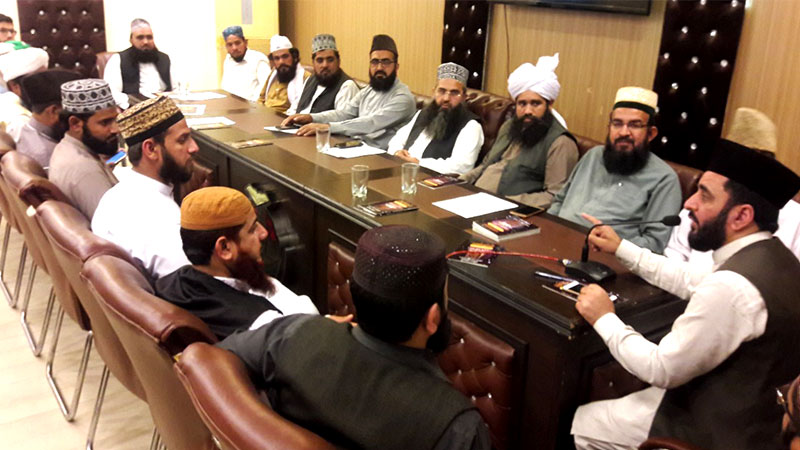 An intellectual gathering was arranged at the MQI central secretariat to mark the martyrdom anniversary of Hazrat Usman Ghani (R.A), the caliph of Islam. President Minhaj-ul-Quran Ulama Council Allama Imdadullah Qadri, Allama Mir Asif Akbar and a number of religious scholars and intellectuals attended the gathering.
In his speech on the occasion, Allama Imdadullah Qadri said that there are many lessons for the rulers of the day in the way Hazrat Usman Ghani (R.A) conducted the government during his caliphate. He said that the caliph of Islam gave top priority to Shariah in his system of governance and made sure that the Islamic teachings are implemented in all walks of life. He said that it is the ruler of the day who is duty bound to implement the Islamic teachings in his personal life followed by other office-holders of the government, adding that the idea here is that such a dignified conduct becomes a source of inspiration for the masses.
President Minhaj-ul-Quran Ulama Council said that the period of the third caliphate was a source of guidance like that of other great caliphs. He said that the rulers of the Islamic countries can learn from the caliphate for the determination of their governing principles, setting of priorities, and the administration of justice. He said that every aspect of the blessed life of Hazrat Usman Ghani (R.A), who was personification of piety, is a beacon of light not just for Muslims but also entire humanity.
Allama Mir Asif Akbar, General Secretary of the Ulama Council, said that Hazrat Usman Ghani (R.A) took up the responsibility of the government at a difficult time. He said that Islam got strengthened and became powerful as a result of his wisdom and efforts. He said that he is that revered personality in Islam who married two daughters of the Holy Prophet (pbuh). His manner of governance was exemplary, which will continue to provide guidance to the rulers for times to come. The third Caliph of Islam wrote letters to governors and top office-holders of his caliphate in which he instructed them to ensure welfare activities and not just confine themselves to tax collection.
Allama Muhammad Ashfaq Chishti, Allama Mufti Khalil Hanafi, Allama Usman Sialvi, Allama Farooq ul Hassan, Allama Syed Khursheed ul Hassan Shah, Allama Abu Bakr Chishti, and Allama Muhammad Latif Madani attended the intellectual gatherings.