Islam is a guarantor of rights of non-Muslims: Sohail Ahmad Raza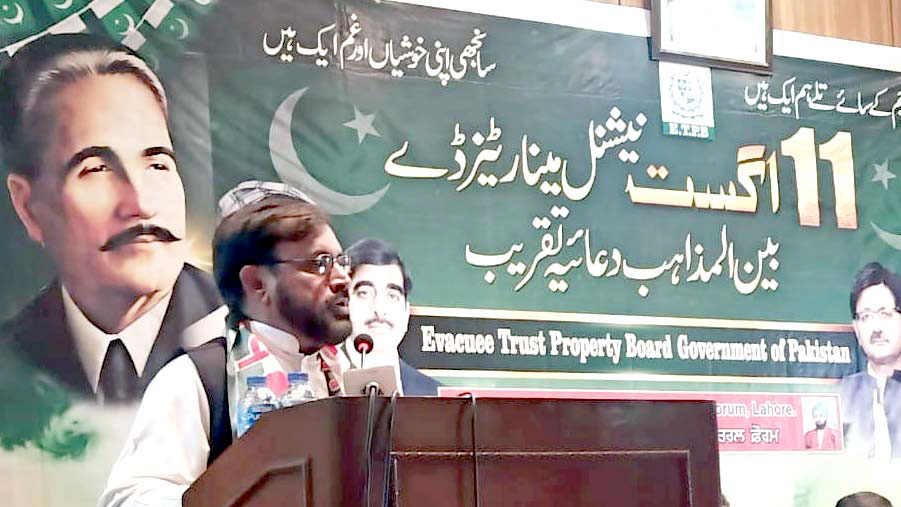 Evacuee Trust Property Board (ETPB) arranged a ceremony to celebrate the National Day of Minorities in Dayal Singh Research Center, which was presided over by Syed Habib ur Rehman Gilani, chairman ETPB. Faith leaders namely Reverend Shahid Miraj, Pandit Amarnath Randhawa, Sardar Darshan Singh, Sardar Singh Kalyan, and Director MQI Interfaith Relations Sohail Raza, who is also member of the Board, attended the ceremony.
Addressing the ceremony, Sohail Ahmad Raza said that Islam and the Constitution of Pakistan are guarantor of the rights of the minority communities in Pakistan. He said that the rights of non-Muslims are sacrosanct and protected. He said that the 11th of August is celebrated as the day of the non-Muslim minority communities to acknowledge their role and thank them for their service towards the country.
Sohail Raza said that the Quaid-i-Azam Muhammad Ali Jinnah delivered a landmark speech in the Constituent Assembly on April 11, 1947 in which he gave a commitment that all citizens living in the state of Pakistan have equal rights and obligations without any discrimination and especially the freedoms and rights of non-Muslims are protected.
Sohail Raza said that non-Muslims took active part in the freedom struggle, recalling that it was Dewan Bahadur S.P. Sangha, who as Speaker of the Punjab Assembly, exercised a casting vote in favour of Pakistan. He said that whether it is judiciary, civil services or defence, there is no walk of national life in which non-Muslim citizens are not contributing. He said that we are one nation under the flag of Pakistan and vow to continue to serve the motherland, no matter who we are.