MQI sends mobile hospital to the adversely flood-hit areas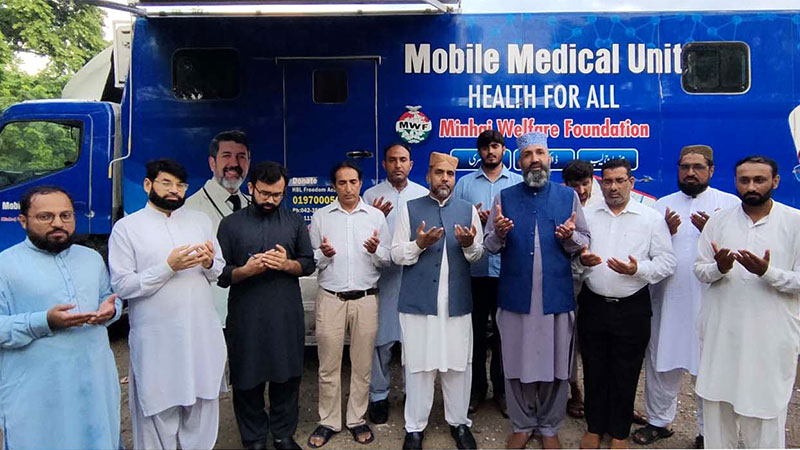 Minhaj Welfare Foundation has sent a mobile hospital to the adversely flood affected areas of Rojhan, Fazilpur, Dajal, Rajanpur, Yaro Khosa, Dera Ghazi Khan, Chotti, and Taunsa along with the team of doctors, paramedical staff and the medicines.
Speaking on the occasion of sending the mobile hospital at the central MQI Secretariat, Allama Rana Muhammad Idrees asked the MQI workers to step up the relief operations in the flood-hit areas. He said that time is of essence and prompt actions should be taken to deliver relief goods to the affectees. He said that the workers and volunteers of all forums of MQI remain at the forefront of the rescue and relief efforts, stating that the challenge is humongous and the greater should be our resolve to ease the pain of our suffering brothers and sisters.
Rana Nafees Hussain Qadri, president of MQI Lahore chapter, said on the occasion that there is a real danger of the epidemics breaking out in the flood affected areas. He said that MQI Lahore and MWF have dispatched the mobile hospital which is equipped with modern lab facilities along with a team of qualified doctors, paramedics and medicines to provide immediate medicare to the affected people.
The MQI volunteers have been directed to speed up the distribution of the food and non-food essential items to the flood affectees. Capt. (r ) Abdul Majeed, Nazim of Minhaj Welfare Foundation, stated on the occasion that the mobile hospital will provide much needed relief to the people in the adversely affected areas. He said that the provision of medical care to the most vulnerable people is our mission.
Prof Zulfikar Ali, Ateeq ur Rehman Rana, Qari Riast, Muhammad Amir, Rehan Ch and other leaders were present on the occasion.