Sayyiduna Ali Hajveri (R.A) introduced real concept of spiritualism: Dr Hussain Mohi-ud-Din Qadri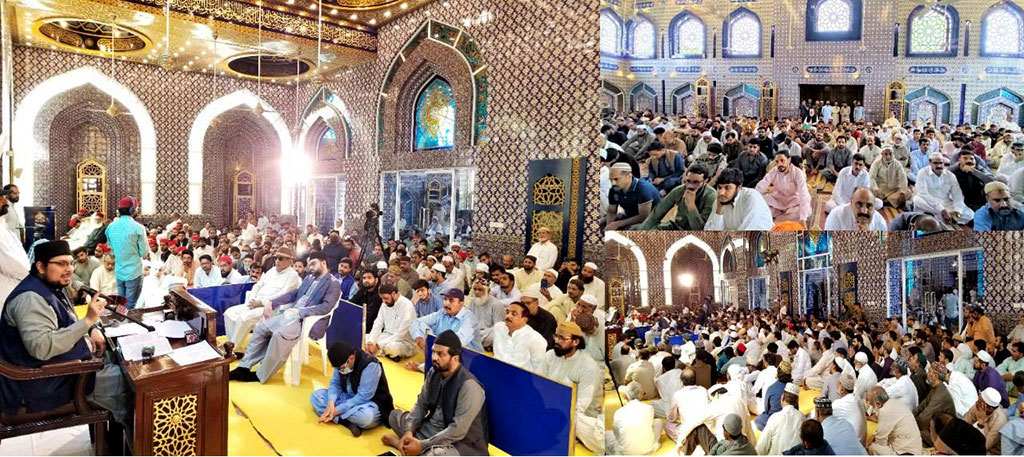 President MQI Dr Hussain Mohi-ud-Din Qadri delivered a Friday sermon in Jamy Shaykh-ul-Islam on the subject of Kashf al-Mahjub. In his address, he said that Sayyiduna Data Ganj Bakhsh Ali Hajveri (R.A) is the master of the spiritual world. He said that thanks to his unique service in terms of education and training of people and the preaching, the candles of spiritual enlightenment and the Islamic teachings were lit. He said that Kashf al-Mahjub is a treasure of knowledge, wisdom and enlightenment. He said that Sayyiduna Ali Hajveri took spiritualism away from the realm of miracles and connected it to the teachings of the Holy Quran and Sunnah.
Dr Hussain Mohi-ud-Din Qadri said that Sayyiduna Ali Hajveri was a scholar par excellence of his time and spent every moment of his life in compliance with the commandments of Islam. "He would say that he who differentiated between knowledge and action and separated knowledge from gnosis violated the teachings of our great religion," he said.
Dr Hussain Mohi-ud-Din Qadri further said in his speech that Data sahib's shrine is still the center of knowledge and enlightenment for the seekers of truth and wisdom despite the passage of centuries. He said that his shrine is visited by hundreds of thousands of people due to his exemplary services for Islam. He purged the real spiritualism of the pollution of wants and desires and established through action that spiritualism is not disconnected from the Holy Quran and Sunnah.
'Hazrat Ali would say that opposition to the dictates of the ill-commanding self is the essence of all worship and the height of spiritual struggle. Knowledge is of no use without action. The first step on the path of spiritual journey is repentance," Dr Hussain Mohi-ud-Din Qadri said.
President MQI said that Sayyiduna Hazrat Ali Hajveri forbade his followers to join the company of a scholar who is not attending to his responsibilities, a student of spiritualism who flatters, and unenlightened Sufi.
Chairman MQI Supreme Council Dr Hassan Mohi-ud-Din Qadri led the Friday Dua in which he prayed to Allah Almighty to ease the hardships and sufferings of flood affectees.