Sufis are healer of hearts: Dr Hassan Mohi-ud-Din Qadri | The 979th URS of Data Ganj Bakhsh Ali bin Usman al-Hujwiri (R.A)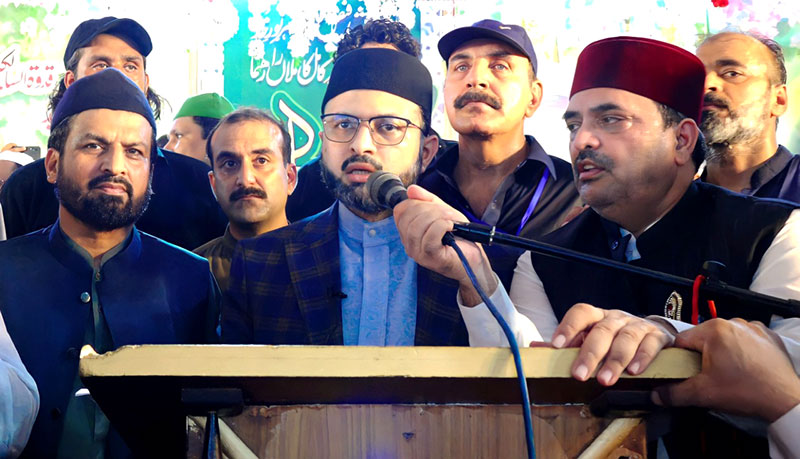 Chairman MQI Supreme Council Dr Hassan Mohi-ud-Din Qadri attended the concluding ceremony of the three-day International Conference held to mark the 979th Urs of Hazrat Data Ganj Bakhsh Ali Hujwiri (R.A).
Speaking as a chief guest, Dr Hassan Mohi-ud-Din Qadri said that the Sufis win over the hearts of the people through their morality, excellent behavior and service to humanity. They heal people's hearts, comfort them and bring peace and tranquility in their lives. They are inclusive figures who bring people together without any caste of creed, colour and race and stay away from factionalism, division and sectarianism. Their teachings are meant for the whole of humanity. The rain of their mercy continues to shower on all and sundry.
Dr Hassan Mohi-ud-Din Qadri said that when we study the life and teachings of Hazrat Data Ganj Baksh Ali Hujwiri (R.A), we come to know how magnanimous he was, and how accepting and welcoming toward all who came to him.
Chairman Supreme Council said in his speech that it will be 1000 years soon since his passing but his spiritual blessings of Ali Hujwiri are being distributed uniformly for all and sundry. He said that Khawaja Moin-ud-Din Chishti Ajmeri (R.A) had termed him as "Faiz-e-Aalam" (Blessing for the world). He said that according to the teachings of Hazrat Data Ganj Baksh Ali Hujwiri (R.A), Allah's friendship cannot be secured without generosity of heart and vastness in one's disposition. He said that attributes such as tolerance, forbearance, humility, respect for humanity and a smiling face are the signs of sainthood as per Data sahib's teachings. He said that no person can become a Sufi without acquiring these attributes.
On reaching the shrine of Data sahib, Dr Hassan Mohi-ud-Din Qadri was warmly received. Thousands of people who had come from far and wide of the country welcomed him and listened to his speech with rapt attention. Rose petals were thrown at Dr Hassan's caravan. He was accompanied by Khurram Nawaz Gandapur, Raja Zahid Mahmood, Allama Mir Asif Akbar, Allama Rana Muhammad Idrees, GM Malik, Jawwad Hamid, and Noorullah Siddiqui.
Dr Hassan Mohi-ud-Din Qadri offered Fateha at the shrine of Hazrat Data Ganj Baksh Ali Hujwiri (R.A) along with his delegation and prayed for the peace and progress of the country.
The International Conference was attended by Dewan Ahmad Masood Chishti, Allama Ali Abid Mash'hadi, Khawaja Farid-ud-Din Fakhari, Khawaja Ghulam-ud-Din Moharvi, Pir Khawaja Muhammad Moin-ud-Din Chishti, Pir Dewan Azmat Mahmood, Khawaja Muhammad Zia-ul-Haq Sialvi. They welcomed Dr Hassan Mohi-ud-Din Qadri who was the chief guest in the last session and the keynote speaker.