Speech of Dr Hassan Mohi-ud-Din Qadri was thought-provoking: Dewan Ahmed Masood Chishti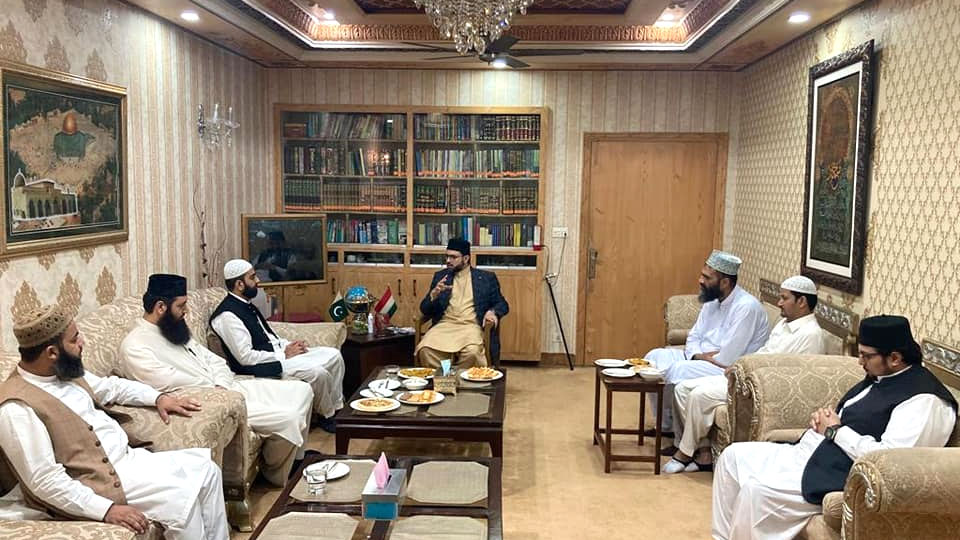 Along with Mashaykh and religious scholars, Dewan Ahmed Masood Chishti, Sajjada Nasheen Dargah Baba Fareeduddin Masood Ganjshakar (R.A), called on Chairman MQI Supreme Council Dr Hussain Mohi-ud-Din Qadri at his residence. They congratulated him on delivering an excellent and thought-provoking speech at Data Darbar the other day. They said that MQI leadership and scholars have given intellectual leadership to the Ummat and never allowed Islamic teachings of forbearance, inclusiveness and tolerance to come in the harm's way.
Dewan Ahmed Masood Chishti and other members of the delegation termed Dr Hassan Mohi-ud-Din Qadri's address as research-oriented and spiritualizing. They said that every word of the speech reflected deep study and love and devotion for Hazrat Data Ganj Bakhsh Hujwiri (R.A). The delegation consisted of Sayyid Amir Shah Gilani, Prof Ahmad Ali Tayyibi, and Prof Allama Tauseef-un-Nabi.
Dewan Ahmed Masood Chishti said that we hold the services and contributions of Shaykh-ul-Islam Dr Muhammad Tahir-ul-Qadri for the promotion of real teachings of spiritualism in high esteem. He said that the promotion of the teachings of Sufis is the need of the hour for the character building of the youth, a duty which MQI is doing sufficiently well. He said that our Mosques and shrines are the hub of knowledge and peace. He said that we are happy to learn that MQI has decided to set up 25000 centers of knowledge for the revival of the scholarly tradition of our forefathers.