MWF distributes ration & relief goods among 1200 families of Dera Ismail Khan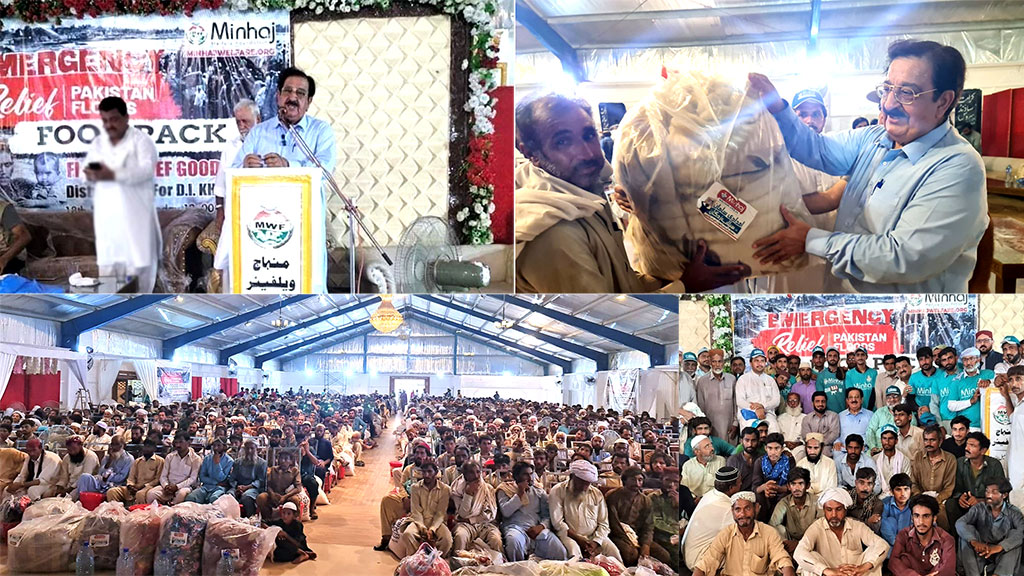 MQI Secretary General Khurram Nawaz Gandapur distributed ration and relief goods among 1200 families in Dera Ismail Khan under the banner of Minhaj Welfare Foundation. Director Coordination MWF Engineer Sanaullah Khan was also present on the occasion.
The relief items consisted of dry food stuff, mineral water, tents, clothes, bedding, mosquito, and hygiene kits, etc. Every family was also given ration bags consisting of food items that are sufficient for a month.
Talking to journalists after the distribution of relief goods, Khurram Nawaz Gandapur said that according to the UNICEF report, the lives of millions of families and especially children are at risk due to floods and the subsequent health, and food crisis that is deepening by the day. He said that more than 33 million have been adversely affected by the floods for whom lives have changed forever.
Khurram Nawaz Gandapur said that no single government can respond to the challenge on its own. He said that the member countries of the UN have not provided the kind of material and cash support required to deal with the grim situation. He said that the American Senator was right to say that the international assistance was merely a drop in the ocean.
MQI Secretary General asked the developed countries to step forward and feel their responsibility. He said that they are mainly responsible for global warming and that countries like Pakistan are having to bear the brunt of their actions. He said that it is therefore the responsibility of the carbon emitting nations to share the burden. He said that there are questions of transparency as well, as the country's politicians have looted the country mercilessly in the past four decades. He said that all of their wealth and belongings are parked outside of Pakistan and this factor may explain the reluctance of the international community to wholeheartedly support the relief effort.