Directorate of Public Relations hosts reception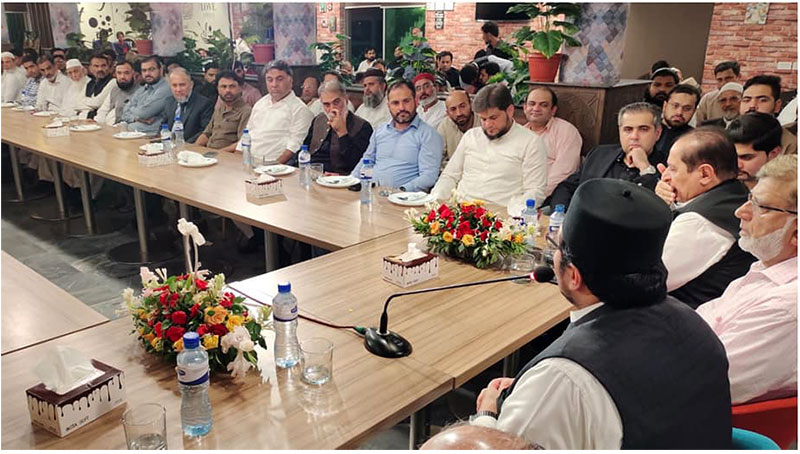 The Directorate of Public Relations of Minhaj University Lahore arranged a reception in the honour of people belonging to different walks of life. The guests hailed from the various fields such as medicine, engineering, media, IT, agriculture, civil services and social and welfare organizations. In addition to senior MQI leaders, Dr Hussain Mohi-ud-Din Qadri, Deputy Chairman of Board of Governors of the University attended the reception on a special invitation.
Dr Sajid Mahmood Shahzad, vice chancellor of MUL and senior vice-president of MQI Brig. (r ) Iqbal Ahmad Khan were also present on the occasion. Director Public Relations Shahzad Rasool Chaudhry, Haji Ishaq and Allama Abid Bashir welcomed the esteemed guests on their arrival.
The representatives of the business community stated on the occasion that the floods come every year and the people get drowned. They said that despite suffering losses in man and material, we have not been able to build enough water reservoirs to take care of floods. They said that those seeking people's mandate and votes should be asked to give their solemn commitment for building dams so that the precious water resources could be saved from wasting due to the modern water management techniques. They said that water wastage is our national issue that should be tackled on an urgent basis.
Speaking on the occasion, Dr Hussain Mohi-ud-Din Qadri said that MQI is moving forward with the progressive teachings of Islam. He said that it is serving as a bridge for the conduct of dialogue between various cultures and civilizations. He said that the promotion of knowledge forms the core of MQI's message. He threw light on the salient features of MUL including a brief introduction of the various faculties and departments.
The participants of the reception made Dua for the departed souls and expressed their heartfelt sympathies and condolences to the bereaved families. They vowed to continue the relief operations till the rehabilitation of the flood victims.
Those who attended the reception included Babar Butt, Mian Zahid Javed, Khaliq-ud-Din, Mirza Nadeem Baig, Mian Akhtar Hussain, Hafiz Amir, Sheikh Amir Rafi, Haji Arshad Mughal, Pervez Butt, Noorullah Siddiqui, GM Malik, Jawwad Hamid, Altaf Randhawa, Haji Manzoor Hussain, Mian Asim, Shuja-ud-Din, and Mian Ali among others.