Protecting youth from violent attitudes biggest challenge: Dr Hassan Mohi-ud-Din Qadri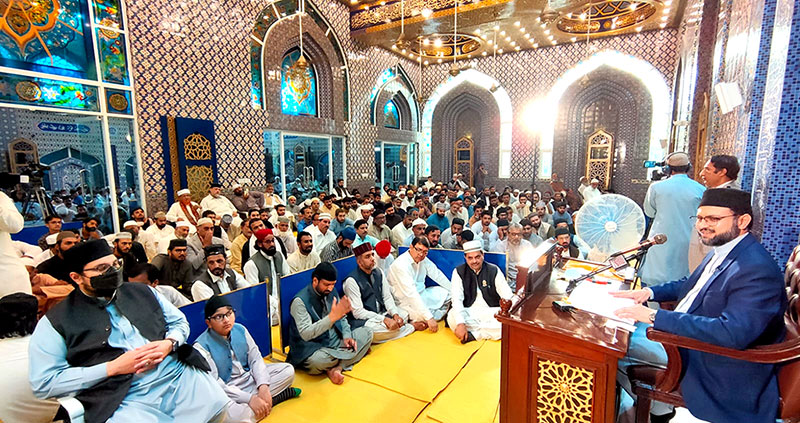 Chairman MQI Supreme Council Dr Hassan Mohi-ud-Din Qadri has said that the Sufis and Auliya imparted the lessons of love and peace to their followers. He said that those who violate these teachings bring a bad name to Pakistan and Islam and they are well-wisher of no one. He said that protecting the youth from the scourge of terrorism, violent attitude and extremism is the biggest challenge. He asked the religious scholars to revive the Islamic culture of respect and tolerance.
Dr Hassan Mohi-ud-Din Qadri made these remarks while addressing Friday congregation in Jamy Shaykh-ul-Islam in Model Town. He said that the real Islamic message is love, peace and respect for all. He said that Islam teaches us to connect hearts, not break them. He said that the shrines and centers of Sufis are the hub of teaching respect, harmony and love. He said that the world would have to return to the teachings of these advocates of love to make societies peaceful and harmonious. He said that polarization and hatred have emerged as the greatest challenges facing our society.
Chairman MQI Supreme Council said that there used to be differences of opinions among the religious scholars and jurists on the basis of interpretation of law and knowledge. They would express their difference within the confines of mutual respect and did not allow their relations to be affected by the difference. He said that excellent morality is one of the attributes of the Holy Prophet (PBUH). He said that it is the responsibility of the religious scholars to educate our youth about the teachings of the Holy Prophet (PBUH). He said that given the rampant mischief, protecting them from going astray.
Dr Hassan Mohi-ud-Din Qadri said that Shaykh-ul-Islam Dr Muhammad Tahir-ul-Qadri has taught the youth associated with MQI about peace, love and respect. He said that MQI has created a lot of positive influence in society.