Religious extremism is a huge challenge: Dr Hassan Mohi-ud-Din Qadri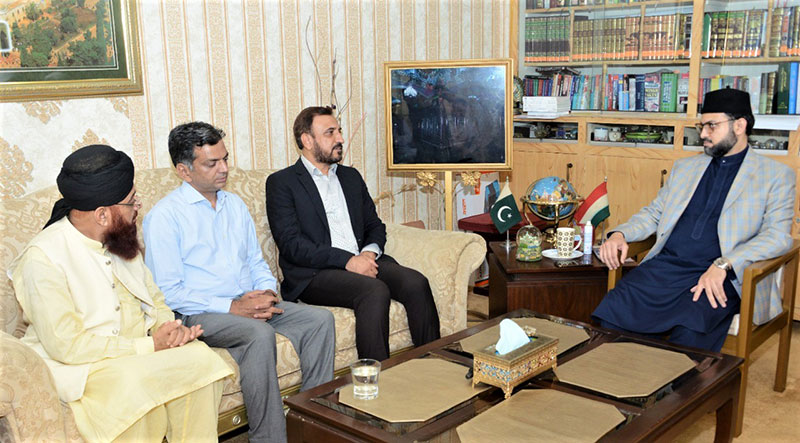 Director General Auqaf Dr Tahir Raza Bukhari along with a delegation of religious scholars including administrator Shahid Hameed Virk and manager Sheikh Jamil called on Chairman MQI Supreme Council Dr Hassan Mohi-ud-Din Qadri at his residence and thanked him for his participation in and delivering a thought-provoking speech at the Urs of Data Ganj Bakhsh Sayyid Ali Hujwiri (R.A).
Speaking on the occasion, Sayyid Tahir Raza Bukhari said that the shrine of Hazrat Data Ganj Bakhsh is the hub of peace, knowledge and spiritual enlightenment. He said that Sufis imparted a lesson of tolerance and love in their teachings. He said that in order to rid Pakistan of the poison of extremism and sectarianism, it is essential that the teachings of Sufis are spread. He expressed his grave concern on the behavior of mischievous elements who tried to create a scene during the speech of Dr Hassan Mohi-ud-Din Qadri at Data Darbar. He reiterated his resolve to not allow such incidents to happen in the future.
Dr Hassan Mohi-ud-Din Qadri stated on the occasion that the shrines of Sufis are the places of love and peace. He said that Allah's Friends have taught us to love humanity without any discrimination of caste, creed and colour. He said that our collective salvation lies in adopting these teachings in our life. He said that hundreds of institutions set up by MQI are playing their role in spreading the message of love and peace in the world. He said that MQI is a strong advocate for interfaith harmony, dialogue and peace.
Allama Muhammad Badar-uz-Zaman Qadri, Mufti Riaz Ahmad Khan, Mufti Irfanullah Ashrafi, Mufti Muhammad Hashim, Khurram Nawaz Gandapur, GM Malik, Raja Zahid Mahmood, Allama Mir Asif Akbar, Noorullah Siddiqui, Jawwad Hamid, Ain-ul-Haq Baghdadi, Qazi Faiz-ul-Islam, Shahzad Rasool Chaudhry and Sufi Maqsood Malik were also present in the meeting.