Halal food industry has immense potential: Dr Hussain Mohi-ud-Din Qadri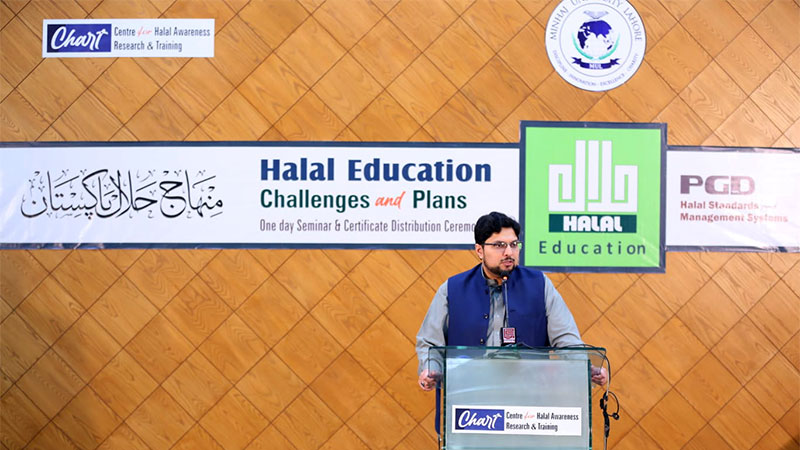 A certificate distribution ceremony among the successful participants of Diploma in Halal Standards and Management System was held under the banner of Minhaj Halal Pakistan.
Deputy Chairman, BoG of Minhaj University Lahore and Chairman Minhaj Halal Pakistan Dr Hussain Mohi-ud-Din Qadri attended the ceremony as a guest of honour.
Dr Hussain Mohi-ud-Din Qadri congratulated the participants on the completion of the course and said that MQI is a worldwide organization working for the promotion of peace, love and interfaith harmony. He said that Minhaj Halal Certification has support of MQI at every level. He said that Minhaj Certification is included among the most credible certifications, which will soon become a certification company of the highest order in the world.
Dr Hussain Mohi-ud-Din Qadri announced the establishment of Center for Halal Awareness, Research and Training for the promotion of Halal education under the aegis of Minhaj University Lahore. He said that the Halal food industry has a massive potential that can be unpacked, highlighting that this step alone will earn billions of rupees for the country.
Those present on the occasion included VC Dr Sajid Mahmood Shahzad, Dr Khurram Shahzad, Raja Tahir Latif, Malik Saeed Aalam, Rashid Iqbal Kalyami, Dr Sajjad ul Aziz, Prof Dr Faqir Anjum, Prof Dr Javed Aziz Awan, Dr Sakhawat Ali, Prof Dr Tahir Zahoor, Tariq Qamar, Mrs. Nighat Jawwad, Muhammad Tauseef Pansota, Izhar ul Haq Awan, Mobeen Arshad Awan, Dr Jawwad Iqbal, and Mufti Muhammad Qasim.