Sufis are the source of guidance in life & after death: Dr Hassan Mohi-ud-Din Qadri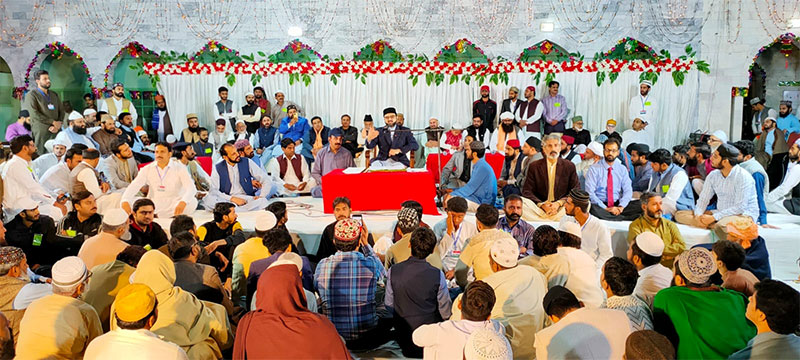 Sufis are close to Allah Almighty and His Creations. The saints are the source of guidance in their lives because of their excellent morality, spiritual training and obedience of Allah and His Prophet (pbuh) and their shrines also enlighten people after they pass away. The seekers of the truth continue to quench their thirst of knowledge and guidance through these shrines.
Chairman MQI Supreme Council Dr Hassan Mohi-ud-Din Qadri delivered these views while addressing a spiritual gathering held on the occasion of 99th 'Urs' at the Chishti shrine in Kamoke. He said that the word 'Wali' has been used 238 times in the Holy Quran. He said that the Sufi saints remain busy in the service of humanity so that their lives could be improved religiously, spiritually, and socially. He said that we need to learn from the blessed lives and reshape our way of living accordingly.
Dr Hassan Mohi-ud-Din Qadri said that Sufis guide us to the path of Allah Almighty. They get us out of darkness and enlighten our lives with light. They dissuade us from a life of materialism, deceit, lies, hypocrisy and physical temptations and lead us to adopt the company of Allah.
Chairman MQI Supreme Council was warmly received when he reached the venue. Pir Sayyid Tayyab Hussain Gilani, Pir Sayyid Jamat Ali Shah, Prof Dr Muhammad Asif Hazarvi, and Prof Abdur Rahman Jami also addressed the ceremony.
Sayyid Muhammad Khalil ur Rahman Chishti, Pir Dr Jamil ur Rahman Chishti, Sahibzada Ahmad Masood Dewan Farooqi, Sahibzada Dewan Azmat Mahmood Farooqi Chishti, Pir Dr Shamim Sabir Sabri, Pir Sayyid Hasnain Mahmoob Gilani Qadri, Noorullah Siddiqui, Mian Rehan Maqbool, Muhammad Iqbal Mustafavi, Rana Nazeer Ahmad Khan, Ch Ehsanullah Virk, and the leadership and workers of MQI were present on the occasion.