Interfaith dialogue inevitable for a peaceful world: Dr Hussain Mohi-ud-Din Qadri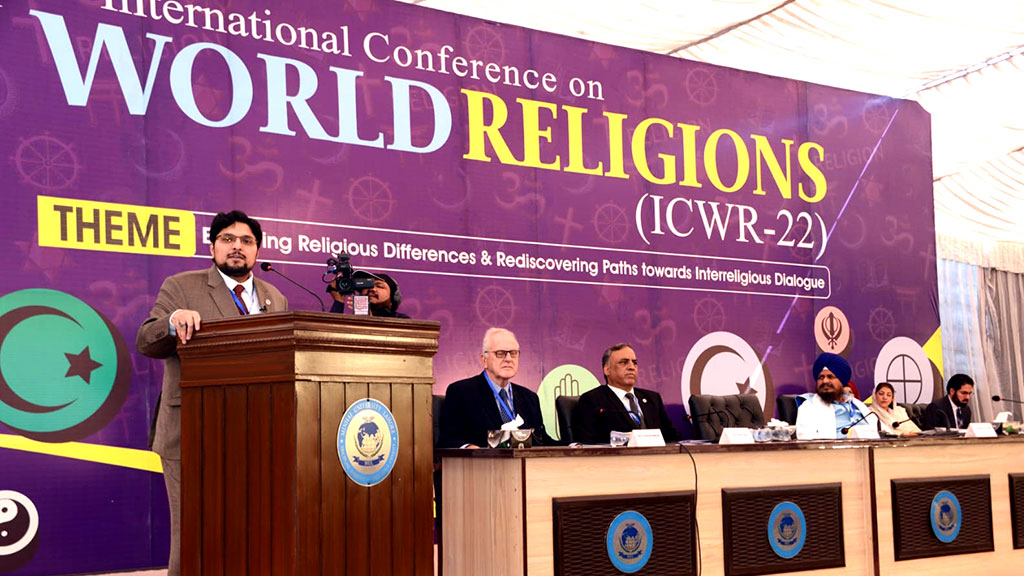 The fifth edition of two-day "International Conference on World Religions (ICWR 2022)" got underway under the banner of Minhaj University Lahore. Addressing the inaugural session of the Conference, Deputy Chairman of Board of Governors Dr Hussain Mohi-ud-Din Qadri said that Minhaj University Lahore has been arranging interfaith conferences to promote harmony and dialogue among the various faiths. He said that interfaith dialogue is a must in order to make the world a hub of peace and get rid of hatred.
Dr Hussain Mohi-ud-Din Qadri said that in order to understand the universal message of Islam, it is important to understand the teachings of Islam through the Holy Quran and Sunna. He said that the picture of Islam pained by the extremists is not in line with the teachings of the Holy Prophet (pbuh). He said that Islam is a religion of peace, moderation and love that values the sanctity of human life without any discrimination of the caste, creed and colour.
Deputy Chairman BoG said that the Holy Prophet (pbuh) described the people living in the State of Medina as "One-Nation" through the Medina Pact. He categorically stated that there is no space for extremism in Islam. Drawing the attention of the scholars attending the conference, he said that the perception created by the international media about Pakistan is distorted and misleading. He said that the minority communities enjoy equal rights under the constitution of Pakistan.
In his introductory speech, VC Minhaj University Lahore Dr Sajid Mahmood Shahzad welcomed the international delegates, scholars and researchers for making time to attend the conference. He said that such scholarly conferences pay the way for the intellectual refinement and learning of the youth and the students.
Expressing his views in the conference, Dr. Sardar Giyani Harpreet Singh from Golden Temple India, warned that the divisions between religions are deepening. He underlined the need for inter-religious dialogue to bridge the gaps between religions. He congratulated Minhaj University Lahore on holding this important conference, stating that it is a timely initiative that should be held more regularly.
Advocate General Punjab Ahamd Owais said in his speech that the Holy Prophet (pbuh) founded an international society and eliminated the fear of every kind. He said that our life has been dominated by fear so much that no place for the fear of God has been left in it.
In his remarks on the occasion, Secretary Punjab Assembly Inayatullah Lak said that Shaykh-ul-Islam Dr Muhammad Tahir-ul-Qadri has always advocated the idea of respect for humanity, interfaith dialogue and peace through his books and practical work, stating that this essentially is the message of Islam.
Taking part in a discussion on the topic of "Religious Diversity in Pakistan: Challenges and Prospects", renowned legal expert Azhar Siddique Advocate said that MQI has done more work in the realm of interfaith dialogue and harmony than any other organization.
Assistant Advocate General Punjab MH Shaheen Advocate, Ghulam Mustafa Chaudhry, Hassan Abbas Raza, Dr Naeem Mushtaq, and District and Sessions Judge (r ) Amjad Hussain took part in the panel discussion.
Those present on the occasion included Rev. Philip Duncan Peters (Lecturer, Edinburgh Theological Seminary, UK), Moderator Reverend Ruben Qamar, Archbishop Sebastian Francis, Vice President MQI Brig. (r ) Iqbal Ahmad Khan, Nazim-e-Aala Minhaj-ul-Quran International Khurram Nawaz Gandapur, Imam Yahya Sergio Yahe Pallavicini from Italy, Rev. Prof. Miriswaththe Wimalagnana Thero from Sri Lanka, Dr. Sardar Giyani Harpreet Singh (Jathadar Akaltakhat (Golden Temple) Amritsar, India), Dr. Omer Farooq Saeed from UMT Pakistan, Vice Chancellor Leeds University Nadeem Ahmed Bhatti, President, Pakistan Hindu Temples Perbandhak Committee Krishan Sharma, Sardar Ameer Singh Pradhan Pakistan Sikh Gurdwara Parbandhak Committee, Sardar Darshan Singh, Archbishop Sebastian Francis Shah Rev. Ruben Qamar, Fr. Anthony, Registrar Dr. Khurram Shahzad, Prof. Dr. Herman Roborgh (Head, School of Religion and Philosophy, Minhaj University Lahore), Pervez Butt, GM Malik, Raja Zahid Mahmood, Naib Nazim Aala Media Affairs Noorullah Siddiqui, Director Media and Marketing Minhaj University Nadeem Chaudhary, Director Interfaith Relations Sohail Ahmed Raza, Jawad Hamid, Shahzad Rasool, Haji Ishaq and Abdul Hafeez Chaudhry.