Dr Hussain Mohi-ud-Din Qadri addresses Workers Convention held under MQI Lahore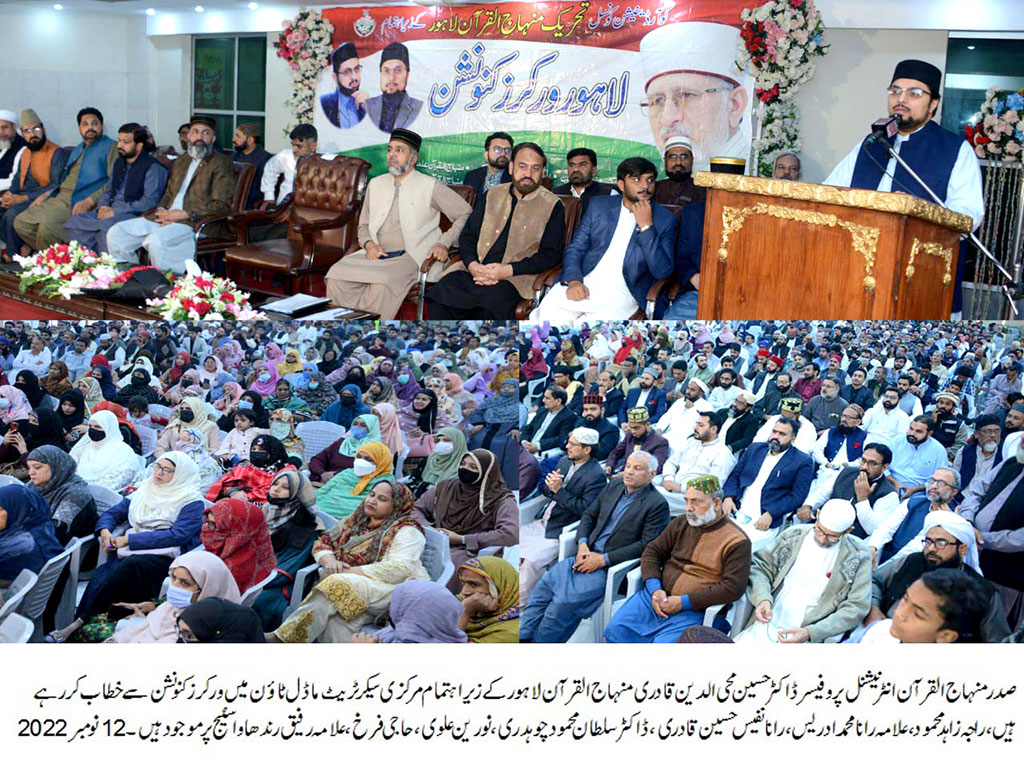 MQI Lahore arranged a Workers Convention in which President MQI Prof Dr Hussain Mohi-ud-Din Qadri spoke as the guest of honour. Allama Rana Muhammad Idrees, Raja Zahid Mahmood, Rana Nafees Hussain Qadri, Mian Mumtaz Hussain, office-bearers, representatives and a large number of people attended the Convention. The workers and leaders of MQI Lahore extended a warm welcome to Dr Hussain Mohi-ud-Din Qadri on his arrival at the central secretariat. They showered rose petals on him and chanted welcoming slogans.
In his keynote address, Prof Dr Hussain Mohi-ud-Din Qadri described qualities of good Muslim. He said that good Muslim is the one who is beneficial for his family and all those around him. He is a personification of compassion, empathy, love, tolerance and respect. Such a man, he said, is not only successful in this world but also in the world hereafter. He said that MQI is a great spiritual movement that is working on shaping the character of succeeding generations across the world.
President MQI asked the participants to focus on their good manners and reforming their conduct so that they can become good human beings. He said that the personality of the Holy Prophet (PBUH) is the best model before the entire humanity, adding that we should follow his teachings in letter and spirit. He said that Islam is a religion of love wherein the service to and love of humanity has been elevated to the level of worship. He said there is a need for these core teachings to be propagated in society.
President MQI Lahore Rana Nafees Hussain Qadri welcomed all the guests including the office-holders of the various local chapters of Lahore Division. He presented a progress report to Dr Hussain Mohi-ud-Din Qadri and said that the workers of Dr Tahir-ul-Qadri are spreading his message of love and peace in every household. He said that the devotion and commitment of the workers is praiseworthy.
Allama Rana Muhammad Idrees, Dr Sultan Mahmood Chaudhry, Naureen Alvi, Haji Farrukh, and Allama Rafique Randhawa addressed the Convention. Capt. (r ) Abdul Majeed, Chaudhry Amjad Hussain, Mohsin Iqbal, Rana Ateeq ur Rehman and other leaders were also present on the occasion.