Turkiye's Ambassador visits Minhaj University Lahore along with a delegation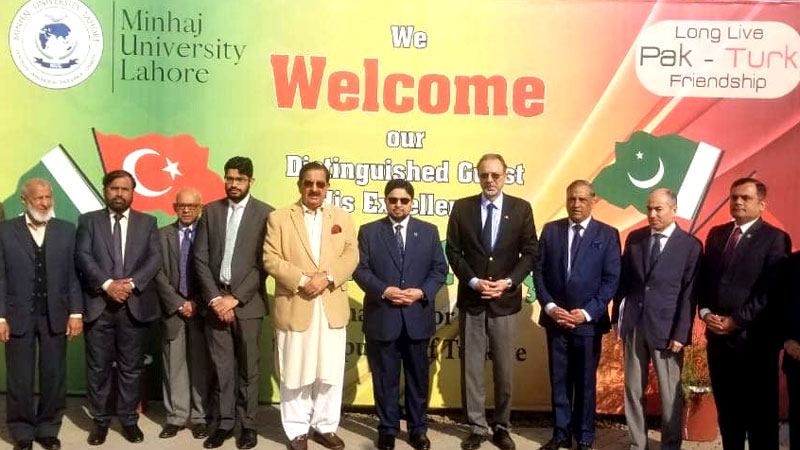 A delegation of the embassy of Turkey led by ambassador Dr. Mehmat Pecaci visited Minhaj University Lahore on Saturday.
Deputy Chairman of Board of Governors Prof. Dr. Hussain Mohi-ud-Din Qadri, Vice-Chancellor Dr. Sajid Mahmood, Minhaj-ul-Quran International's Nazim-e-Ala Khurram Nawaz Gandapur and registrar Dr. Khurram Shahzad welcomed the guests.
The delegation went around the state-of-the-art robotic Ibne Sina Library & Resource Centre, Shaykh-ul-Islam Tasawwuf Research Centre, Admission block, Jamia Mosque, which is a model of Islamic architecture, as well as other faculties and offices.
Dr. Hussain Mohi-ud-Din Qadri briefed Dr. Picaci and other members of the delegation about the services of Tehreek Minhaj-ul-Quran's Founder and Patron in Chief Shaykh-ul-Islam Dr. Muhammad Tahir-ul-Qadri for the revival of Deen, promotion of knowledge, peace, and interfaith harmony through his works. They were also briefed about various faculties and departments of the university.
The guests were gifted copies of the renowned translation of the Holy Quran (Irfan-ul-Quran) and other works of Shaykh-ul-Islam and also presented souvenirs. Dr. Picaci reciprocated by gifting books to Dr. Hussain Mohi-ud-Din Qadri.
The ambassador said that he was pleased to see the educational environment and infrastructure of Minhaj University as both male and female students were being imparted modern education. Dr. Picaci was also deeply impressed by the latest library and other facilities provided at the campus. He said that the university is contributing a lot to the promotion of higher education in the country.
Dr. Hussain Mohi-ud-Din Qadri, Dr. Sajid Mahmood, Mr. Gandapur, and others saw off the guests.
Turkish Ambassador Dr. Mehmet Pecaci and diplomats visited MUL.
Dr. Mehmet Pecaci was welcomed by Deputy Chairman BOG MUL, @DrHussainQadri, Vice Chancellor MUL, Dr. Sajid Mehmood Shahzad, Khuram Nawaz Gandapur and senior officials of the university. pic.twitter.com/kLtIjuQefi

— Minhaj University Lahore (@OfficialMUL) February 4, 2023