Recourse to the Holy Quran is must for eternal success: Dr Hussain Mohi-ud-Din Qadri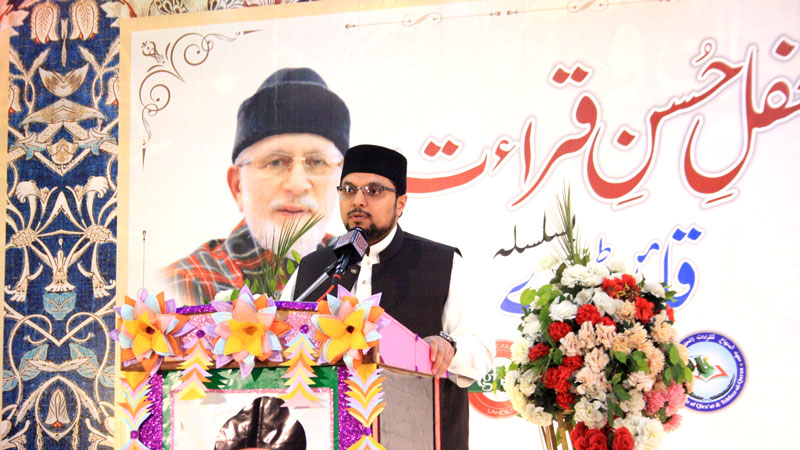 MQI President Dr. Hussain Mohi-ud-Din Qadri has said that the Holy Quran is present amongst us as the living miracle of the Holy Prophet (pbuh). He said that the companions of the Prophet (pbuh) had a special, strong, and unwavering relationship with the Divine Book. He said that the Quran is a source of guidance for the believers for all times to come, which would continue to quench the thirst of the seekers of truth and knowledge.
Dr. Hussain Mohi-ud-Din Qadri expressed these views while addressing a Qirat ceremony held at Minhaj-ul-Quran Institute of Qirat and Tehfeez-ul-Quran in Township, Lahore. The children of the Institute recited the verses from the Holy Quran in their distinctive voices which mesmerized the audience.
Dr. Hussain Mohi-ud-Din Qadri said that when one's bond with the Holy Quran is deeply entrenched in the soul and body, it becomes a source of bestowing the gnosis of Allah on the believers. Stated that a relationship of love with and respect for the Holy Quran needs to be established, this, he said, was the path of accumulating blessings and enlightenment. He said that the Holy Quran is a recipe to unlock the secrets of the creation of the universe, adding that the Muslim community should seek guidance from the Divine Book for success not only in this world but also in the hereafter.
MQI President said that Shaykh-ul-Islam Dr. Muhammad Tahir-ul-Qadri named his movement as Minhaj-ul-Quran so that it gets blessings from the Holy Quran and transfers to the people. He said that the Quran is the manifesto of MQI, stating that the message of the movement is that one is able to establish one's unbreakable relationship with the Holy Quran in such a way that life fails to defeat the believers in any matter.
Distinguished Qaris of Pakistan, namely Qari Allah Bakhsh Naqshbandi, Qari Ali Hassan, Qari Sayyid Khalid Hameed Kazmi, Qari Abdul Majir Noor, Qari Sardar Inamullah Naeemi attended the ceremony as special guests. Vice-chancellor MUL Dr. Sajid Mahmood Shahzad, GM Malik, Director Aghosh Mubashir Iqbal, Raja Zahid Mahmood, Principal Tehfeez-ul-Quran College Allama Abbas Naqshbandi, Principal Aghosh Imran Zafar Butt, Shoaib Tahir, Jawwad Hamid, Altaf Hussain Randhawa, Haji Manzoor Hussain, Naveed Butt, Rana Manzoor Ahmad Khan, Malik Arshad, Rana Waheed Shahzad, the students and teachers of the Aghosh Complex were present on the occasion.