Lectures on Irfan-ul-Quran underway across the country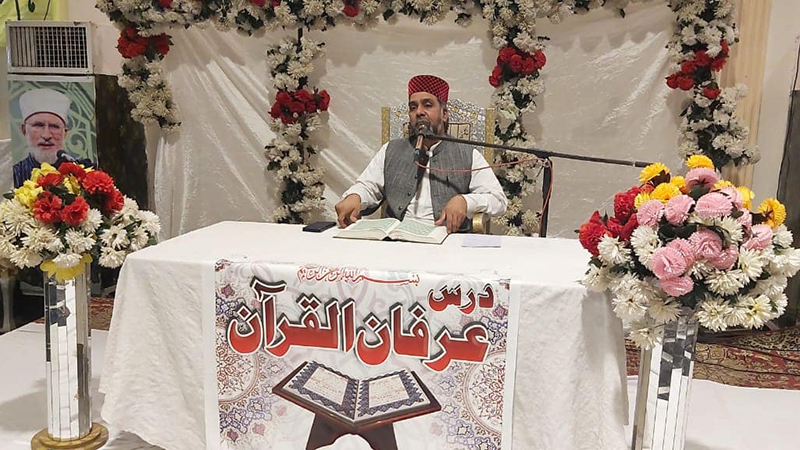 The lectures on Irfan-ul-Quran continue to take place throughout the country under the banner of Minhaj-ul-Quran International during the holy month of Ramadan. The cities where scholars of Minhaj Ulama Council and Directorate of Training and Dawah are delivering lectures include Lahore, Islamabad, Rawalpindi, Faisalabad, Multan, Gujranwala, Peshawar, Sukkur, Hyderabad, Karachi, Rahim Yar Khan, Muzzafarabad, Dera Gazi Khan, Mansehra, and Gilgit. Tens of hundreds of the people are attending these lectures and benefiting from the teachings of the Holy Quran. These lectures are taking place at more than 400 places across the country and will conclude by the end of the holy month.
Speaking on the topic of the finality of the prophethood, senior MQI leader Allama Rana Muhammad Idrees said that the belief in the concept of the finality of the prophethood is the part and parcel of the faith. He said that the process of guidance that Allah Almighty started with Hazrat Adam (RA) concluded with the raising of the Holy Prophet (SAW) as the last prophet of Allah.
Allama Rana Nafees Hussain Qadri delivered a talk on the greatness of the Holy Quran and said that the Holy Book is the source of enlightenment and guidance for the entire mankind. He said it has guidance to all problems for those who seek their solutions. He said that the Quran was revealed to guide the humanity to the right path. He said that Allah Almighty chose the month of Ramadan for revelation of the Book. "There is no limit to the greatness of the Quran. The matters related to reform, guidance, revolution, correction of the internal and external self, and all the successes in the hereafter have been included in the Quranic teachings.
Other prominent scholars who are delivering the lectures include Allama Fayyaz Bashir, Allama Sabir Kamal Wattoo, Allama Sanaullah Rabbani, Allama Sahibzada Zaheer Ahmad Naqashbandi, Allama Muhammad Latif Madni, Allama Ghulam Murtaza Alvi, Allama Minhaj-ud-Din Qadri, Allama Mahmood Masood Qadri, Allama Jamil Ahmad Zayed, Allama Muhammad Sarfraz Qadri, Allama Mahtab Azhar Rajput, and Allama Hassan Mahmood Jamati.