Dr Hassan Mohi-ud-Din Qadri speaks on the concept of "Infaaq"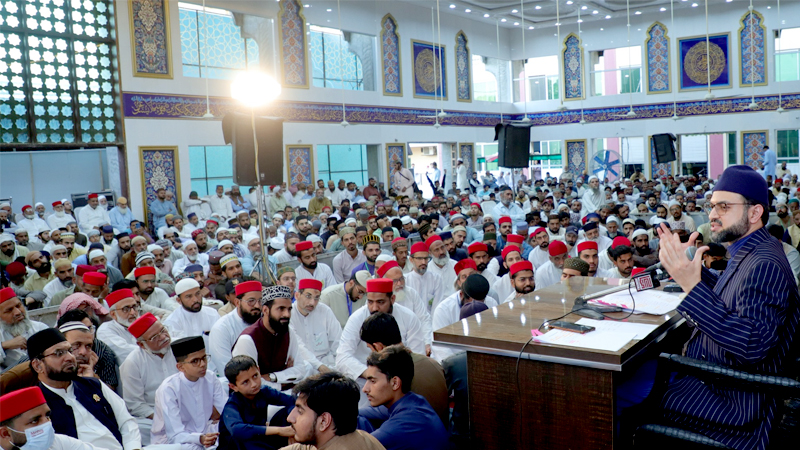 Addressing the subject of "Importance of spending in the way of Allah" after Asr prayer at MQI's ongoing Itikaf City, Chairman MQI Supreme Council Dr Hassan Mohi-ud-Din Qadri said that the Friends of Allah are more attracted to their deeds than their worldly possessions. Defining the word "Infaaq", he said that spending out of the resources given by Allah on the welfare of His creation with the aim of winning His pleasure is "Infaaq". He cited Medina's model of brotherhood and said that wealth should be used in such a manner that it results in the eradication of poverty and restores people's creative abilities. He said that any donation made carries a lot of importance. He said that it is Allah's promise that those who spend in His way will never become poor or destitute. He said that he who helps the poor and needy becomes the favourite of Allah.
Dr Hassan Mohi-ud-Din Qadri said that Allah Almighty fulfills the needs of the people. He said that those from amongst His creation who fulfil the demands and the needs of suffering humanity do so in line with the Sunnah of their Creator. He said if one makes as small a donation as a date out of the legally earned sustenance, Allah accepts this donation and gives a huge reward to such a person. He said that the money spent out of the ill-gotten wealth carries no importance nor is it accepted by Allah, for the forbidden money is extracted by violating the rights of others.
Before the start of the intellectual gathering, Engineer Sanaullah Khan, Director Minhaj Welfare Foundation, gave a comprehensive briefing about the welfare projects of MWF. Ishtiaq Hanif Mughal, Mansoor Qasim Awan, Rana Faisal, Amjad Dar, Dr Ammar and other office-holders of Minhaj Welfare Foundation were also present on the occasion.