Extending respect to parents is our religious & moral responsibility: Abbas Naqashbandi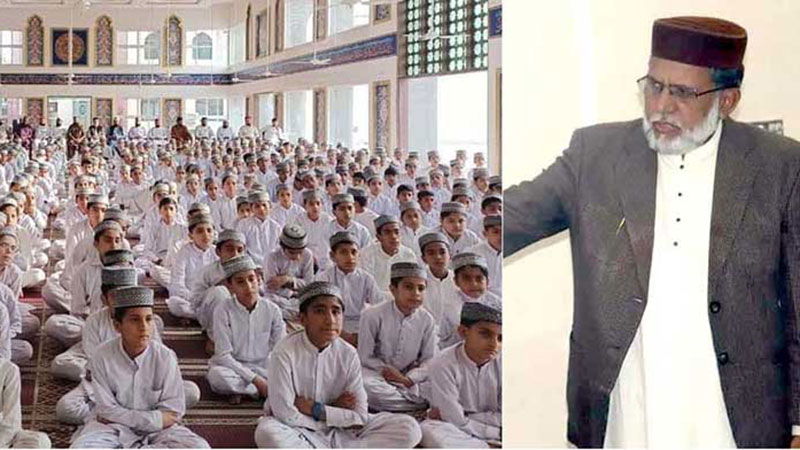 In a monthly moral training meeting held under the banner of Tehfeez-ul-Quran Institute, the students were imparted a lecture on the respect, status, and prestige of the parents.
Hundreds of students learning the Holy Quran by heart attended the lecture. The clips from the speeches of Shaykh-ul-Islam Dr. Tahir-ul-Qadri on the topic of the rights of parents were also played on the occasion.
Addressing the meeting, Muhammad Abbas Naqashbandi, the Principal of the Institute, said that if we want the nation to become a peace-loving society, then we would have to impart etiquettes and respect of the parents to the children and they would have to be given moral training from the early childhood. He said that a child who learns to respect his parents will respect everyone in society and he who disobeys his parents will spread lawlessness and disturb the social harmony and peace.
Muhammad Abbas Naqashbandi said that it is the responsibility of teachers and parents that they not only impart productive education to the children but also train them to become law-abiding and peaceful citizens. He said that one of the principal reasons for the prevailing social chaos, and disharmony in society is the inability to impart moral training to the children. He said that the chief attribute of the MQI educational institutions is that the children are also educated about the morality and etiquettes here as well in addition to the imparting of education.
Qari Muhammad Ismail Saeedi, Qari Abdul Khaliq Qamar, Qari Ghulam Murtaza, Qari Ghulam Hussain and other teachers attended the meeting.