Minhaj-ul-Quran Ulema Councils holds "Paygham-e-Imam Hussain (A.S) & Ittihad-e-Ummat Conference"
Love of the Holy Prophet's (PBUH) family shared asset of Ummah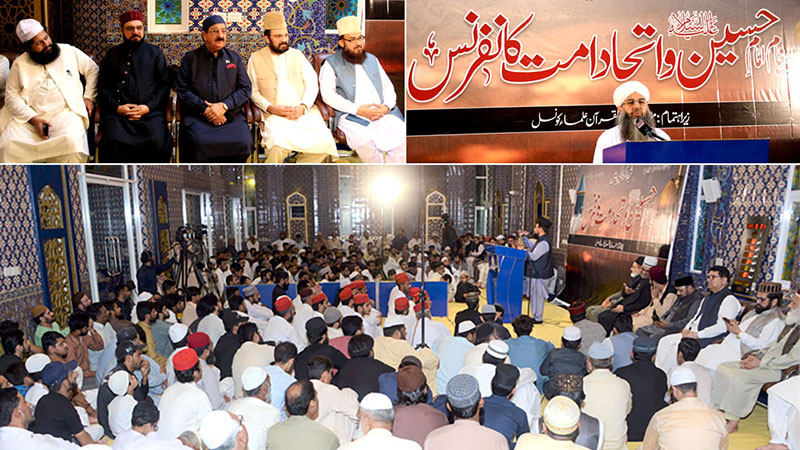 Addressing a "Paygham-e-Imam Hussain (A.S) aur Ittihad-e-Ummat Conference" held under the banner of Minhaj-ul-Quran Ulema Council, religious scholars belonging to different schools of thought termed the love for the Holy Prophet's (PBUH) household part and parcel of believers' faith and a shared asset of the whole Muslim community. They lauded the services of Shaykh-ul-Islam Dr. Muhammad Tahir-ul-Qadri for his role in forging unity in the ranks of all schools of thought and providing their leading scholars a platform for sharing of views and exchange of ideas for the greater good of the community.
The religious scholars said that Hazrat Imam Hussain (Alayhis-salam)'s act of challenging Yazid has given a message to Muslims around the world that when the religious teachings are under attack, then they should stand up and protect them at any cost.
Those who spoke at the conference included Allama Ziaullah Shah Bukhari, Allama Mufti Imdadullah Qadri, Prof Allama Zafarullah Shafique, Allama Sahibzada Pir Muhammad Qamar-us-Shakoor, and Allama Ashfaq Ahmad Chishti.
MQI Secretary General Khurram Nawaz Gandapur welcomed the religious scholars on their arrival at MQI secretariat. He said when religious scholars belonging to all schools of thought gather at one platform, Allah's blessings shower on such a place and the fragrance of unity, love and harmony spreads around. He said that the core message of Shaykh-ul-Islam's movement has been unity in the ranks of Muslims. He said that Dr. Qadri has relentlessly campaigned for the elimination of hatred. He said that Pakistan could not be more in need of harmony, unity and stability now than before. He said that the Holy Prophet's (PBUH) family members are metaphor of truth, and justice.
The proceedings of Ittehad-e-Ummat Conference got underway with the recitation of the Holy Quran by Qari Allah Bakash Naqashbandi, whereas Shakeel Ahmad Tahir, Amjad Bilali, Zaheer Bilali, and Shahzad Brothers paid glowing tributes. Engineer Muhammad Rafique Najam, Jawwad Hamid, Allama Mufti Ghulam Siddiqui, Dr. Ali Akbar Al-Azhari, Mazhar Alvi, Sahibzada Usama Shah Bukhari, Allama Ain-ul-Haq Baghdadi, Syed Mosharraf Shah, Sohail Ahmad Raza, Sidra Karamat, and a large number of people attended the conference.