Peace is the central message of MQI: Prof. Dr. Hussain Mohi-ud-Din Qadri
Prof Dr Hussain Mohi-ud-Din Qadri addresses Leadership Development Workshop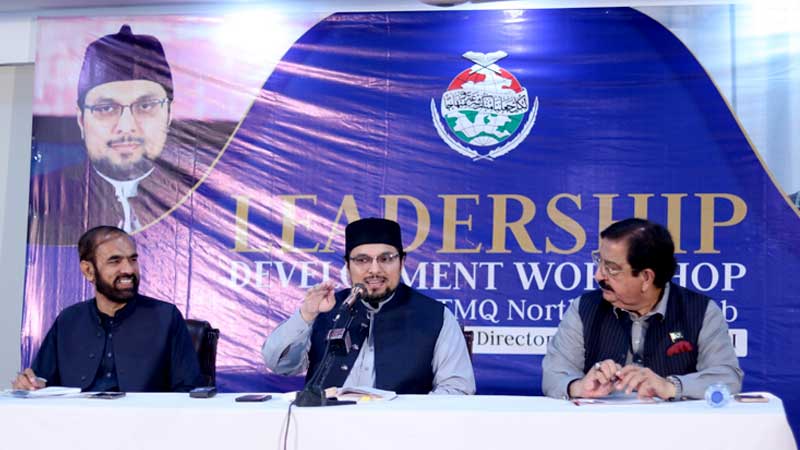 The greatest leader of the universe is the Holy Prophet (peace be upon him). Every aspect of his blessed life and Sira will continue to provide guidance to the people till the Day of Judgment.
Prof Dr. Hussain Mohi-ud-Din Qadri, President of MQI, expressed these views while addressing a "Leadership Development Workshop" held under the banner of MQI Northern Punjab chapter. He said that Minhaj-ul-Quran International has imported the lesson of peace and love in the world. He said that Shaykh-ul-Islam has always maintained that he wanted to see his workers becoming ambassadors of peace, unity and human solidarity. He said that MQ is a global movement working for the restoration of dying religious and moral values and promotion of the correct belief system, research, morality, knowledge and spiritual training.
Expressing his views on the occasion, MQI Secretary General Khurram Nawaz Gandapur said that Shaykh-ul-Islam Dr. Tahir ul Qadri has authored more than 1000 books on hundreds of topics and delivered thousands of lectures from the East to the West. He said that an ideal leader is one who loves knowledge and his conduct and character is also of ideal nature. He said that prosperity and progress can be achieved by acquiring modern technology, making the best use of the available time and adopting positive thinking.
He said that as long as Muslims were on the path of seeking knowledge and promoting research, they were leading the world in every department of life. He said that Shaykh-ul-Islam is creating a sense of hard work and developing character in the youth today.
Naib Nazim-e-Ala Coordination Engineer Mohammad Rafiq Najam said that Shaykh-ul-Islam has given awareness to the nation, highlighted and developed the qualities of leadership in the youth, broke intellectual logjam in politics and society and opened the door of deliberations on the people. He said thanks to the efforts of Shaykh-ul-Islam, thousands of the youths have got high quality education and are performing their responsibility in different walks of life today. He said that Shaykh-ul-Islam acquired this status through hard work, deep study and sincerity of purpose, adding that the workers should also adopt the hard work of Shaykh-ul-Islam as a guiding principle to achieve success in life.
Director Training Allama Ghulam Murtaza Alvi threw light on the topic of organizational stability and the Fehm-e-Din project in the Leadership Development Workshop. He also conducted the proceedings of the event. Noorullah Siddiqui shared his views on the topic of social media and stated that social media is being used to promote extremism and hatred. He urged the participants of the workshop not to repost the content without thinking. More than 250 master trainers from Jhelum, Rawalpindi, Chakwal, Attock, Sargodha, Islamabad, Murree, and Bhakkar attended the workshop.