Faith Leaders Join Hands with MQI to Condemn Jaranwala Incident
Minhaj-ul-Quran International (MQI) is the pioneer organization in Pakistan that always advocated peace, cohesion, integration, tolerance and condemned extremism and terrorism in all forms. MQI organized numerous international peace conferences, symposiums, workshops in every corner of the world. Leaders and followers of every religion and all sects frequently visit MQI centers across the globe and participate in every activity organized by MQI. It repeatedly condemn every kind of killing non-Muslim citizens or torturing them, and declare such acts totally un-Islamic under the leadership of Shaykh-ul-Islam Dr Muhammad Tahir-ul-Qadri.
A violent mob of hundreds ransacked and torched some churches and attacked the residences of members of the Christian community in Faisalabad's town of Jaranwala on August 16, 2023. Minhaj-ul-Quran International and its leadership condemned this inhuman and un-Islamic incident. While addressing the 40th International Mawlid Conference held at Minar-e-Pakistan Lahore, the founding leader of MQI, Shaykh-ul-Islam Dr Muhammad Tahir-ul-Qadri, emphasized the adoption of Muhammadan ethics to combat sectarianism, extremism, and hatred. He stated that it is unacceptable to harm even ants intentionally. Some young individuals were practicing archery by targeting a hen, and the Prophet Muhammad (peace be upon him) asked, "Who is doing this? Whoever shoots at a living being and takes its life, Allah curses him." There was once a beggar who had two chicks. A Companion of the Prophet Muhammad (peace be upon him) took them from her, and she cried out. The Prophet (pbuh) said, "Give her chicks back; do not torment the beggar." Allah curses those who inflict such pain on any living creature.
The character of the Prophet Muhammad (peace be upon him) teaches us that setting fire to an ant, targeting a hen, and even burning the houses of our peaceful citizens and Christian brethren in the name of religion is not acceptable. With the incident in Jaranwala, should we burn their homes? Should we burn the corpses? Is this what humanity represents? Where is the righteousness in it? Which faith are you following? Whose teachings do you read? The Prophet Muhammad (peace be upon him) is the protector of all humanity. Whether Muslim or non-Muslim, it is the duty of every Muslim to protect the life, property, dignity, and peace of every individual. But if we nurture this disposition and these qualities in our nature, it means we are following the noble character of the Prophet Muhammad (pbuh), and we are being imbued with the ethics of the Prophet Muhammad (peace be upon him). Let us imbibe these values of Muhammadan ethics into ourselves so that your life shines brightly. May our problems become easy, and may the mercy of Allah descend. When you become an embodiment of goodness for the sake of God's creation, then Allah will create goodness for your life through His blessings, eliminate hardships, and create ease. Goodness begets goodness.

In a sequence to this, Directorate of Interfaith Relations organised a Condemnation Reference at the Central Secretariat of Minhaj-ul-Quran International (MQI) on 20th September 2023. Different faith leaders, religious scholars and representatives from various walks of life attended it.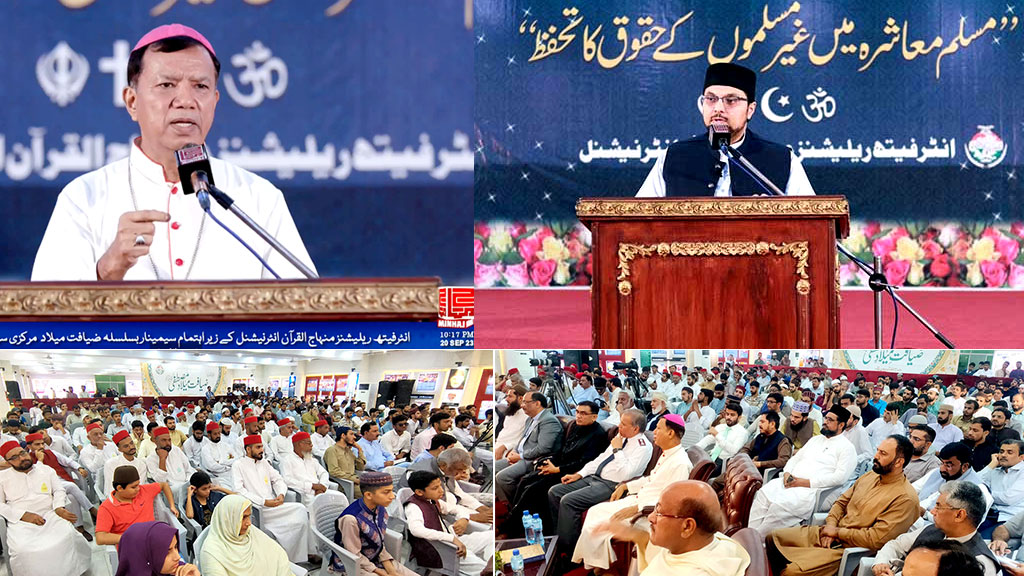 President of Minhaj-ul-Quran International (MQI) Prof Dr Hussain Mohi-ud-Din Qadri gave a talk on the rights of non-Muslims in an Islamic society in the light of the teachings of the Holy Prophet Muhammad (pbuh). He said that the social order given by the Prophet of Islam (pbuh) was based on respect for each other and that all citizens of an Islamic state are asked to deal with one another with utmost respect. He also said that society, in general, and the government, in particular, are responsible for the protection of life, liberty, honour, and property of non-Muslim citizens. There is no room for Jaranwala like incidents in Islam and Pakistan.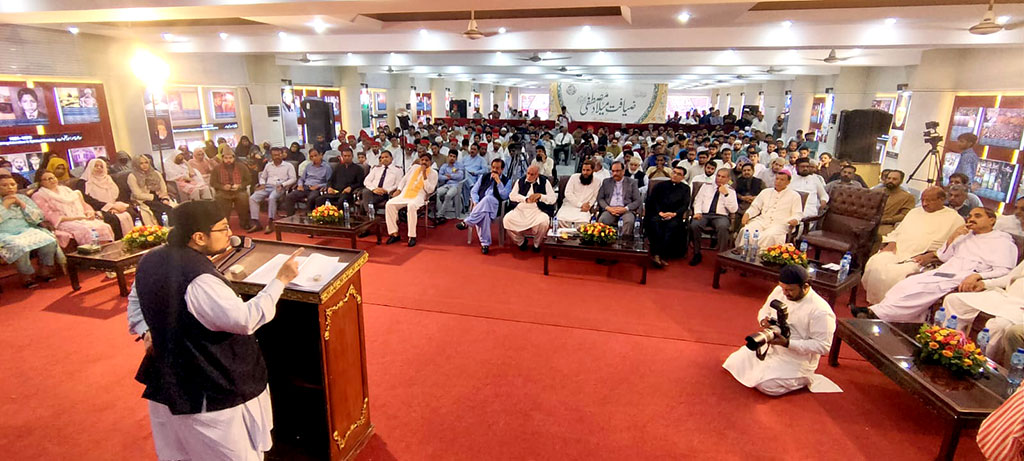 Dr. Hussain Mohi ud Din Qadri delivering a speech at the Seminar
Prof Hussain Qadri said that intolerance and lack of respect for the opinions of others are the biggest challenges facing us as a society. He said that if we want Pakistan to become a peaceful country, we have a duty to impart intellectual training to our youth. He added that subjects such as interfaith harmony, interfaith relations, respect for humanity, and religions need to be added to the curriculum of educational institutions.
Prof Hussain Qadri reiterated the special status of relations between Muslims and Christians mentioned in the Qur'an and Hadith. Historically, during the Prophetic era, significant events shaped this relationship. The Qur'an and Prophetic teachings create an atmosphere of openness and understanding, emphasizing the commonalities between Muslims and Christians. The Holy Prophet (pbuh) engaged in dialogue with Christian monks and priests and highlighted shared beliefs and values, urging a focus on common grounds rather than differences. This approach set the tone for peaceful interfaith relations. The St. Catherine's Monastery Pact, despite being lesser-known, also emphasizes the importance of religious freedom, mutual respect, and protection of religious sites. It ensures that no force or compulsion will be imposed on any religious community, and each community's places of worship will be safeguarded.
Prof Hussain Qadri highlighted the importance of creating a space where Muslims and non-Muslims alike, can study together and develop a bonding, based on respect and love. This is essential for building long-lasting friendships and understanding among people of different faiths. He mentioned the Department of Religion and Philosophy at Minhaj University Lahore, plays a vital role in promoting interfaith relations by providing a platform for students from different religious backgrounds to learn and grow together.
Prof Hussain Qadri also highlighted the need for holding peace conferences, discussions, and seminars in educational institutions to put up an intellectual front against the forces that seek to hurt interfaith relations. He asked religious scholars to give speeches on the topics of interfaith harmony, peace, and dialogue in order to teach the masses about the importance of these values for the construction of a peaceful society.
In their remarks, the faith leaders thanked the Department of Interfaith Relations of MQI for organizing such event to condemn Jaranwala Incident. They said that the Holy Prophet Muhammad (pbuh) is the Prophet of mercy and peace for the entire humanity. They also paid tribute to Shaykh-ul-Islam Dr Muhammad Tahir-ul-Qadri for promoting interfaith harmony by patronizing a structured dialogue between Muslims and non-Muslims under the platform of MQI.
Dr Sarwah Bhooma Naz, a lecturer in Hinduism at Minhaj University Lahore, recited some couplets from the holy book of Hinduism.
Reverend Qaiser Nadim Joseph (Secretary of Interfaith Relations, Ecumenism Church of Reconciliation, Church of Pakistan, Diocese of Lahore) recited the first letter of the Apostle Paul to the Corinthians, and from its thirteenth chapter and its first verse as a discourse on love.
Archbishop Sebastian Francis Shaw [Archbishop of Sacred Heart Cathedral Church, Lahore, and Executive Member of the Pontifical Council for Interreligious Dialogue, Vatican City], stated: "I am first and foremost thankful to our esteemed Shaykh-ul-Islam Dr Tahir-ul-Qadri, who had a beautiful dream, and today, we are witnessing the reality that there is a huge congregation here. I have visited Minhaj University several times, but this is my first visit here, and it is indeed a beautiful place. It is a place of beautiful interfaith harmony, and one can consider it a piece of heaven on earth, where people from all walks of life are present."
Archbishop Sebastian Francis Shaw further stated: "I am very grateful to Dr Hussain Mohi-ud-Din Qadri for inviting all of us today. If all the things you have said are presented in newspapers and on television, especially if these teachings are broadcast in various places on national TV, private TV, and various channels in the month of Rabi-ul-Awwal, it will not take long before people's thinking begins to change because education, knowledge, and information have the power to transform a person's mind; it is a process of moulding the human mind. So, it will undoubtedly bring about a change."
Reverend Dr Majid Abel, Executive Director of the Presbyterian Church of Pakistan, expressed his gratitude to Dr Hussain Qadri. He also extended his greetings on the occasion of the Holy Prophet's birthday. He requested to convey his respects to Shaykh-ul-Islam Dr Muhammad Tahir-ul-Qadri, and also appreciated the insightful conversation with the head of the Minhaj-ul-Quran International, Khurram Nawaz Gandapur and the entire team.
Reverend Father James Channan [Director Peace Centre, Catholic Church Lahore] acknowledges and congratulates Prof Dr Hussain Mohi-ud-Din Qadri and the entire Minhaj-ul-Quran team for their consistent efforts, which contribute to the welfare of all humanity. Their work imparts lessons in love, justice, interfaith harmony, and peace.
Father James Channan further said: "I have known Dr Tahir-ul-Qadri closely. Since the establishment of the Muslim-Christian Dialogue Forum (MCDF) in 1998, I have been present here, along with Sohail Ahmad Raza [Director Interfaith Relations, MQI]. After witnessing it, I believe that this mission continues as an ongoing commitment. Dr Tahir-ul-Qadri established the National Christian-Muslim Dialogue in Pakistan in 1985, which is highly appreciable."
Colonel McDonald Chandi [Territorial Commander of the Salvation Army, Church of England, Lahore] expressed gratitude to Prof Hussain Qadri and, while applauding his speech, said: "Dr Hussain, you have left me speechless. You have truly articulated how much rights non-Muslims have and how much protection should be afforded to them. I am deeply thankful from the bottom of my heart for your words. Within you, I see a glimpse of your revered paternal figure, Shaykh al-Islam Dr Muhammad Tahir al-Qadri."
Colonel McDonald Chandi emphasized the need for a change in our mindsets, the importance of educating our children, and the necessity of informing the general public about how to live in harmony and love with each other. Pakistan is our country, which we all acquired through immense hardships in 1947. Today, we should cherish it. We should all (Muslims and non-Muslims) strive to live here together in a bond of love forever.
Khurram Nawaz Gandapur, Secretary-General of MQI, addressed and thanked the distinguished guests and faith leaders. He highlighted the special struggle of Shaykh-ul-Islam Dr Muhammad Tahir-ul-Qadri and MQI to foster relations between Muslims and non-Muslims. When MQI was established in 1980, in Pakistan, the idea was that interfaith harmony could exist, but interfaith dialogue, as it should be in an Islamic nation, did not exist the way it should. So he laid the foundation of the Muslim-Christian Dialogue Forum for the promotion of dialogue between the two largest religions in the world, Islam and Christianity. It became a significant part of our Islamic history, and the example of Shaykh-ul-Islam Dr Muhammad Tahir-ul-Qadri's commitment to dialogue in this world was perhaps unprecedented before.
Khurram Nawaz Gandapur further stated that if the government takes proper responsibility for interfaith and inter-sect dialogue, there is no reason for such religious conflicts and violence to occur, as these events not only harm our internal harmony but also tarnish our nation's image on the global stage. In this regard, leaders of all religions should play an influential role so that followers of every religion can live according to their beliefs in complete freedom. Quaid-e-Azam Muhammad Ali Jinnah's vision for the state was that people of all religions could worship freely and live as equal citizens in Pakistan. While we couldn't fully realize Jinnah's dream, Tehreek Minhaj-ul-Quran is making efforts worldwide to promote the kind of dialogue that can be beneficial among religions. We have opened our mosques to followers of other religions, and this was a revolutionary step by Shaykh-ul-Islam Dr Muhammad Tahir-ul-Qadri during this period. Today, it has become a trend that such conferences and gatherings take place, but 25 years ago when Minhaj-ul-Quran introduced this concept, there was no such dialogue or harmony concept available anywhere on the distant horizon in Pakistan.
Reverend Father Pascal Polus [Provincial Prior, Dominican Order, Catholic Church of Pakistan], commended the courageous stance of Dr Muhammad Tahir al-Qadri and Prof Hussain Qadri on the rights of non-Muslims, acknowledging their bravery and dedication to speaking up for justice. He reiterated all suggestions and recommendations of Prof Hussain Qadri with great respect. He said his recommendations should indeed become part of the curriculum. He further said: If this happens, we will always look at Prof Hussain with great respect. He is a source of honour for us. He should move forward following in the footsteps of Shaykh-ul-Islam Dr Muhammad Tahir-ul-Qadri, and may Allah open many more paths for him. I would say, let us move forward for peace, for humanity, for love, for rights, and for the incident of Model Town, let us seek justice.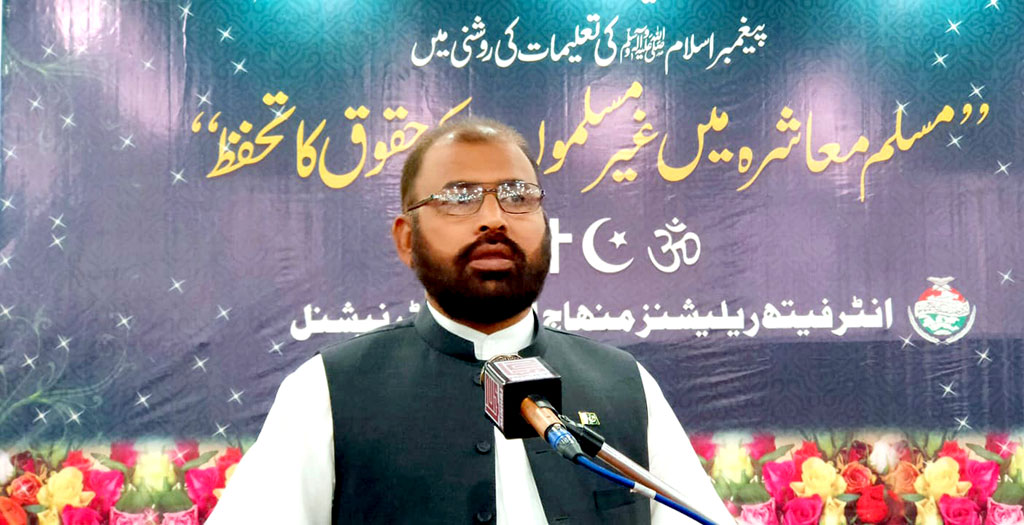 Sohail Ahmad Raza delivering a speech at the Seminar
In his speech, Allama Asim Mukhdoom of Deoband school of thought, discussed the topic of compassion and justice towards non-Muslims, referencing the noble guidance of the Holy Prophet Muhammad (peace be upon him). He mentioned the saying of the Prophet (peace be upon him) that if a Muslim wrongfully takes the rights of a non-Muslim, commits violence against them, seizes their property, or engages in any unjust behaviour, then on the Day of Judgment, they will stand alongside the oppressed.
Allama Asim Mukhdoom praised the efforts of the Minhaj-ul-Quran International in advocating for compassion and justice for non-Muslim communities. He also specifically acknowledged the scholarly contributions of Prof Dr Hussain Mohi-ud-Din Qadri. In his discussion, he emphasized that honouring the dignitaries of non-Muslims is in accordance with the hospitality practiced by the Messenger of Allah (peace be upon him). When a delegation of fourteen Christians from Najran visited, the Prophet Muhammad (peace be upon him) referred to them as honourable and respectable, even deciding to host them personally. Similarly, during the Caliphate of the rightly-guided caliphs, there were instances where injustice was not done to non-Muslims.
Allama Asim Mukhdoom made it clear that incidents of violence and discrimination against non-Muslims in Pakistan have a negative impact, especially because such incidents also occur amongst Muslims. He cited the tragic incident of Model Town, the perpetrators of which have not yet been brought to justice. He stressed the responsibility of the highest judiciary and state institutions to ensure justice for the oppressed and to hold criminals accountable, preventing the recurrence of such incidents in the future.
Pandit Amar Nath Randhawa of Shri Balmik Swami Mandir Lahore, expressed his gratitude to Prof Dr Hussain Mohi-ud-Din Qadri for organizing such beautiful program. He stated that the protection of non-Muslims in Muslim society is of great importance in today's era. I greatly appreciate Minhaj-ul-Quran and commend them for their courageous steps.
Pandit Amar Nath Randhawa said, After listening to Dr Hussain Mohi-ud-Din Qadri's lecture today, I am greatly encouraged, and hope has arisen that non-Muslims can be safe here. In a time when there is restlessness and instability among non-Muslims in Pakistan, Prof Hussain Qadri's speech today is very encouraging for us and provides us solace. Minhaj-ul-Quran is a unique international organization that has raised the voice of non-Muslims today.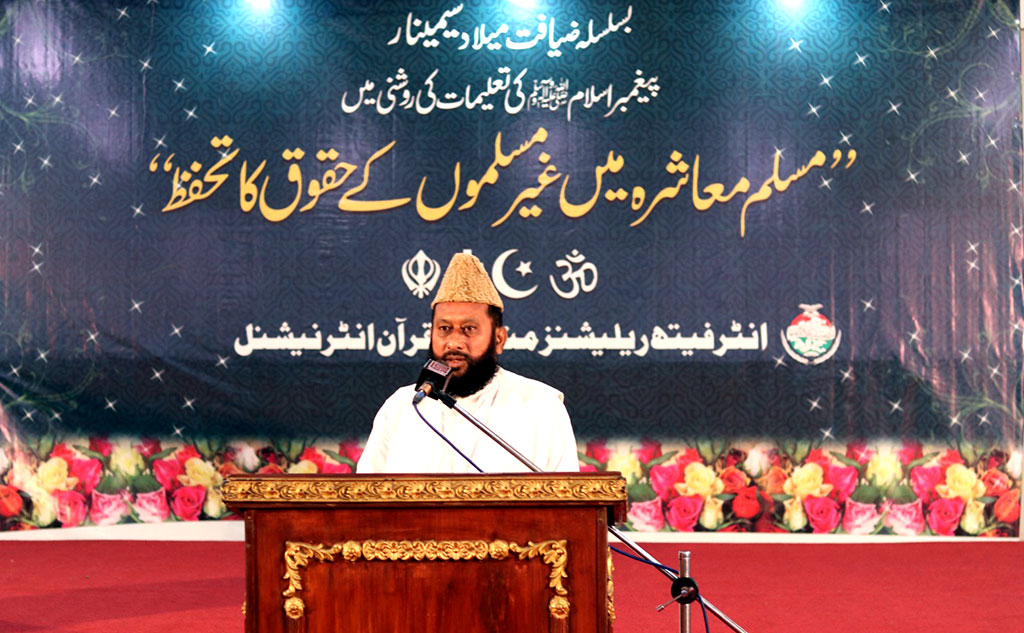 Qari Khalid Hussain delivering a speech at the Seminar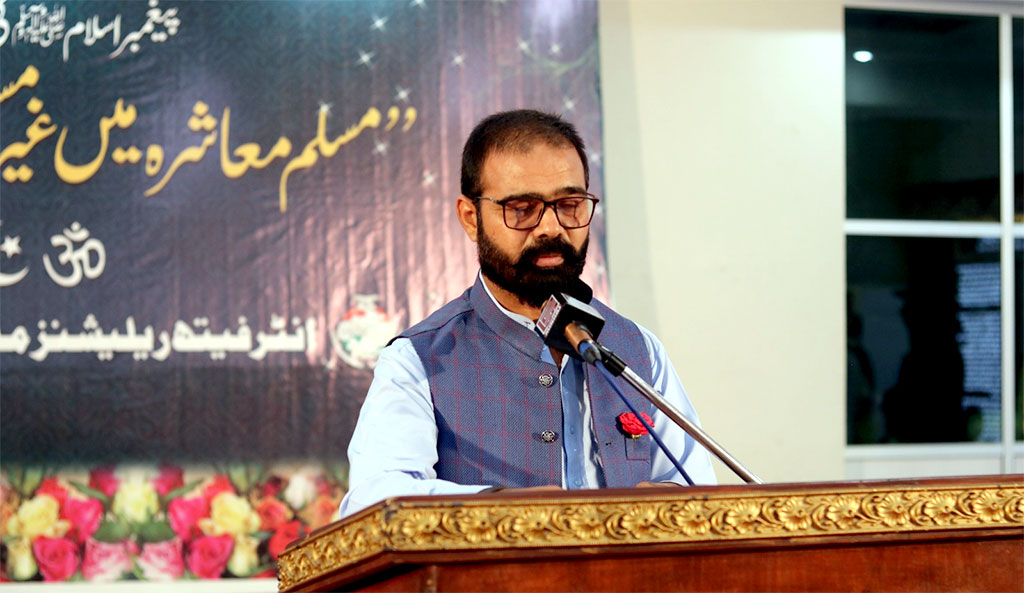 Aurangzeb Raza delivering a speech at the Seminar
Also present on the occasion were Saleem Shakir, Qari Khalid Mahmood, Prof Mahmood Ghanzavi, Pir Naubahar Shah, Saqib Bhatti, GM Malik, Raja Zahid Mahmood, Sohail Ahmad Raza, Shahzad Ahmad Khan, Aurengzeb Khan, Muhammad Tayyab Zia, Hafiz Ghulam Farid, Syed Farzand Ali, Aisha Shabbir, Marayam Aslam, and people from different walks of life.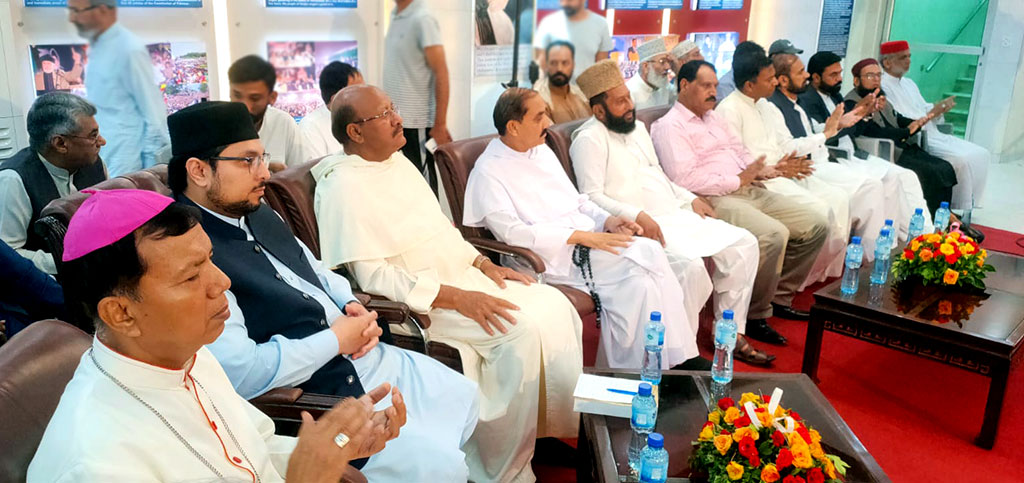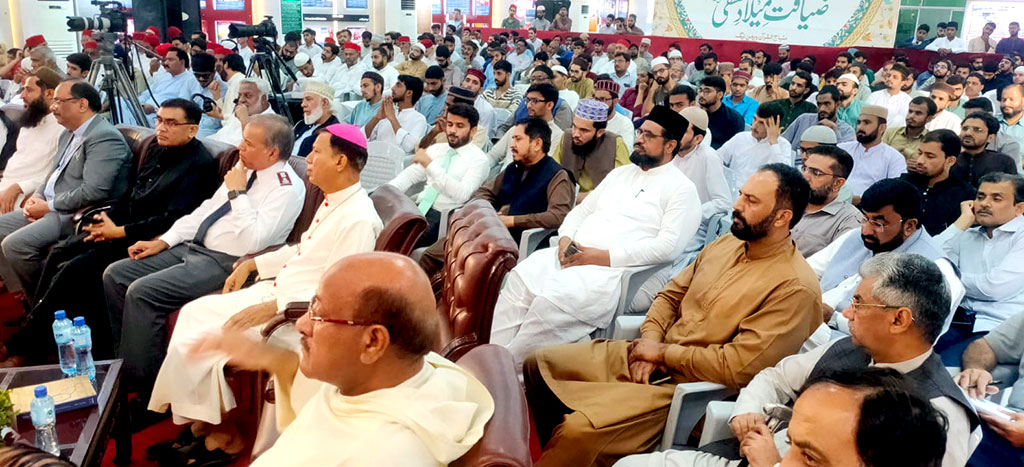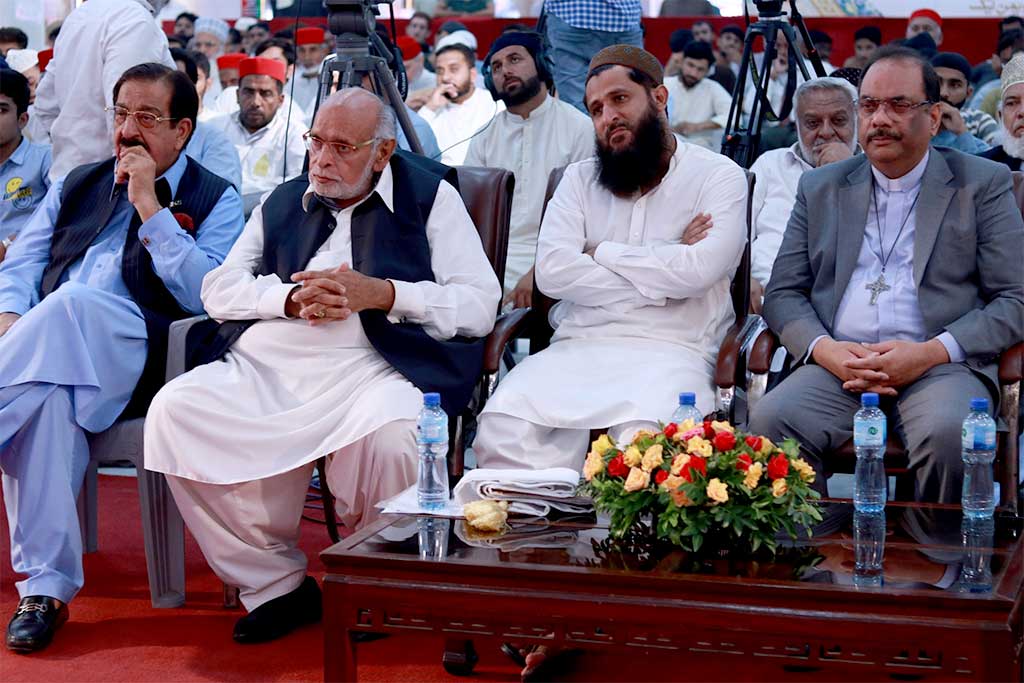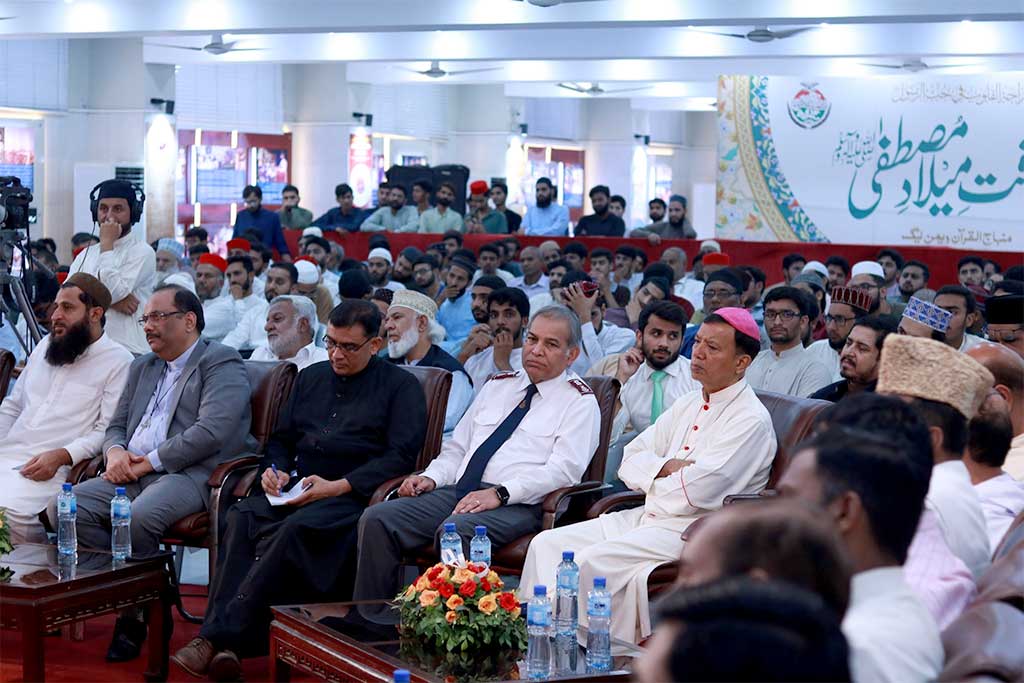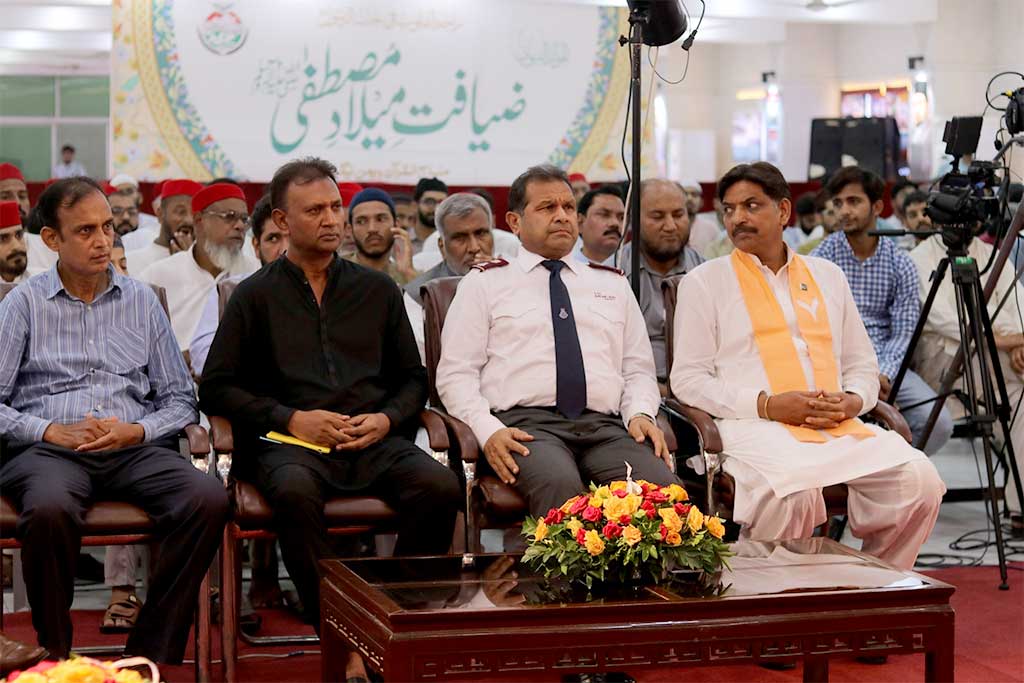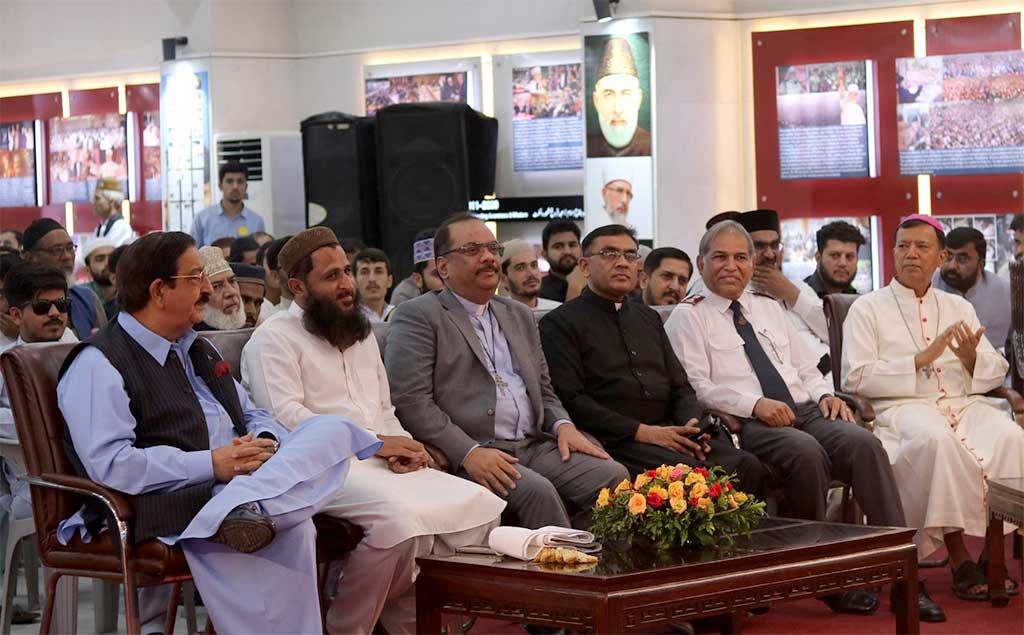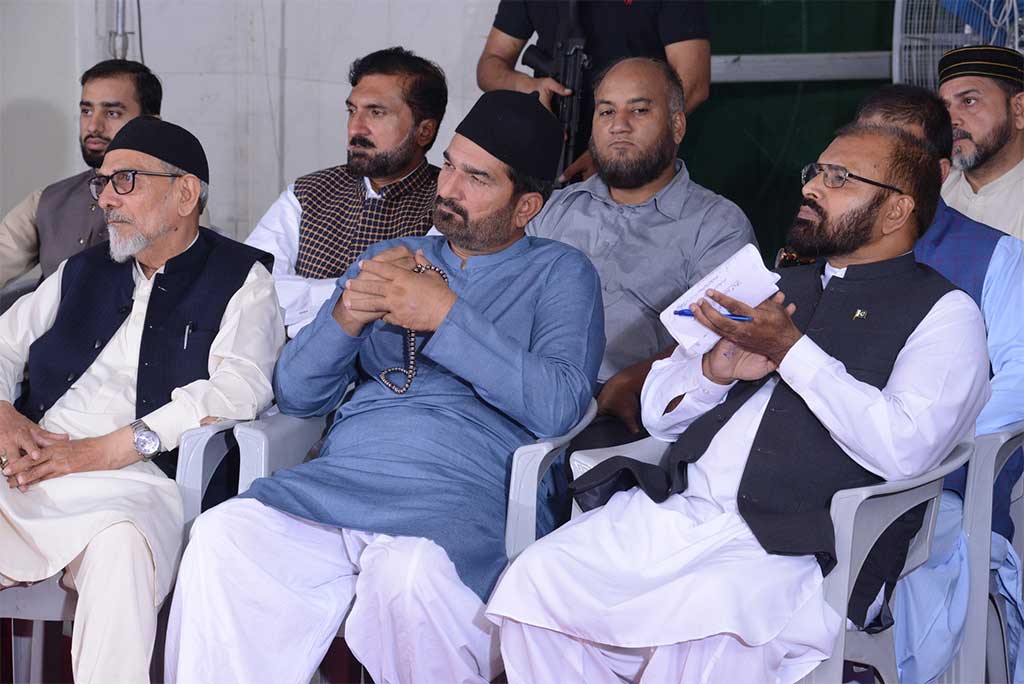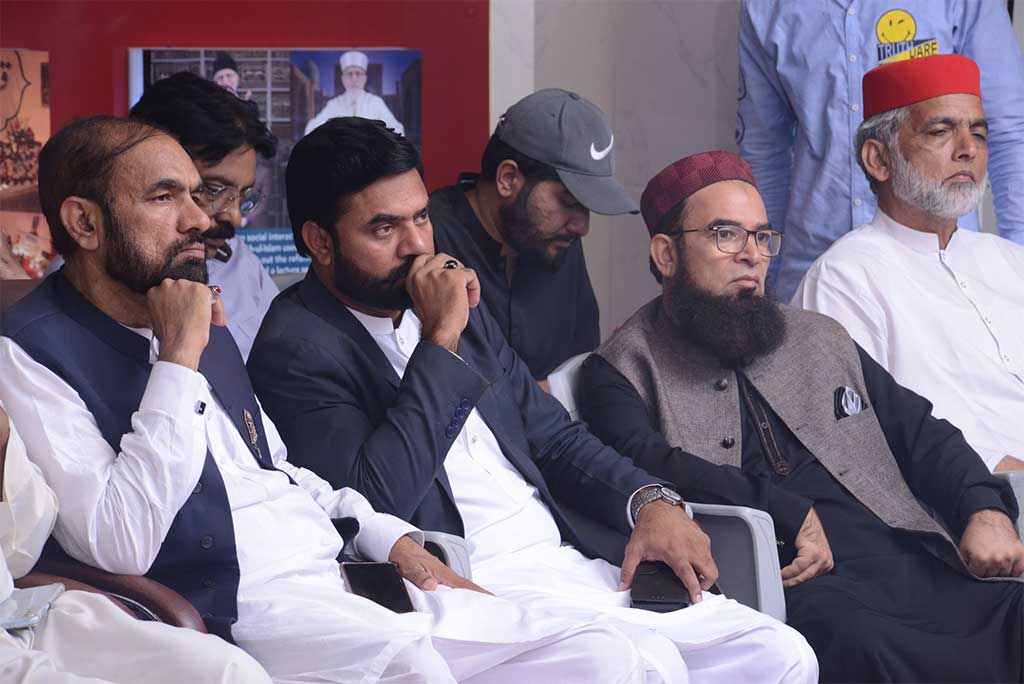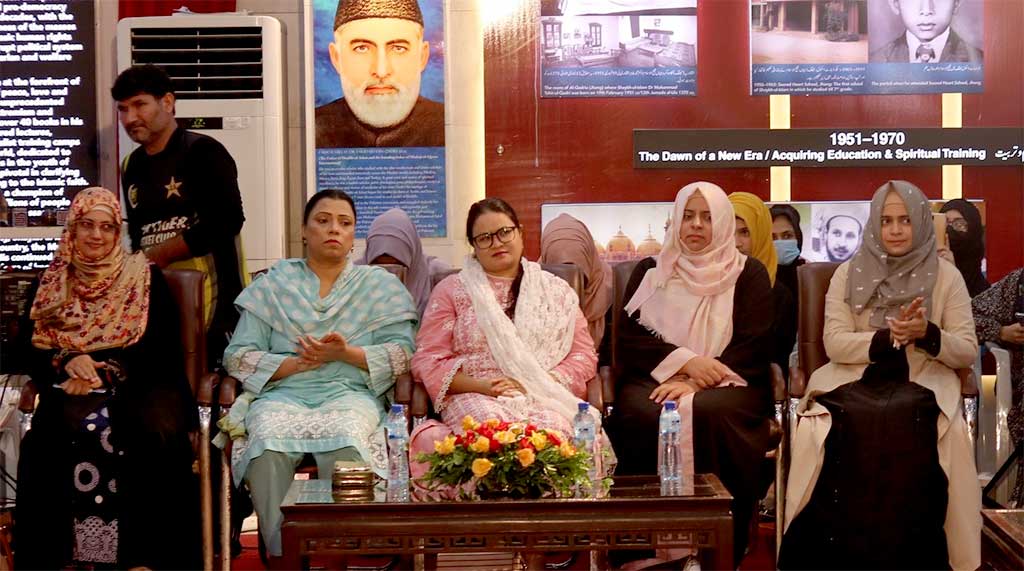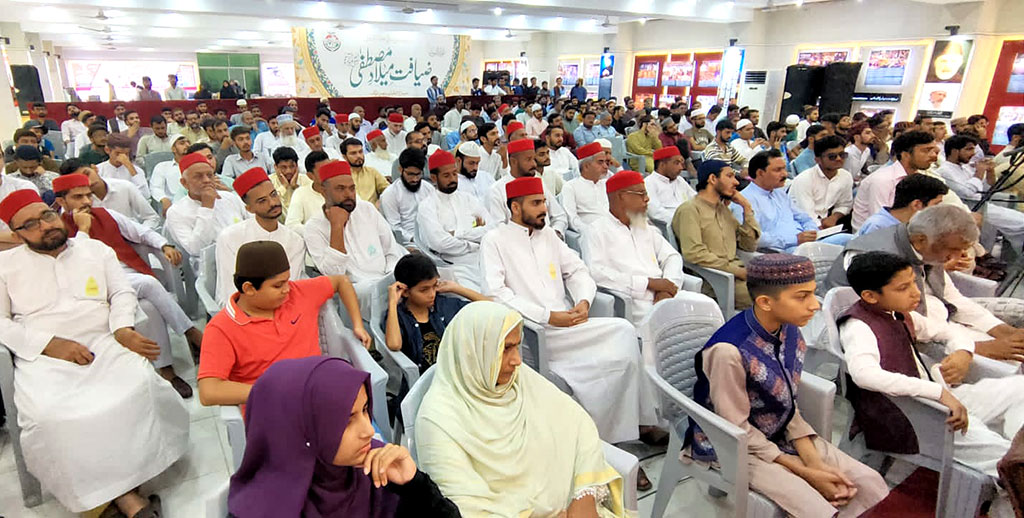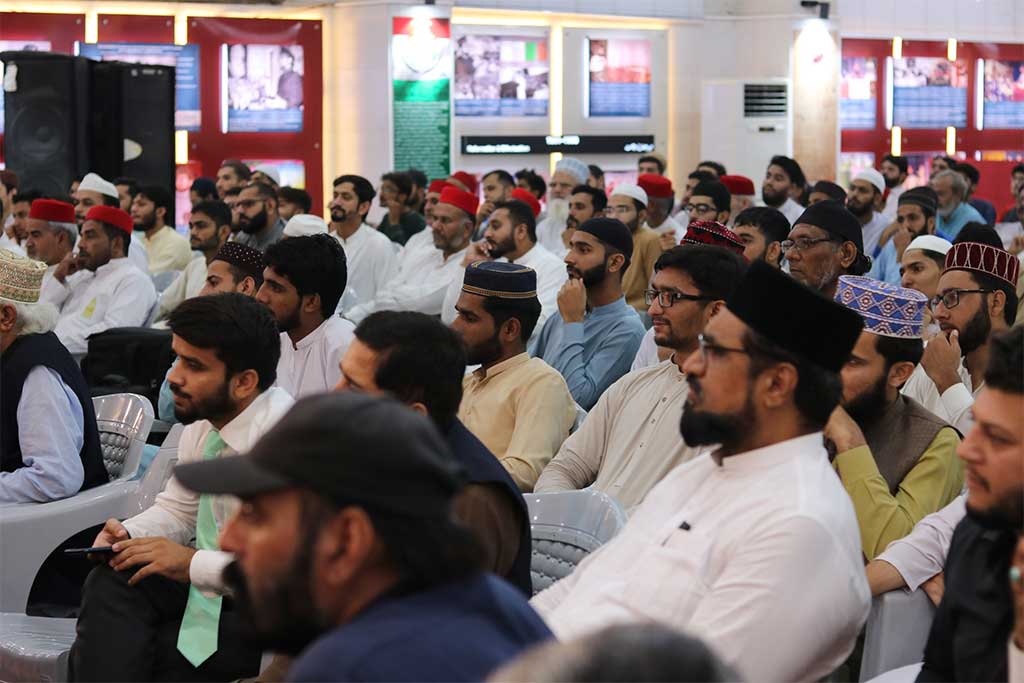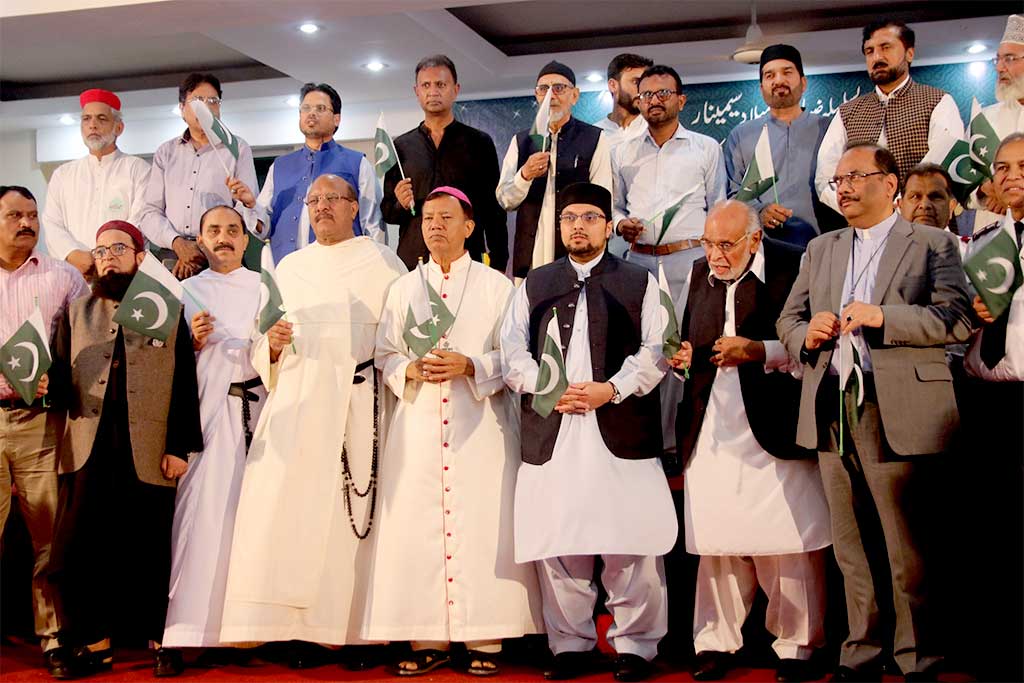 Reception of Guest