🎧 Audiobook of Al-Minhaj us Sawi min al-Hadith al-Nabawi (pbuh) launched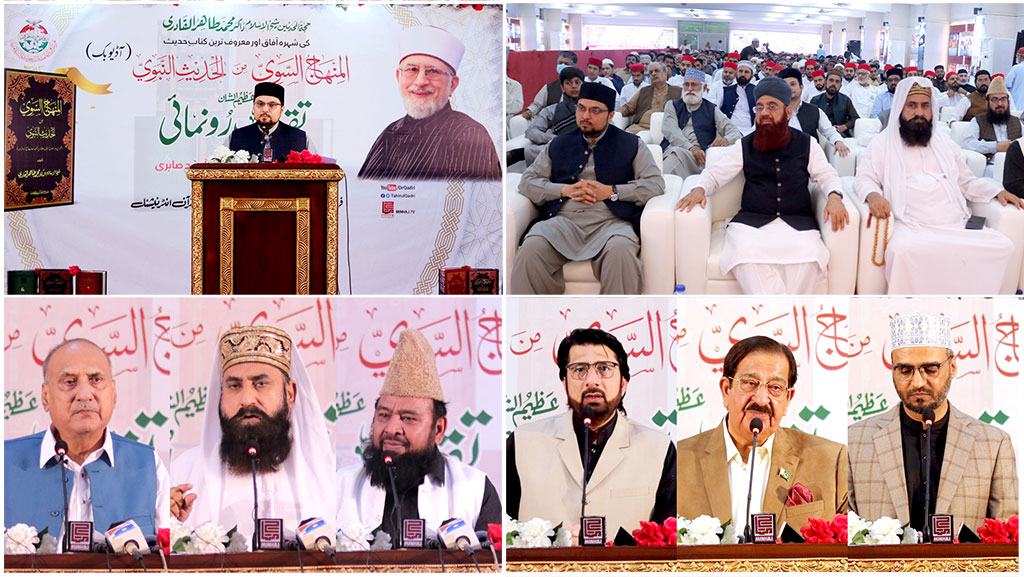 The launching ceremony of the audio book of Shaykh-ul-Islam Dr Muhammad Tahir-ul-Qadri's scholarly masterpiece entitled "Al-Minhaj us Sawi min al-Hadith al-Nabawi" was held at the central secretariat. President MQI Prof Dr Hussain Mohi-ud-Din Qadri, MQI Secretary General Khurram Nawaz Gandapur, Sahibzada Tasleem Ahmed Sabri, Mufti Shabbir Ahmad Anjum Ahmad Qadri, senior journalist Sajjad Mir, Allama Sahibzada Badar-uz-Zaman Qadri, Mufti Syed Ashiaq Hussain Shah Bokhari, Rana Muhammad Farooq and a large number of people belonging to different walks of life attended the ceremony.
Addressing the ceremony, Shaykh-ul-Islam Dr Muhammad Tahir-ul-Qadri said that the importance of book reading is well known and established. He however added in the same breath that the audio book is the utmost requirement of modern times. He said that the people are busier today than ever before and despite their wish to read books, they may not be able to spare time for it. He said that the audio book is a great gift for such people, stating that the book can be heard while doing chores of life. He congratulated Sahibzada Tasleem Ahmad Sabri, Syed Zafar Arshad Kanpuri, Hamza Noshahi, and other members of their team on the completion of the audio book.
Expressing his views on the occasion, MQI President Prof Dr Hussain Mohi-ud-Din Qadri said that al-Minhaj-us-Sawi is a voluminous book which would prove to be a beacon of light for the ages to come. He termed it as one of the greatest scholarly feats of the 21st century in terms of transmitting the knowledge of Hadith sciences to the people.
"It is after a long time that such a book has emerged which is being taught not only in Pakistan but also in other countries in the form of lessons. The more this book is read the less it is," he said.
Prof Dr Hussain Mohi-ud-Din Qadri said that the book provides answers to us about the doubts, confusions and questions of the modern times through Hadith. He said the audio book can also be useful to those who cannot read and write. They can benefit from the repository of knowledge contained in it by hearing it. He felicitated Sahibzada Tasleem Ahmad Sabri and his team on completing the task in a successful manner.
Khurram Nawaz Gandapur thanked Tasleem Ahmad Sabri at the inaugural ceremony of the audio book and said that the commitment and devotion with which Sabri and his team worked is commendable.
Renowned journalist Sajjad Mir said that no one can match Shaykh-ul-Islam Dr Muhammad Tahir-ul-Qadri in the realm of service to humanity and faith. He said that the kind of work MQI under the leadership of Dr Qadri is doing to promote the Islamic message of peace, love and interfaith harmony, no one else can come even closer to it.
Sahibzada Tasleem Ahmed Sabri also spoke on the occasion and said that he is happy that he gave his voice to the book of Shaykh-ul-Islam. He prayed to Allah Almighty to accept this humble service.
Allama Mufti Shabbir Anjum Qadri said that he has imparted a lesson on al-Minhaj al-Sawi. He said he read the book and found it to be hugely beneficial in solving many scholarly issues. He said Shaykh-ul-Islam's personality is paramount in terms of promoting love, peace, and tolerance in the Islamic world.
Chairman Ulema Board Mufti Syed Ashiq Hussain Shah Bukhari said in his remarks that Shaykh-ul-Islam's scholarly guidance would be available to the people in their travels.
Director FMRi Muhammad Farooq Rana said that fantastic scholarship has been produced on the Hadith sciences from the platform of Minhaj-ul-Quran International for the last four decades. He said the purpose of designing the audio book is to create the passion for listening to the Hadith in the people of every age group.
Allama Rana Muhammad Idrees, Noorullah Siddiqui, Raja Zahid Mahmood, Muhammad Jawwad Hamid, Dr Muhammad Afzal Qadri, Shahzad Rasool Qadri, Haji Muhammad Ishaq, Hafeezullah Javed, Sidra Karamat, Umm-e-Habiba Ismail, religious scholars, teachers and students attended the launching ceremony.