MQI delegation lays floral wreath on Allama Iqbal's grave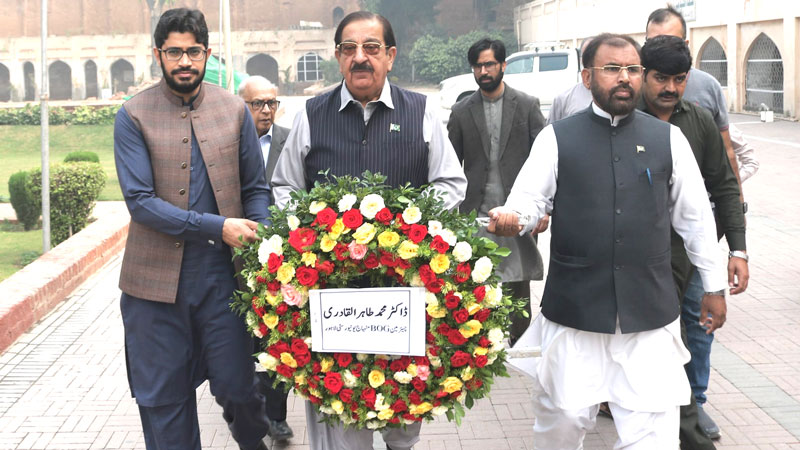 A delegation of Minhaj University Lahore led by Khurram Nawaz Gandapur visited the shrine of poet-philosopher Allama Dr Muhammad Iqbal. They offered Fateha and laid the floral wreath on the grave on behalf of Shaykh-ul-Islam Dr Muhammad Tahir-ul-Qadri.
The delegation consisted of Registrar MUL Dr Khurram Shahzad, Director Interfaith Relations Sohail Ahmad Raza, Dr al-Qama Khawaja, Dr Jawad Iqbal, Bilal Akram Bhatti, Dr Zafar Bilal, Dr Iqbal Noor, Shahzad Khan, Altaf Randhawa and others.
Speaking on the occasion, Khurram Nawaz Gandapur said that Allama Dr Muhammad Iqbal is among the towering personalities of the Muslim world whose thoughts changed the course of history. He said that Allama sahib was a scholar par excellence who is held in high esteem both in the East and the West due to his penetrating scholarship.
MQI Secretary General said that millions of the people of the sub-continent attained freedom thanks to Iqbal's lofty ideology and thoughts. He breathed life into a people colonized by the ruling British who then took it upon themselves to achieve freedom, no matter what. He said that the thoughts of Allama Iqbal could be seen in the work and teachings of Shaykh-ul-Islam Dr Muhammad Tahir-ul-Qadri in the contemporary age.
"Dr Qadri has focused on the education and character building of the youth. Minhaj University Lahore established by him is hub of generating knowledge, which attaches special importance to character building of the students," he added.
Paying rich tributes to Allama sahib, Khurram Nawaz Gandapur said that the nation needed to reconnect themselves to his revolutionary ideology to regain the lost glory and find the direction towards progress.