Leaders of minorities pay rich tribute to Shaykh-ul-Islam Dr Muhammad Tahir-ul-Qadri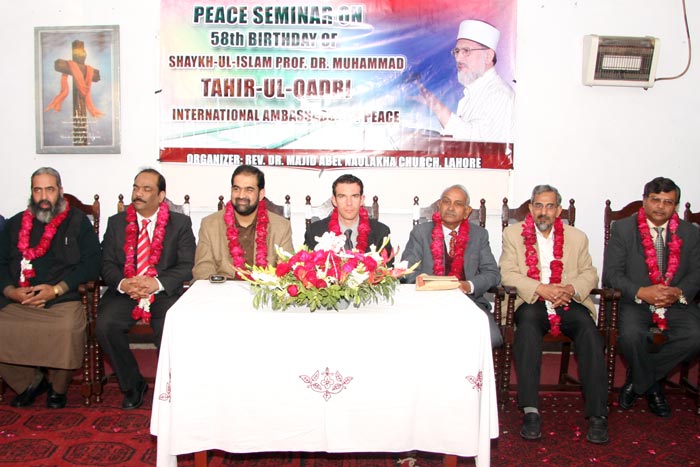 Rev. Dr. Majid Abel, Pastor In charge of Naulakha Presbyterian Church and General Secretary Interfaith Peace Council and an esteemed friend of Dr. Muhammad Tahir-ul-Qadri, organized and hosted a graceful Peace Seminar to honor Shaykh-ul-Islam Dr. Muhammad Tahir-ul-Qadri on his 58th birthday.  Mr. Mathew D Lowe (American Political Officer), Dr Raheeq Ahmad Abbasi (Secretary General MQI), Dr Kanwal Feroz (well know poet, scholar), Syed Peer Usman Noori, Chairman Interfaith peace council, Noushairwan Dastoor (Zoroastrian leader), Dr. Munwar Chand (Hindu leader), Mr. Anthony Ijaz Lamuel, Mr. Qaiser Julius (Director OTS), Mr. Muhammad Mustafa (G.M. Malik) (Personal Secretary to Dr. Tahir-ul-Qadri and director foreign Affairs), Sister Shakeela (Principal Don Basco High School), Ahmad Nawaz Anjum, Mian Zahid Islam, Jawad Hamid and Sohail Ahmad Raza. This seminar represented leaders of almost all communities who paid rich tribute to Shaykh-ul-Islam Dr Muhammad Tahir-ul-Qadri for his services in different fields including promotion of peace, love, integration and interfaith dialogue.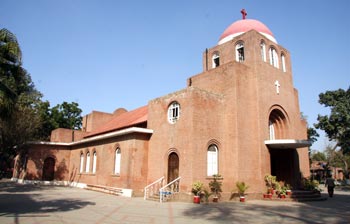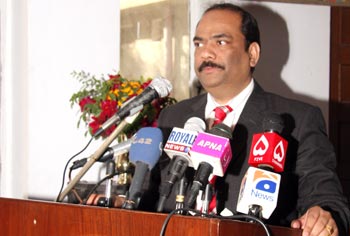 Rev. Dr. Majid Abel expressed in his opening speech that "Naulakha Presbyterian Church, One of the Largest Churches in Pakistan, is proud of its strong relationship with Minhaj-ul-Quran. I don't hesitate to confess that the first step toward this friendship was taken by most respectful and generous Dr. Tahir-ul-Qadri. And this program is being arranged to celebrate the life and achievements of Dr. Tahir-ul-Qadri as an emissary of peace and as our esteemed friend. Dr. Tahir-ul-Qadri is a man of his words and has made practical demonstrations of his love and friendship toward other communities in Pakistan. Every year he invites Christian community at MQI to celebrate Christmas and he even declared, addressing the media that his mosque was open for Christians to worship anytime."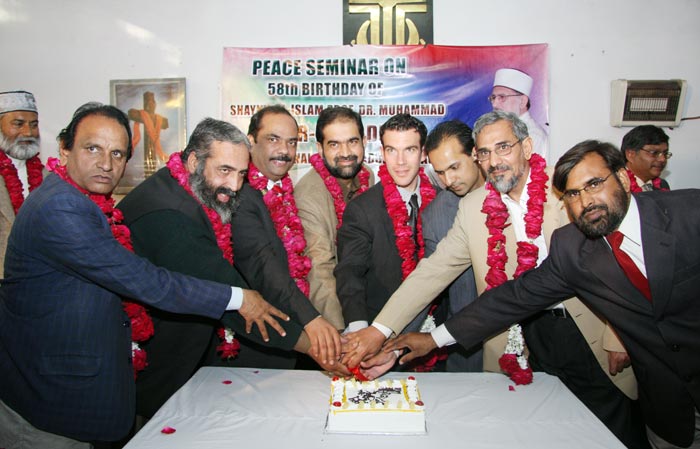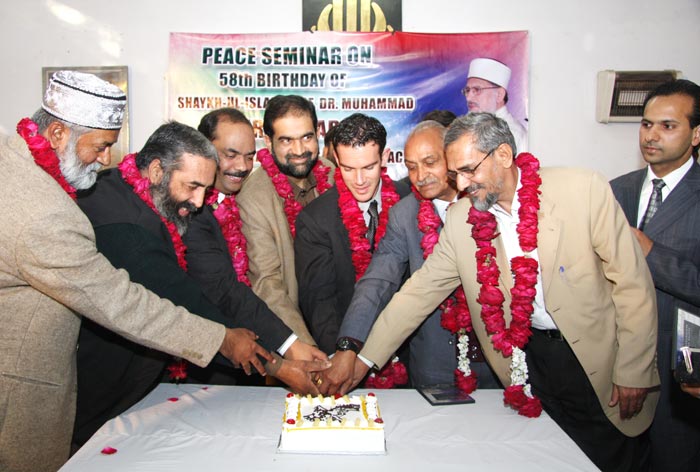 Following his speech Dr. Abel invited all of the honored guests to join him to cut a birthday cake for Shaykh-ul-Islam Dr. Muhammad Tahir-ul-Qadri.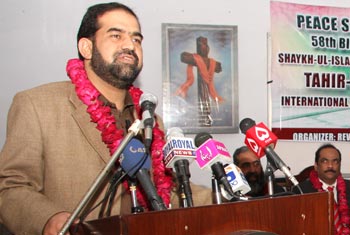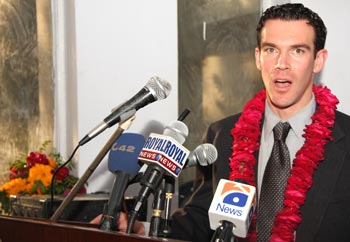 Addressing the seminar, American Political Officer, Mathew D Lowe, said that the dialogue between Islam and other religions should continue. Dr Tahir-ul-Qadri's endeavors for promotion of interfaith harmony and global peace deserved to be appreciated.
Dr Raheeq Ahmad Abbasi said that Shakyh-ul-Islam's efforts for elimination of extremist tendencies and promotion of dialogue among civilizations, cultures and religions were recognized globally. The very fact that leaders of different minorities were present to celebrate his birthday indicated that his life was devoted to promotion of peace, harmony and love among religions and humanity.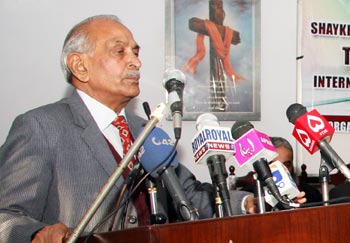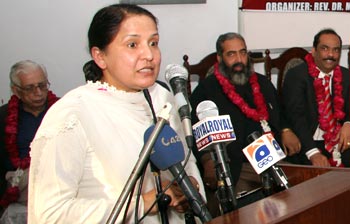 Dr Kunwal Feroz said in his remarks that Dr Tahir-ul-Qadri was the pioneer of initiating Muslim-Christian dialogue in Pakistan when he established Muslim-Christian Dialogue Forum. He is the ambassador of global peace projecting such values as culture of tolerance, mutual coexistence and forbearance. The Christian community holds his services in high esteem.
Sister Shakeela said that purpose of every religion was to impart love and Dr Tahir-ul-Qadri had played effective role in spreading the Islamic concept of love for minorities.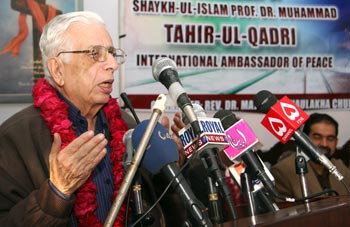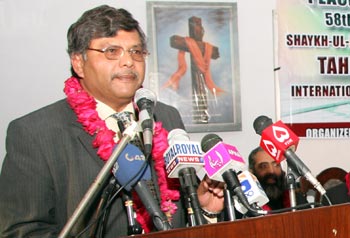 Secretary General of Pakistan Bible Society, Anthony Ejaz Lamuel, said that there was need to work hard on promoting humility and love in the society. Dr Tahir-ul-Qadri has played important role in popularizing and fostering constructive and positive attitudes. Other leaders should also follow him in his footprints.
Zoroastrian leader Noushairwan Dastoor prayed to God to give long life and health to Dr Tahir-ul-Qadri so that the society could get peace on sustained basis.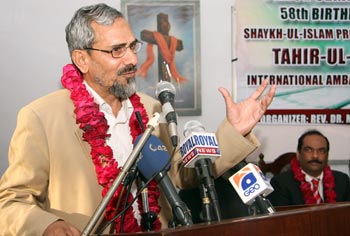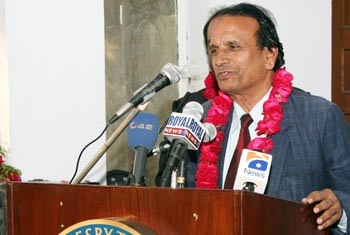 Hindu leader Munwar Chand commented that the love and respect Dr Tahir-ul-Qadri extended towards the minorities did not have any match in Pakistani history. Dr. Qadri has worked hard in spreading the concept of rights of minorities given by Islam. He is the representative of the whole humanity and real ambassador of peace.
Mr. Muhammad Mustafa (G.M. Malik) said in his speech that Dr. Majid Abel had put together a beautiful bouquet of different flowers in the form of the variety of leaders of different communities present at the seminar. He further said we would have to bring down walls of hatred, narrow-mindedness and extremist attitudes to be able to move forward. Dr. Qadri had been instrumental in promotion of humanitarian values in society.
Ahmad Nawaz Anjum, Jawad Hamid and Sohail Ahmad Raza also spoke at the seminar.