Youth are builders of the Nation: Bilal Mustafavi
Youth have the most important part to play in the growth and progress of any society and no nation could move up the ladder of development without involving its youth in the decision-making processes. The government needs to come up with a proactive National Youth Policy to address the problems being faced by the young generation of the country.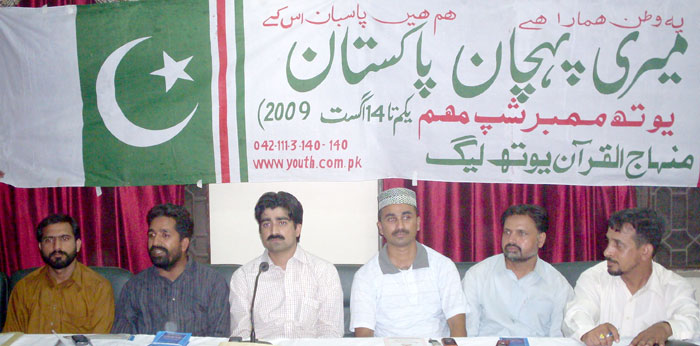 These views were expressed by Bilal Mustafavi, central president of Minhaj-ul-Quran Youth League, in his address to a Seminar organized by Youth League Lahore. He said that MYL had formulated many programme for the promotion of healthy attitude and activities in the country. MYL had also planned to start a countrywide membership programme under "My Identity—Pakistan" slogan so that the youth could be made aware of Ideology of Pakistan and the heroic role the Quaid-e-Azam and other Muslim League leaders played in the struggle for Pakistan.
In his speech, Zaheer Ahmad Gujjar, MYL Secretary General, informed that the League was also going to start tree plantation campaign this year with an intention to educate people about the dangers of environmental pollution and need of waging a struggle for cleaner Pakistan. Ishtiaq Hanif Mughal said that the youth had pinned high hopes on this government. If the government took the problems of the youth seriously and resolved them, these youth could become the front-runner in the nation's march against terrorism and extremism. Usman Gujjar, Mian Kamil Qayyum, Qamar Jamal and other speakers also spoke at the occasion.