Monthly Lecture on Irfan-ul-Quran in Ghotki (Sindh)
A monthly lecture on Irfan-ul-Quran was organized under the banner of Minhaj-ul-Quran International Ghothki on June 24, 2009, in Public Park after the Isha prayers. The venue was decorated with beautiful banners and placards. A good sound system was also arranged for the lecture. Rashid Shahzad conducted the proceedings of the programme, whereas Hafeezullah Baloch, central vice Nazim of Sindh, delivered the welcome address. The proceedings of the programme got underway with the recitation from the Holy Quran by Syed Nasir Hussain Shah while Sachal Samroo recited Naat. Mufti Allama Irshad Hussain Saeedi came to the venue with MQI Ghothki president, Nadeem Ahmad Khokar.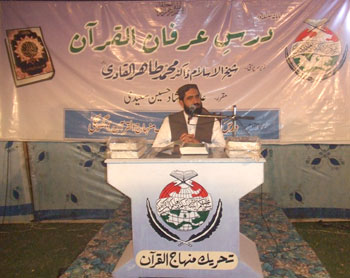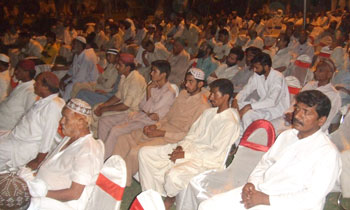 Mufti Irshad Hussain Saeedi delivered detailed, logical and argumentative speech on the topic of the Holy Quran and our responsibilities in the age characterized by mischief and spiritual disorder. The audience liked the address of Mufi Saeedi. As per previous practice, five copies of Irfan-ul-Quran were gifted to the lucky winners through open draw. The program concluded with special Dua led by Mufti Irshad Hussain Saeedi for the solution of all problems of the participants, safety and security of Pakistan and good health and long life of Shaykh-ul-Islam Dr Muhammad Tahir-ul-Qadri.