Revolution to usher in pro-people system: Dr Tahir-ul-Qadri addresses public meeting in Haripur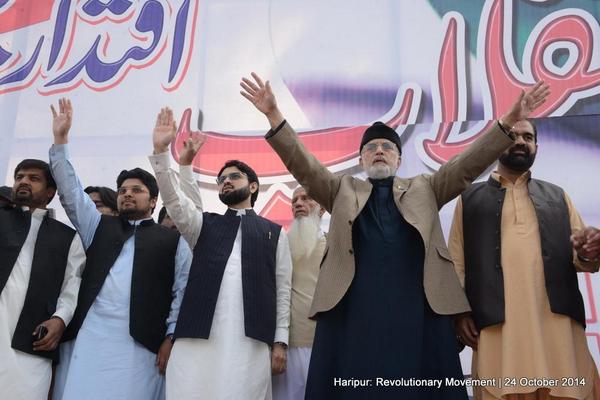 Law, justice, and democracy have been killed in this country. We will put in place a pro-people system through revolution. The people of Haripur offered funeral prayers for the system of oppression symbolically and time is not far away when this system would be sent packing for good. We would not betray blood of martyrs nor would we compromise on it. Those accusing us of deal are paid people who are working on the agenda of their financers just to malign PAT. The rulers want to suck the last drop of masses' blood through rigorous and massive taxes.
PAT chief Dr Muhammad Tahir-ul-Qadri expressed these views while a big public meeting in Haripur on October 24, 2014. It is pertinent to mention here that the public meeting, which was second in the Hazara Division, was organized by PAT on a notice of 24 hours. Despite this short notice, it was attended by thousands of people including women. He said that the blood of Model Town's martyrs was the basis of revolution, adding that we would never betray or compromise on their sacred blood. Rather we would seek revenge in accordance with the Holy Quran, Sunna and Pakistan's Constitution, he added.
Dr Qadri asked as to what kind of justice system it was that the power to constitute Joint Investigation Team (JIT) to probe Model Town tragedy was with the rulers who were principal accused in the case. Accursed be such a democracy and law where one had to organize such a big long march to get FIR registered, he maintained. He further stated that the rulers had been increasing the rate of taxes on edibles used by the people. He said that people were being illegally fleeced through over-billing as new fast-running electricity meters recorded more units by 35%.
Dr Tahir-ul-Qadri demanded restoration of contract employees of telephone factory, increase in pension of workers and retired soldiers of Pak army and payment of arrears of Tarbela dam affectees. He said that the politicians of Pakistan were untrained and we would soon establish an institution at a national level for training of politicians of future. He asked thousands of people attending public meeting to get membership of Pakistan Awami Tehreek (PAT) and directed them to take part in local bodies polls with full force.