Minhaj-ul-Quran Women League Islamabad Take Out huge "Candle Walk" to welcome Rabi-ul-Awwal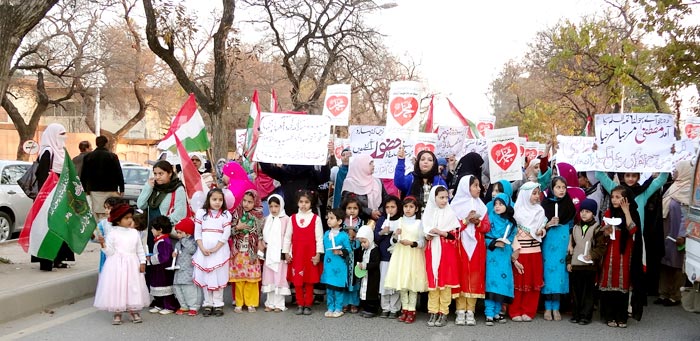 Hundreds of ladies from every walk of life organized a candlelight walk here on the 25th of January 2012 in connection with Rabi-ul-Awwal celebrations, a month of happiness and blessings in which Holy Prophet (Peace Be Upon Him) was born.
The walk organized by Minhaj-ul-Quran Women League NA-48 and 49 started from Melody Chowk and culminated at National Press Club Islamabad.
"Holding of candlelight walk in the Holy month of Rabi-ul-Awwal is a great idea. We are planning to continue this every year," said Razia Naveed, president Minhaj-ul-Quran Women League Islamabad in her address at the end of the rally.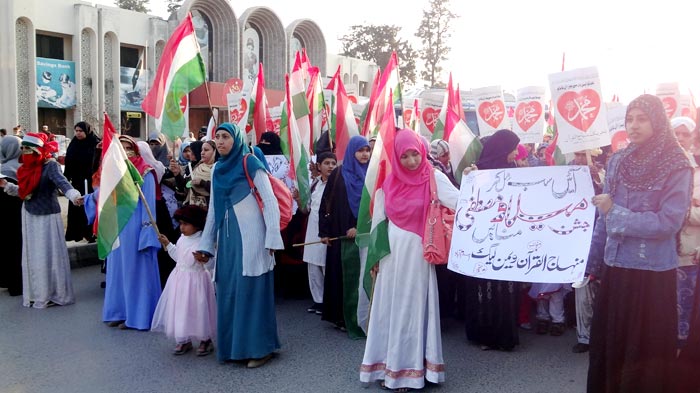 She said Holy Prophet (peace be upon him) is a symbol of perfection and celebration of the 'Mawlid-un-Nabi' (the birth of Holy Prophet) was incumbent upon all Muslims, especially upon those who aspire towards his way of life. She quoted several examples from the history to indicate that the practice of 'Mawlid' was commemorated by those who were authorities in Islam.
"The love for Holy Prophet is not personal love but rather, the Prophet (peace be upon him) is loved because he symbolizes all that is beautiful in God's creation. His virtues are universal and as such the celebration of his birth is indeed a celebration of humanity," she maintained.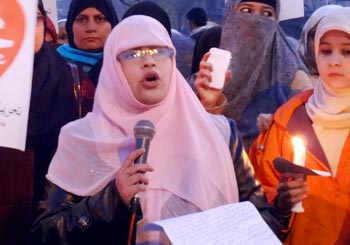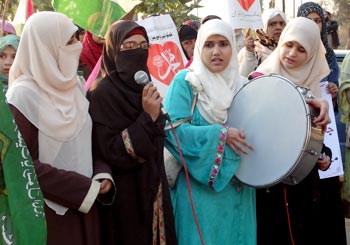 She said that Pakistan was facing severe challenges and recently different calamities, including last year's devastating floods wreaked havoc in several parts of the country. "We can come out of current crisis by following true teachings of Holy Prophet and showing extreme love and reverence to him," she said.
She said that Minhaj-ul-Quran Women League had decided to hold around 300 'Mehafil-e-Milad' in Islamabad in the month of Rabi-ul-Awwal this year as blessings accumulated this way would purge the country of different evils and ills. "It is a proven fact that celebrations of 'Eid Milad-un-Nabbi' are a sure way of winning God's happiness and blessings," she added.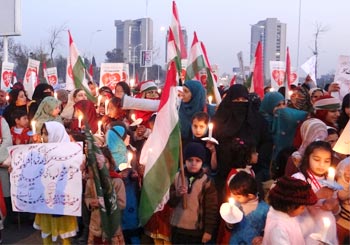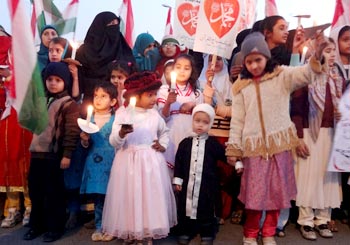 She said that the corrupt political system in the country was also responsible for several ills in the society. She said people were suffering as the current political system had failed to deliver.
"People must raise their voice and stand against corrupt rulers. "The solution of all our problems is only in following the holy footsteps of our Beloved Prophet", she added.
Other Minhaj-ul-Quran Women League Islamabad office-bearers, including Nusrat Ameen, Shagufta and Musarrat Sultana also spoke on the occasion.