MSM (Islamabad) takes out 'Save Pakistan Student Rally'
Mustafavi Students Movement (Islamabad Chapter) organized a rally with the title "Pakistan Bachao Talba Rally". This rally started from Melody Chowk and concluded at Islamabad Press Club. Dr. Umar Riaz Abbasi, Member CMC Qasim Mirza, President MSM Islamabad Saeed Khan Niazi and the hundreds of students from different universities, colleges and schools of Islamabad participated in this rally.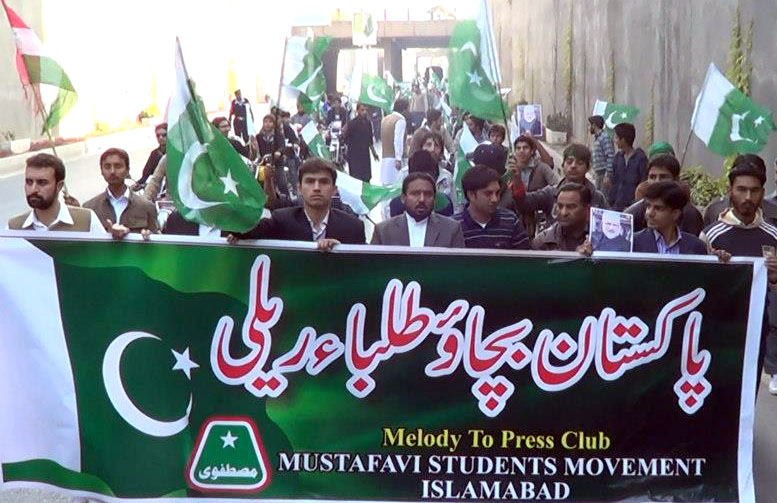 Speaking on the occasion, Dr. Umar Riaz Abbasi said that December 23 would bring about a change for the better in Pakistan. He said that Dr. Tahir-ul-Qadri wanted to make Pakistan a moderate, tolerant, progressive Islamic state. He wanted to change the existing electoral system which was at the heart of problems facing the country.
Member CMC Qasim Mirza said that we would demolish this monopolistic and feudalistic corrupt electoral system on 23rd December. He said that students would play their vital role in this movement and they would show that they were inheritors of those who sacrificed everything in 1947.
President MSM Islamabad Saeed Khan Niazi said that students of Islamabad would participate in public reception at Minar—Pakistan with a patriotic spirit. He said that future of students was at stake and we had to change our fate.